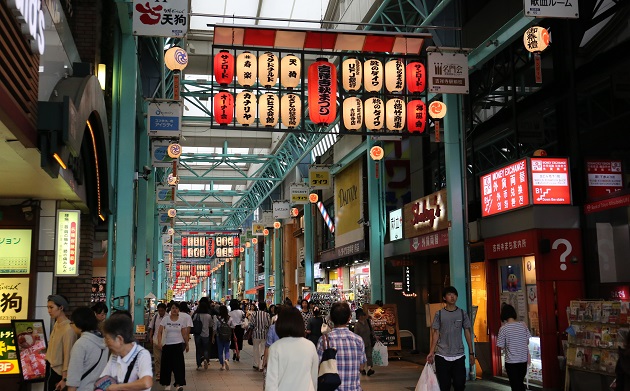 A Retro Stroll in Kichijoji (Part 2) 
A Retro Stroll in Kichijoji (Part 2) 
There are lots of cool places in Tokyo that have a very unique atmosphere. Some examples are Golden Gai and Omoide Yokocho. There's another really cool area called Kichijoji that has a very unique atmosphere that will give you a nostalgic feel. There are different sides of Kichijoji that you can see. During the day you can enjoy lunch or have some coffee with friends and you can walk around to shop at the thrift ships or other jewelry shops, clothing shops and flower shops. And then at night it turns into a place filled with salary men and women grabbing drinks and food after work before they head back home.
(source: https://vokka.jp/12663)
This is part two of A Retro Stroll in Kichijoji so if you're interested in learning more about Kichijoji then make sure to read part 1 of this blog. I'll quickly summarize what was mentioned in the first blog. Kichijoji has lots of cheap places to drink and eat and since there are cheap thrift shops it has become a popular place to shop. This area also has a lot of young families and people living alone in this area as it is a relatively cheap area to live considering its convenient location.
For those of you who have not read the part 1 of this blog and are not sure where Kichijoji is located, it is located along the JR Chuo line which is one of the most popular lines and everyone wants to live somewhere along the JR Chuo Line. The reason why it is popular is because it is located only 15 minutes away from Shinjuku and from Shinjuku you can pretty much take any line.
As I mentioned in part 1 of the blog the most popular place to go to in Kichijoji is the Harmonica Alley which has a bunch of different streets filled with places to shop and places to eat. You can also find accessory shops and flower shops and there are also fortune teller shops that you can go to. There are so many shops in the Harmonica Alley that you can spend the whole day exploring.
There are all sorts of clothing that you can find in the shops here and it is very affordable. You'll find that a lot of young people like to come and shop here and young families as well.
There is an eclectic mix of shops that coexist together in the Harmonica Alley which is one of the charms of this area. This is another reason for it's popularity amongst tourists. Many locals like to come and have fun hopping from restaurant to restaurant drinking as well.
During the day many people also come here to look for ingredients for dinner. The shopkeepers here are very warm and friendly so they attract many regulars. During the day you'll see ships with freshly fried goods, fresh fish, pickled goods, and other prepared dishes and snacks that you can buy. You can grab some of these prepared food and snacks while exploring the alley.
During lunch time there are lots of places that sell lunch menus like tuna bowls, tempura bowls, taco rice and many more.
(source: http://syokusanstaff.com/shokusan_staff/4776/)
There is a very popular sweets shop in the Harmonica Yokocho that sells traditional Japanese sweets. Ozasa sells a popular treat called the Maboroshi no Yokan which is a bar of jellied red bean paste. This type of Yokan is only sold at Ozasa and they only make 150 pieces per day with a limit of 3 per person. Which means that only 50 people can purchase this treat each day.
So if you are interested in getting a taste of their famous yokan then I would recommend going early in the day. You should be lined up at the shop once they start giving out tickets at 8;15 am. Then you can return anytime between 10 am and 6pm to exchange these tickets for the yokan.
Because the yokan is so popular it is known that people start lining up at 2am. Ozasa also has another popular treat called Monaka which are bean jam filled wafers. These come in either red bean or white beat and the numbers that are sold are not restricted but they do sell out quickly just like the yokan.