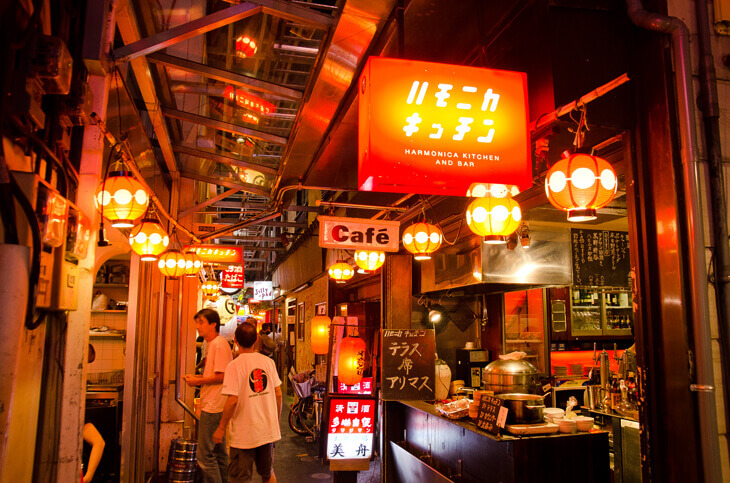 A Retro Stroll in Kichijoji
A Retro Stroll in Kichijoji
Kichijoji is an extremely popular place and is ranked as one of the most popular places where people want to live. It's a convenient place to live and yet it retains the nostalgic atmosphere of a traditional shopping area. The area has lots of cheap eats but also has popular trendy cafes and there are lots of thrifts shops as well. While popping into many of these small shops you'll be able to get a retro feel. There is also the Hamonica Yokocho that is a great place to explore. The hamonica Yokocho is located right near the Kichijoji station.
(source: https://en.japantravel.com/tokyo/kichijoji-harmonica-alley/28113)
Right outside of the north exit of the Kichijoji Station is the Harmonica Alley. There are lots of cozy shops lining these alleyways that you can explore and all of these shops along these alleyways have a nostalgic Showa Period feel to it. One of the most popular places visited in the Harmonica Alley is the Harmonica Kitchen.
The best time to visit the Harmonica Alley is right as the sun goes down and the lights are about to be turned on. You'll feel a very mysterious vibe that fills the air. This area is also a very popular place to go drinking. When it gets dark out lots of people stop by kichijoji on their way home from work to grab a few drinks and some food.
(source: https://resources.realestate.co.jp/area-guide/kichijoji-area-guide/)
Kichijoji turns into a completely different place at night. The reason for it's popularity is because you can find lots of great places that not only have a good vibe but also because it is extremely cheap to drink and eat at most of the shops here.
(source: https://tokyoing.net/harmonica-yokocho/)
Originally, the Harmonica Alley was famous for being a black market in the post war era. The reason why it got it's new name as Harmonica Alley is because the two story buildings that lined the streets resembled a harmonica mouthpiece. The streets that the Harmonica alley consists of are the Nakamise Dori, the Noren Shoji, the Jowakai Dori, the Asahi Dori, and the Chuo Dori. All of these streets lead away from the Kichijoji station.
The Nakamise is located directly in front of the Kichijoji station and all of the alleys that I listed above are connected to the Nakamise so you can go to any of the streets.
Kichijoji is actually a great place to stay as well if you are looking for a place to stay that has a great atmosphere but is also convenient. It is along the JR Chuo Line which is a very convenient line and it can take you to Shinjuku in 15 minutes which from there you can transfer onto any line.
For those of you who don't know much about which areas are convenient then you should know that Shinjuku is one of the biggest stations in the Tokyo area so there are lots of different lines leading to all of the popular tourist locations. So being only 15 minutes away from Shinjuku will be very convenient.
There are lots of hotels in the Kichijoji area that you can find that are mostly all very affordable. There are also some airbnb places that you can find as well. There are also some airbnb places in the area near Kichijoji as well even if you can't find one right by the Kichijoji station.