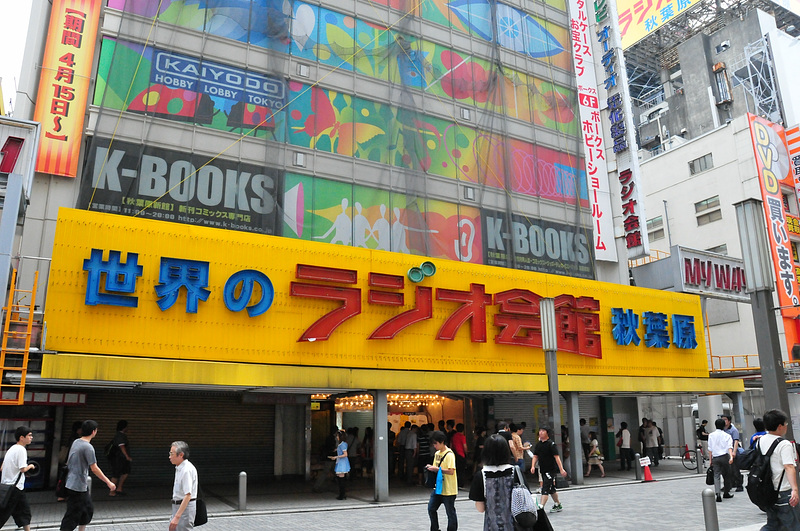 Akihabara
Akihabara is located in central Tokyo and is most well known for all the different electronic shops. In more recent years, it has also become a popular place for all the otaku people (nerds) of anime and manga. There are many anime, manga, Japanese girl groups shops and cafes that are located all around Akihabara which attract some of the most die hard fans. Some other popular cafes include the Maid cafes and Buttler cafes. Before, it was mainly only maid cafes that existed as there are many men who like to visit these maid cafes. But in recent years, Buttler cafes has become popular amongst Japanese women and tourists.
There are countless electronic shops lined up ranging from big chain electronic shops to small specialized shops. There is everything from brand new electronic devices to second hand electronic devices. There are also many game centres where many Japanese students as well as adult gamers gather. It is also very popular amongst foreign tourists as there are also a lot of electronic shops which offer tax free shopping.
Some of the major electronic shops in Akihabara include:
Laox
(http://jp.akihabara-japan.com/shopping/animation/%E3%83%A9%E3%82%AA%E3%83%83%E3%82%AF%E3%82%B9-%E7%A7%8B%E8%91%89%E5%8E%9F%E6%9C%AC%E5%BA%97/)
The main store of Laox is actually in Akihabara. There are many other branches in Tokyo but the Laox in Akihabara provides the most amount of tax free products in Tokyo. There are a bunch of things like games, electronics, souvenirs, and a bunch of lifestyle goods that are available.
Yamada Denki
(http://blog.livedoor.jp/tuukouninn/archives/2008-12.html)
Yamada denki which is also known as Labi is a chain store that can be found all across Japan. They have many different electronics, games, computers, lifestyle goods and more.
Akky
(http://jp.akihabara-japan.com/shopping/audio-visual-systems-home-electrical-appliance/%E3%82%A2%E3%83%83%E3%82%AD%E3%83%BCone/)
Akky is an electronic shop that mainly sells tax free goods that are for overseas use. They sell everything from cameras, computers, games, televisions, DVDs, to softwares.
Some of the most popular and well known Otaku attractions that you can find in Akihabara are the following:
Maid Cafe/Butler Cafe
(https://www.veltra.com/jp/japan/tokyo/a/110582)
If you do not know what a Maid Cafe is this is a cosplay themed cafe where the waitresses are dress up as maids and also act as maids as well. A Butler cafe is much like the maid cafe accept the Butler version of it meant more for women.
Radio Kaikan
(https://gigazine.net/news/20110817_akihabara_radiokaikan/)
Radio Kaikan is an iconic landmark of Akihabara and is a popular spot amongst the otaku people. Radio Kaikan mainly sells electronics and anime related goods.
Mandarake
(http://akihabara-cosplayers.jp/?p=156)
This is known to be the largest manga and anime shop in the world. They mainly specialize in pre-owned goods meaning that is a popular place to find rare and collectible manga or figurines or posters, CD's and so on.
AKB48 Cafe and Shop
(https://4travel.jp/travelogue/10618987)
AKB48 is a very famous girl group in Japan and probably one of the largest as well. The 48 at the end is showing the number of girls that are actually in that girl group. They have gained many fans since they first started their group and now they have their own AKB48 cafe and shop that sells all of their goods.