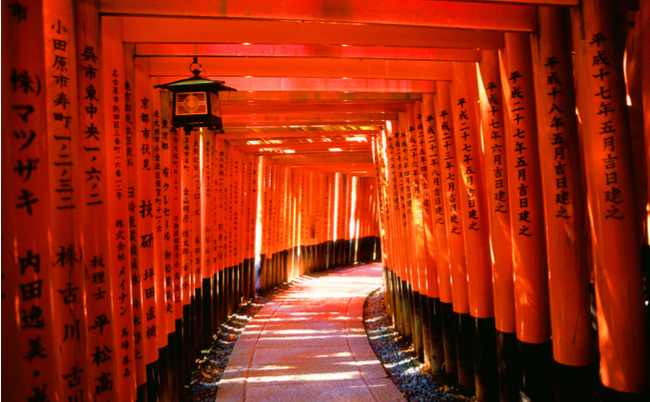 All about Fushimi Inari Shrine
All about Fushimi Inari Shrine
If you are making a stop in Kyoto then Fushimi Inari Shrine has to be on your list of places to visit. If you've already done some research on places to visit in Kyoto then I'm sure that every single one recommended going to the Fushimi Inari Shrine. This is because there is no way you can go to Kyoto and not see the Fushimi Inari Shrine.
(picture source: https://travel.mar-ker.com/%E4%BC%8F%E8%A6%8B%E7%A8%B2%E8%8D%B7%E5%A4%A7%E7%A4%BE)
It is one of the most beautiful and most important shrines in Japan as it is the head shrine of about 30,000 Inari Shrines across Japan. So before you go to the Fushimi Inari Shrine you should definitely know a few things about it before going because the worst thing you can go is go to a place and not know anything about it.
(picture source: https://matome.naver.jp/odai/2134285158061682901/2134285328761800603)
The Fushimi Inari shrine is dedicated to the Inari god which is the god of rice. And if you looked at some pictures of the shrine you'll know that this place is most famous for it's thousands of torii gates that are lined up one after that other. These gates are all coloured in a brilliant vermilion colour and the reason for this colour is because it is a colour used in the Shinto religion to expel evil spirits and diseases. It is also a colour that protects people and the shrine from misfortune.
(picture source: https://snaplace.jp/%E4%BC%8F%E8%A6%8B%E7%A8%B2%E8%8D%B7%E5%A4%A7%E7%A4%BE/)
The area with all the torii gates is a great place to take pictures. But because of the popularity of this shrine it does get very crowded. So I would recommend going very early in the morning to avoid the crowds so that you don't have people photobombing your picture. The shrine is open 24 hours so you can go at any time you want.
(picture source: http://www.mag2.com/p/news/345046)
The torii gates that you see were all donations made by individuals or companies so the written kanji on each gate has the name of the person or company that made the donation and also has the date of the donation made written on it. The price for the torii gates depend on the location of it and also the size of it. So the further up the mountain it is the more expensive and the bigger it is the more expensive it is. These torii gates can cost anywhere from 175,000 yen to 1,302,000 yen each.
(picture source: http://photo53.com/mtos/mt-search.cgi?IncludeBlogs=2&tag=%E4%BC%8F%E8%A6%8B%E7%A8%B2%E8%8D%B7%E5%A4%A7%E7%A4%BE&limit=20)
When you are at the Fushimi Inari Shrine you will come across fox statues. The reason for the fox statue is because foxes were believed to be the messengers of the Inari god. At the shrine you will also come across a wooden boards called Ema in Japanese. These Ema are in the shape of either a fox or a torii gate and you can buy these at one of the shops to write a message or prayer on it. Then you hand it up on the board where it is said that the god will receive your message.
(picture source: https://matome.naver.jp/odai/2141424121132560801/2141697823234421603)
When you are at the Fushimi Inari Shrine you will see that there are two round stones on the lanterns. And ths is called Omokaruishi which in Japanese means light or heavy stone. First, you should make a wish in front of the lantern. Then list up one of the stones using both hands. If the stone is lighter than you expected it would be then your wish will come true. And if the stone is heavier than you expected then your wish is not able to be attained. Definitely try it out if you dare!
When you go up Fushimi Inari shrine, it can take anywhere from two to three hours to go up and down it. A lot of people choose to just go part way and then come back down. You are welcome to turn back at any point so if you get too tired just turn back around. There are lots of little shrines along the way to the top and there are also restaurants where you can stop to have lunch or have a break as well. Some of the restaurants here are said to have some of the most spectacular views.