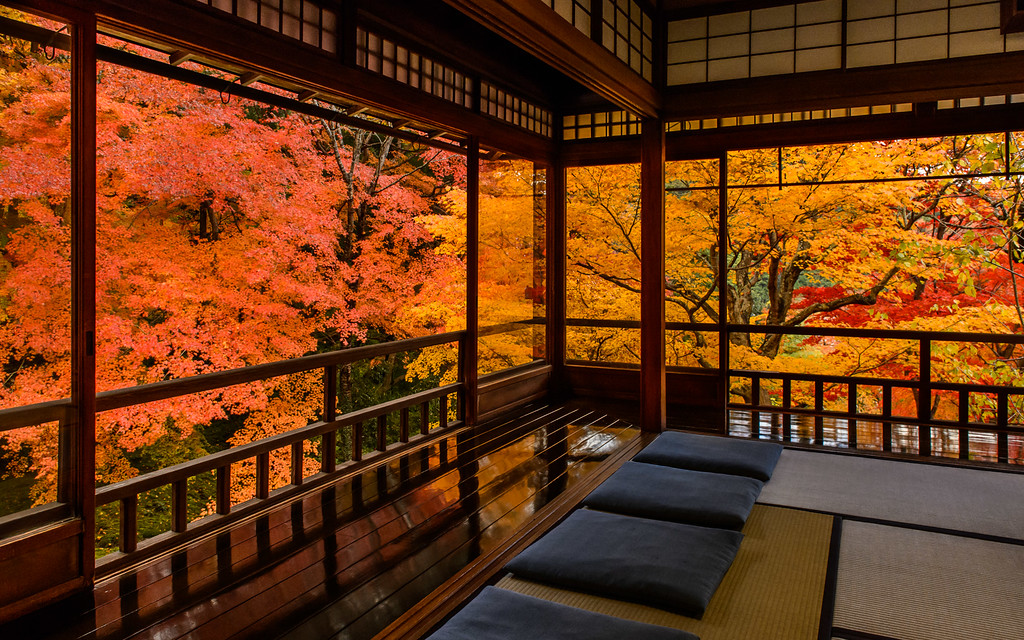 Autumn Scenery in Kyoto (Part 2)
Autumn Scenery in Kyoto (Part 2)
I previously wrote a Autumn Scenery in Kyoto part 1 and I mentioned a few places in Kyoto that you can visit that is popular during the autumn season. Although many of the places that I mentioned is popular year round it is especially popular for the fabulous maple trees that turn a yellow and red colour in autumn. So I will be introducing a few more places that you can go to that are extremely popular for beautiful autumn scenic view in Kyoto.
(source: https://matome.naver.jp/odai/2141094111795011201/2141110516082941503)
The leaves at the Bishamon-do temple turn into brilliant vibrant colours during the autumn season and with the trees and the main hall it makes for a perfect picture. It is said that the most beautiful shot can be taken early in the morning after it has rained. But even on a regular sunny day you are bound to snap a beautiful shot. This temple is a part of the Tendai sect of Buddhism and has a very strong connection to the imperial family. Gyoki, a monk, opened this temple in 703 and then another buddhist priest restored it at the present location in 1665.
(source: https://4travel.jp/travelogue/10833783)
I wrote about the Kifune Jinja shrine in one of my previous blogs as it's a really beautiful shrine that is very worth visiting if you are in Kyoto. It's a bit further away from the centre of Kyoto city but if you have the time I would definitely recommend going here. And during autumn the beautiful trees get lit up together at night. The area has a bunch of Japanese lanterns as this is a district with lots of Japanese style inns and restaurants.
(source: http://jp.zekkeijapan.com/spot/index/473/?language=ja)
There is one temple in Higashiyama that is known for the temple of Maple Leaves. Ever since the Heian period the Eikan-do Zenrin-ji Temple is known for one of the best spots of autumn tints. On the grounds of this temple there are about 3,000 maple leaves coloured in a bright red colour. It is recommended to visit the temple when the gates first open in the morning as that is when there are less people.
(source: http://www.imamiya.jp/haruhanakyoko/colored/info/daikaku.htm)
There is a special admission in Autumn at the Daikaku-ji temple. There is an Osawa no ike pond and the main hall and maple trees are all lit up at night. And when the 2 storied pagoda is lit up a night with the maple trees they reflect beautifuly into the Osawa no ike pond.
(source: https://www.insidekyoto.com/2016/11/kyoto-photo-fall-colors-from-inside-ruriko-in-temple.html)
From Unryu-in Temple there is a room where visitors can enjoy the view of the garden that has beautiful autumn leaves. It is gorgeous during any season but if you are a sucker for autumn leaves then you will love the Unryu-in Temple. You can even relax with some tea and sweets while you are here.
(source: https://icotto.jp/presses/8618)
On Mount Takao there is a temple called the Jingo-ji temple and it is also known as the land of kukai who is the great Buddhist master. At night during the autumn season there is a special exhibition for the Bhaisajya-guru which is a national treasure. This Bhaisajya-guru is is held at the gold hall which is beautifully lit up at night.