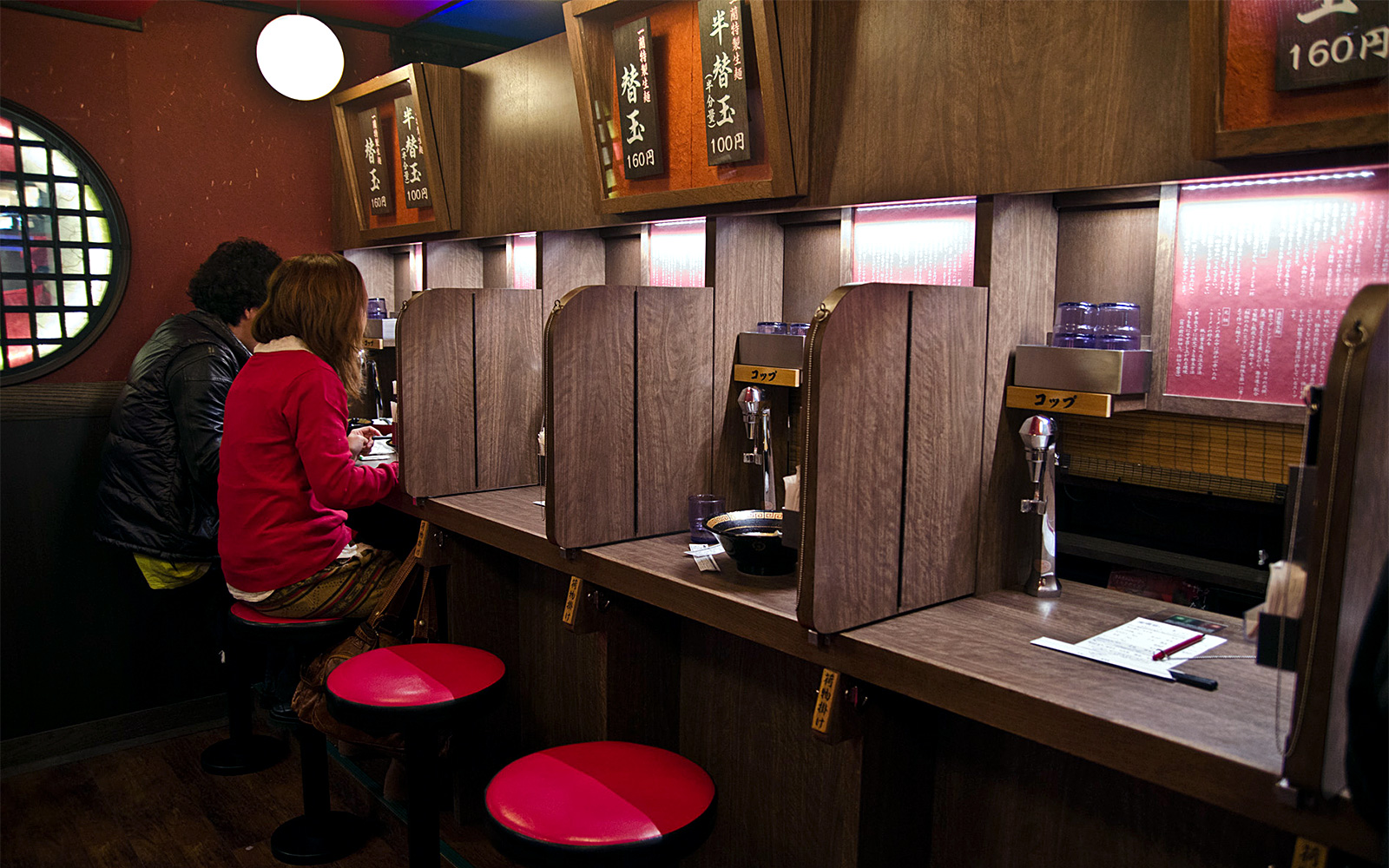 Restaurants for Single Travelers in Japan
Restaurants for Single Travelers in Japan
Back when I lived in North America, whenever I went out to eat it was always with friends or family. I never felt comfortable going to a restaurant alone because often times eating alone is seen as strange and even embarrassing. If you ever went to school in North America then you know that kids who sat alone in the cafeteria probably didn't have friends and you felt sorry for those kids.
Well since coming to Japan, I've come to realize that eating alone is a completely normal in fact it is almost like a practical necessity. This is probably because eating out in Japan is not really seen as a luxury or an Occasion like it is in North America. So there are actually lots of eateries that cater to solo diners and even Universities have tables for people eating alone or they have tables where students can stand and eat. The reason I am saying that eating out alone is more of a practical necessity in Japan is because people are often so busy that they need somewhere where they can eat a meal and then be off on their way.
(picture source: https://tabelog.com/hokkaido/A0101/A010204/1034025/dtlphotolst/3/smp2/D-normal/1/)
Most of the people that I know who do eat out alone are people who either are so exhausted after work that they don't have the energy to cook so they eat out before going home. Or they are in a rush to get somewhere and find an eatery catered to solo diners. I also believe that most of the solo diners are men because they either live alone and don't cook or it is cheaper to eat out than to cook at home. Some of the solo eateries are pretty cheap so it can cost less money to eat out. But I also think it has a lot to do with people being so busy that it's just much more convenient to eat out alone.
If you're coming to Japan from North America then I'm sure you will find it pretty odd and maybe you think eating alone is unthinkable. But after being in Japan for a couple years now, it has definitely grown on me. In fact I actually have come to really like being able to eat at a restaurant alone or go sit at a cafe alone. I've always liked my personal space but I never ever imagined I would come to like eating out alone since when I lived in North America it was unthinkable to me.
Of course I love going out for coffee or lunch with friends but I also love being able to go to a cafe with my laptop or a book and just enjoy my time alone while drinking my coffee. And i've definitely had many times where i'd need to get in a rush somewhere so i've jumped into a solo dining eatery to grab a quick lunch or dinner. So now I think of it more as a convenient place to eat rather than an odd eatery where people eat alone.
Since there are so many different eateries that cater to solo diners it's hard to list all of them. In fact no matter which restaurant or cafe you go to you can eat alone. But i'll list some of the eateries that are specifically made for solo diners.
(picture source: https://blog.gaijinpot.com/ichiran-ramen-without-word/)
(picture source: https://pantip.com/topic/31957889)
One of the most famous ones that comes to the top of my mind is Ichiran. This has become an extremely popular ramen chain restaurant. Whenever you go to Ichiran you will see a long line of foreigners waiting to get a taste of the ramen. This place also has dividers so that you don't have to interact with your neighbors. There is also a divider between you and the chef/staff so that you can enjoy the meal alone. These dividers can be put down too if you are there to enjoy a meal with a friend but it is also there for people who want no human interaction. I know it may sound weird but sometimes people just want to have some privacy after a long day of working. I'm sure all of you have at one point or many points of your life felt this way.
(picture source: https://tabelog.com/tokyo/A1313/A131305/13085498/dtlphotolst/1/smp2/)
(picture source: https://tabelog.com/tokyo/A1313/A131305/13085498/dtlphotolst/1/smp2/)
Another popular place is Yoshinoya or Matsuya. These are two different rice bowl chain restaurants but they are both very similar in style. They all have counter seats and you will see that most of the people who are here are eating alone. This is much like a fast food Japanese rice bowl restaurant. It is also relatively cheap to eat here and therefore is very popular.
(picture source: https://tabelog.com/kanagawa/A1401/A140305/14042507/)
(picture source: https://tabelog.com/kanagawa/A1401/A140305/14042507/)
Another popular solo dining eatery is CoCo Curry House. This place is much like Yoshinoya and Matsuya except they sell all sorts of curry rice. These chain restaurants do have regular tables but they also have counter tables for people who are dining alone.
(picture source: https://tabelog.com/tochigi/A0901/A090101/9000970/)
(picture source: https://tabelog.com/tochigi/A0901/A090101/9000970/)
If you are looking for an udon place specifically for solo diners then I would recommend going to Hanamaru Udon. How it works here is that you grab a tray and then you can order the udon that you want and then there is usually a tempura and rice ball section where you can grab whatever tempura or rice ball that you want. You are then charged for your meal and you can bring it over to whichever seating area you want to go to. It is very fast so if you are in a rush this is a great place to dine.
If you are interested in renting a pocket wifi or prepaid SIM card during your trip to Japan then make sure to check out the Genki Mobile website: https://www.genkimobile.com/