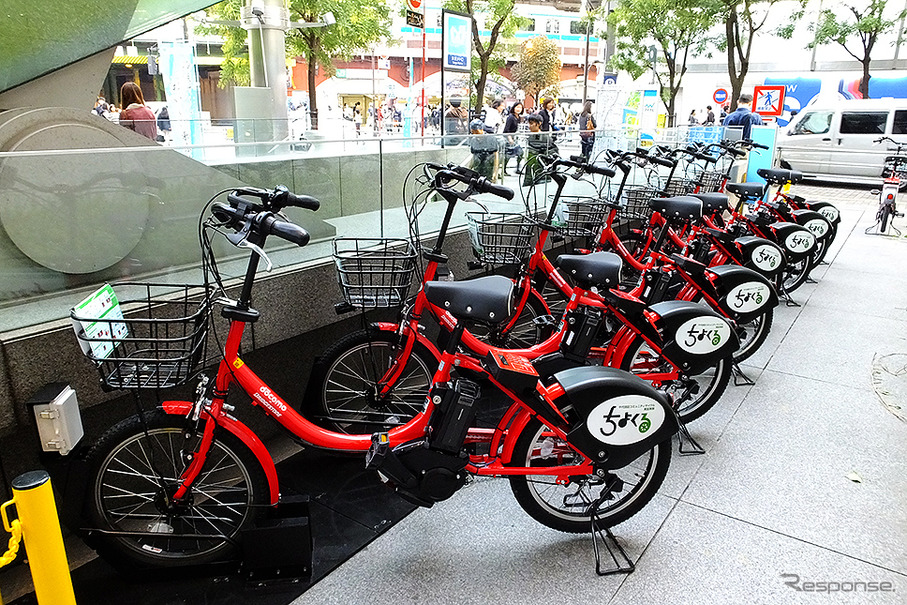 Bike sharing in Tokyo
When you are traveling throughout the Tokyo area you may want to bike around to get from place to place especially if it is on a nice day. There are actually a lot of different bike sharing organizations and companies operating all over the country but a lot of people just do not know of it's existence. However, with the increased amount of tourists more and more people are starting to use it.
(picture source: https://response.jp/article/2017/01/04/287850.html)
So if you are wondering what a bike sharing is it is the concept of being able to rent a bike for a certain amount of time where you can pick it up at a certain location and then drop it off at another location near your destination. This is great because you don't have to go back to the location to return it which makes it really convenient for people. There are a lot of people who ride their bikes to the closest train station or bus station but since you are not allowed to ride the bus or train with your bike people end up having to walk once they get off at their destination. So the best way to resolve this problem is through bike sharing.
So how does it work? Well, it depends on which company you will be using but you will need to register on their website, a smartphone app, or a kiosk. The biggest bike share operator is Docomo cycle. They operate in all of the central wards of Tokyo so it is said to be the most convenient. You can find instructions on their service and registration on their app or their official website.
(picture source: https://response.jp/article/img/2016/07/20/278724/1077098.fullscreen.html?from=tpimg)
In order to register for the service and pay the fee for the bike you must have a credit card. The bicycles all have a small computer inside that track the bicycle and has security functions. You may be aware that Docomo is one of the largest mobile network company in Japan so they are very trustworthy. After you have registered you can log into their website and then find the docking port that is nearest to you and then choose a bike on their list.
(picture source: https://response.jp/article/img/2016/07/20/278724/1077098.fullscreen.html?from=tpimg)
There will be a passcode that shows up or you will be given a card which will allow you to unlock the bike. When you want to return it all you have to do is park the bike at a dock in the system then lock it and press the enter key.
(picture source: http://appllio.com/how-to-use-docomo-bike-share)
This is honestly the best way to get around certain areas in Tokyo if you are traveling on a budget. Even if you aren't you can explore by riding around your bicycle which is a lot easier than exploring by walking around which can get really exhausting. And if you live in Tokyo then you can use this system to get to work.
If you are interested in renting a pocket wifi or prepaid SIM card during your trip to Japan then make sure to check out the Genki Mobile website: https://www.genkimobile.com/