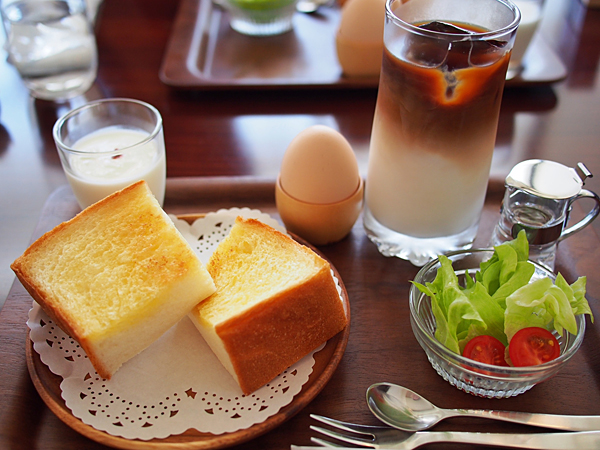 Breakfast in Kyoto
Often times you may skip breakfast but I'm sure that many of you who go to places for vacation often start your day early so that you can cram everything in. So of course if you're going to be walking and moving around all day then you should grab some breakfast. But you may not know of any great breakfast places in Kyoto so you may grab the first thing you see like McDonalds. But there are actually a few really great places that you can go to in Kyoto for breakfast so definitely make sure to drop by these places.
(source: http://chubbyhubby.net/travel/travelling-with-the-toddler-to-kyoto-japan-part-2/)
Cafe Violon serves coffee with the most delicious aroma and that has the true taste of coffee beans. It's simple and freshly prepared right after the order is made from their customers. The owner has hand selected the beans used for their coffee and they are dripped carefully through a fennel filter. And because the owner is a wine expert they also serve wine here as well. You can get the morning set for breakfast which includes toast, coffee, a boiled egg, and yogurt.
(source: https://tabelog.com/kyoto/A2601/A260202/26014941/)
If you're someone who loves having pancake for breakfast then you should try the New York style pancakes at the Pancake House Cafe Rhinebeck. This is housed in a cute traditional Kyoto teahouse and is located in the Nishijin area. The owner makes the pancakes using the techniques that she learned when she was in the United States. It is served with slices of apples and a small dish of maple syrup.
(source: https://tabelog.com/kyoto/A2601/A260202/26006432/dtlphotolst/1/smp2/D-normal/2/)
In 2008 Iyemon Salon Kyoto was established. This is a cafe that has the concept of a machiya which is a traditional Kyoto-style townhouse but also has Scandinavian furniture which uniquely creates a very relaxing atmosphere. There is a Kimono shop located on the ground floor of the building and there is also a Japanese garden near the rear of the building that is said to be over 300 years old. The Japanese instructor carefully prepared tea for you which you can enjoy at their bar style table. There is also a library inside that has a number of different books relating to tea and the Japanese culture. They also have a number of different sweets that you can enjoy with your tea and they have both Japanese and Western style sweets. They have a few Japanese style food dishes and they serve parfait that uses seasonal fruits.
(source: http://www.mite-mite.info/?cn=105501)
In 1947, just after the war ended a small coffee shop called Inoda opened. This shop is a favorite of many of the business people and merchants of Kyoto. You can relax while having your morning coffee and many people like to come here and read the morning newspaper. The most popular coffee that they serve already comes with sugar and milk mixed in with it. It may be a surprise for some customers as first as often times you are given sugar and milk on the side to add yourself. But it is a very tasty cup of coffee that I'm sure you will enjoy.