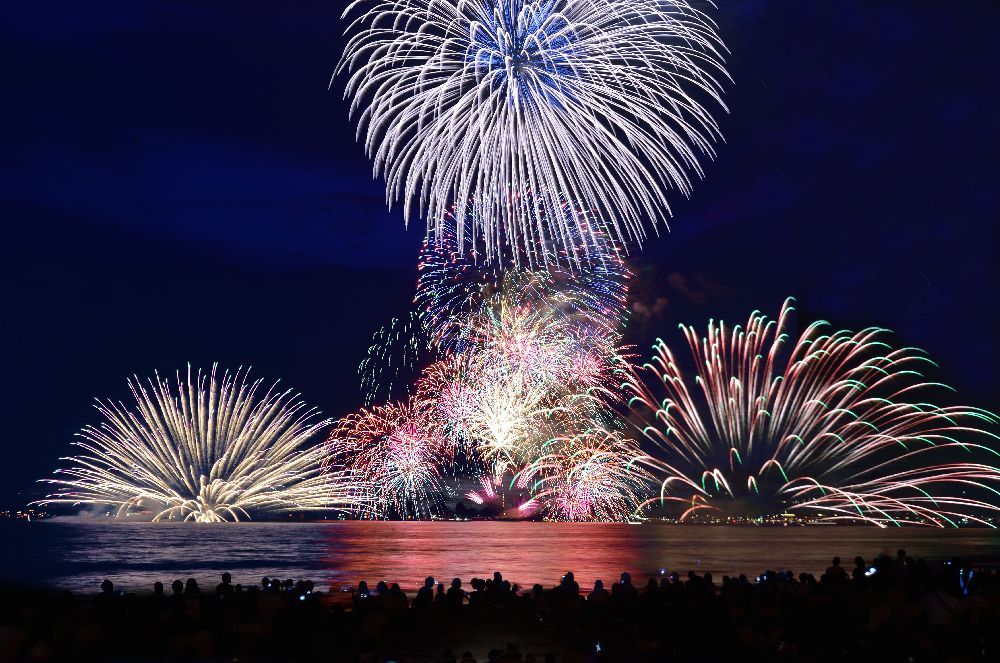 Chigasaki Summer Fireworks
Chigasaki Summer Fireworks
Are you looking for a fireworks show to go to in August that is easily accessible from Tokyo? There are lots of fireworks that go on during the summer time in and near the Tokyo area. But if you are looking to go to one in the beginning of August then I would recommend going to the Chigasaki Summer Fireworks Festival.
(source: https://kotokochannel.com/chigasaki-hanabitaikai/)
This will be the 44th time that Chigasaki has held this fireworks festival and it is absolutely stunning. The great thing is that you can find a spot to lay on the beach while enjoying the fireworks. And since the water is so warm during August you can go swimming in the water before or after the fireworks.
The fireworks will be held from around 7:30pm to 8:30pm so you can always enjoy the day at the beach with friends or family and wait for the fireworks to start. The last time that I went to the Chigasaki fireworks festival there were actually lots of spots available on the beach so I don't think it is necessary to go early in the day to get a spot. But if you want a great spot then I would suggest going around noon to get a spot.
(source: https://blog.goo.ne.jp/lafesta777/e/042a1d11404843d7be3d74eb20520d39)
And why not enjoy some time in the sun while having a picnic with friends on the beach. There are also lots of food stalls where you can get food and beer to enjoy while watching the fireworks. They are usually also open during the day so you can get food during the day as well.
The best thing about this fireworks festival is that you can easily access it from the Tokyo area. If you are going from Shinjuku station then just hop on the Shonan Shinjuku Line and it will take you straight to the Chigasaki station. From the Chigasaki Station it is about a twenty minute walk to the beach.
From Shinjuku station it will take about 54 minutes. So just take a book with you or take a nap while on the train. You can also reach the Chigasaki Beach using the Shonan bypass rom Metropolitan Inter-City Expressway Chigasaki JCT.
If you do not want to walk twenty minutes from the Chigasaki station to the beach then there is a paid shuttle bus service that you can take. This is a shuttle bus that is only operated on the day of this festival. So if you are visiting the beach any other day you will have to walk to the beach.
Please note that if there is a storm or if it rains the Chigasaki fireworks festival is likely to be cancelled. So just make sure to check online to see if it is going to be cancelled or not if the weather is not looking to great that day.