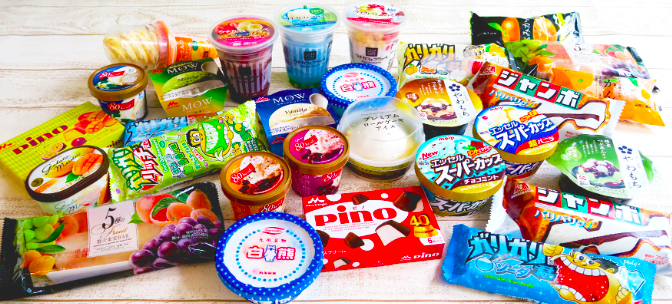 Top Convenience Store Ice Cream
Top Convenience Store Ice Cream 
If you haven't already figured it out, then let me tell you that the convenience stores in Japan have some pretty good quality food. Of course it may not be the healthiest food as there are lots of preservatives in it but you can still find healthy options and compared to most of the convenience stores in Western countries it is definitely more delicious. Back when I lived in North America I wouldn't dare getting food from the convenience store because well it just didn't look appetizing at all. But after moving to Japan I do admit that I have bought many meals at the convenience store.
(picture source: http://news.livedoor.com/article/image_detail/13850117/?img_id=15418322)
Many people across Japan will grab a quick lunch or dinner at the convenience store if they are in a rush or if they don't cook. The bento and meals at the convenience store are not the only things that are delicious. There are lots of different drinks and snacks that are delicious as well. But one of my personal favourite is the ice cream that is sold at the convenience store. There are a lot of different flavours of ice cream that you can find at the convenience store.
(picture source: https://digjapan.travel/blog/id=11084)
During the summer time in Japan it gets really humid. So as a way to refresh i'm sure you will want something really cold to eat. So go on over to the convenience store and try out some of the ice cream. Here is a list of some of my favourite ice cream flavours!
(picture source: http://news.livedoor.com/article/image_detail/4530678/?img_id=913781)
My absolute favourite is the Parm ice cream. It is really just a simple vanilla ice cream dipped in chocolate but it is absolutely delicious. It is really a rich flavoured ice cream that is just taste ten times better than most of the other chocolate dipped ice cream.
(picture source: http://mognavi.jp/food/1620347)
My second favourite is the super cup matcha ice cream. It is made by a famous company called Meiji and there are actually a bunch of other flavours for the super cup. If you love matcha ice cream and you want a big cup of it then you have to try this.
(picture source: http://icelog.net/?p=964)
The next one that is another one of my favourites is the mint chocolate cup made by Meiji. I love any snack that is mint chocolate so i've tried a lot of different mint chocolate ice cream and chocolates but this one is my favourite one out of all the ones that I have tried. This Meiji mint chocolate cup is usually only sold at Family Mart.
(picture source: http://www.glico.co.jp/ice/papico/products.html)
The next one on the list is Papico by Glico which is another famous company in Japan. This is more of a drink type ice cream and there are two pieces per pack so you can easily share it with another person. The chocolate coffee flavour is my favourite and this is the most common one that you can find. As it is a chocolate flavoured coffee it doesn't have a strong coffee taste so even young children can enjoy it.
(picture source: http://www.itmedia.co.jp/business/articles/1702/01/news022.html)
Another very popular ice cream bar in Japan is Gari Gari Kun. This one has been around for a very long time in Japan and there have been many different flavours made over the years. Some that were made were hugely unsuccessful and the company has had to pull it out of the market. The most famous flavour is the soda flavoured Gari Gari Kun. It is popular not only because it is delicious but also because it is very cheap as well.
(picture source: https://www.lotte.co.jp/products/brand/yukimi/lineup/)
(picture source: https://twitter.com/hashtag/雪見だいふくクッキークリーム)
The last one on my list and also another one of my favourites is the Yuki mi Daifuku. This is absolutely delicious and a must try ice cream. The outside of it has a soft mochi that is wrapped around vanilla ice cream. The two combined together make the best combination. Yuki mi daifuku also comes out with one that is wrapped around a cookies and cream flavoured ice cream and that one is very delicious as well although it is a seasonal ice cream.