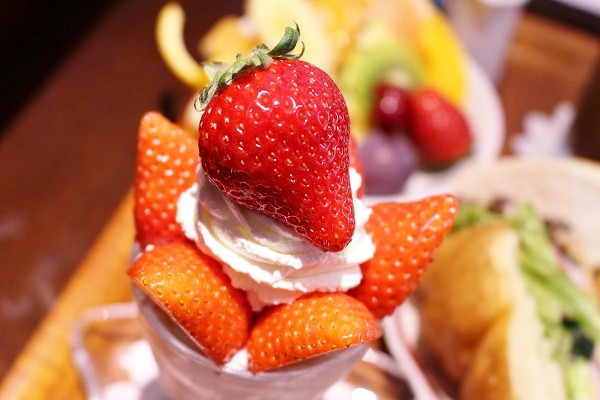 Delicious Sweets in Tokyo (Part 2)
Delicious Sweets in Tokyo (Part 2)
If you are a foodie I'm sure you are looking for some of the best sweets that you can get in Tokyo. There are a lot of different savoury foods but there are just as many good shops that sell sweets as well. As I mentioned in my previous blogs you can get Western type sweets and sweets that are currently trending. But you can also find a lot of places that serve some of the most delicious traditional Japanese Sweets. In this blog I will be introducing five more sweets shops in additional to the five other shops that I introduced in the first blog.
(source: https://gotrip.jp/2017/01/53259/)
There is a shop called Brigela that is located a six minute walk away from the Kiyosumi Shirakawa Station. Kiyosumi Shirakawa Station is known for having many popular cafes and sweets stores that you can find up and down the streets by the station. There is also a beautiful Japanese style garden called the Kiyosumi garden that you can visit. Brigela specializes in a different way of eating gelato and that is by enjoying gelato by sandwiching it between hot brioche. There are sixteen different gelato flavours that you can choose from and the most popular is the yogurt flavoured. There is also chocolate flavoured gelato and fruity flavoured gelato like pineapple and orange.
(source: https://twitter.com/brfsq3)
Three minutes away from the Akasaka Mitsuke Station you will find a shop called Patisserie De Limo which has a variety of different sweets. This area is surrounded with the latest trends including the Akasaka Sacas and Akasaka Biz Tower. The most popular dish at the Patisserie De Limmo is the souffle pancake. It has matcha chocolate cream with red beans and shiratama Japanese dango on top of a chocolate flavoured souffle. You can also enjoy other sweets like macarons and parfaits. Besides sweets they also serve a quiche set that comes with soup and salad during their lunch hours.
(source: https://instagrammernews.com/detail/1567424554036710805)
If you are looking for fruit based sweets then Frutas is the place for you. They have delicious fruit parfaits in which they use seasonal fruits like cherry parfaits and peach parfaits during the summer season. If you visit during the winter time, Frutas will serve amaou waffles which is a delicious waffle that is topped with strawberry, maple syrup and custard sauce. Frutas is located a five minute walk away from the Monzennakacho Station.
(source: https://twitter.com/711sej/status/461746896592068609)
There is a restaurant called Kanatei that is famous for their eel dish, ramen and other Japanese cuisine dishes. The outside of the restaurant looks just like any other eatery in Japan but they are actually very famous for their mukashi anmitsu sweet. Anmitsu is a popular Japanese dessert that has an agar jelly that comes in a bowl with red bean paste, boiled peas and fruits. It comes with a side of black syrup that you pour on top which goes extremely well with the anmitsu. It's also a great place to eat lunch and dinner.
(source; https://ameblo.jp/tomocodocomo/entry-12161304662.html)
Seven minutes away from the Akihabara Station is the Fruit De Saison that serves delicious parfaits. They also have a bunch of seasonal dessert menus like strawberry parfaits during the winter season. They have something called the deluxe parfait where they serve lots of strawberries with a lot of whip cream on it. You can also enjoy their delicious croissant sandwich sets that comes with a fruit salad and red tea. You can also add a mini parfait to their set.