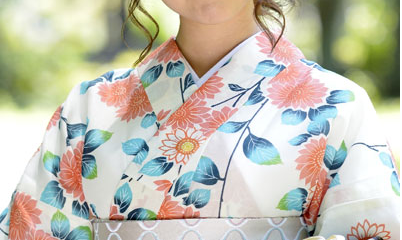 Difference between Men's and Women's Kimono (Part 2)
Difference between Men's and Women's Kimono (Part 2)
If you haven't read part 1 of Difference between Men's and Women's Kimono then make sure to read that first. But i'll just go over some of the points that I mentioned in that blog. I mentioned that there are a lot of differences between a man's kimono and a woman's kimono. These differences include the colour that is worn, the patterns of the kimono and also whether it is a one piece kimono or a two piece kimono.
I also mentioned that men will often go with whatever hairstyle they usually go with but women have a bunch of different hairstyles that they can choose from. Women will usually get their nails done when they wear kimono and they will carry around a small bag that is appropriate with the kimono that they are wearing.
Women often have the most fun when it comes to wearing a kimono because there are so many different styles that they can choose from whereas there are much less options for men. There are a few other differences when it comes to a man's kimono and a woman's kimono so i'll continue on to explain the differences.
(source: http://www.bitesizegreen.com)
(source: https://walin.jp/plan/mens/06_b.html)
Both women and men wear something called an obi that holds the kimono together. For men, there are three main types of obi belts which are the kaku-obi which is a stiff obi belt, the heko-obi is a casual obi belt and then the sanjaku obi is a three foot long obi belt. Women have many more options for the obi belt but the most common types are the maru obi which is the complete obi and the fukuro obi which is a pocket obi.
A women's obi belt is thick and there are more colours and patterns that they can choose from. A man's obi is much thinner and there are only subtle colours and patterns. And women are able to tie their obi in a variety of decorative ways whereas men don't have the option to do that. Women are able to tie their obi into a butterfly or a flower on their back.
(source: https://syufuwaza.com/ceremony-5-1402)
(source: https://treneta.net/knowledge)
For the colour there is a slight difference but if you look at a man wearing a kimono there is only a slight space between the neck and collar. But for young women, sometimes the space between the neck and collar is very wide. This is done to show off the neck as the neck has always been considered as an erotic zone for men in Japan. Older women or women who are married, on the other hand, do not have much space between the neck and collar as they should not draw attention to the neck.
If you are wondering why there is more of a variety for women than men it is because a lot more women wear kimonos compared to men. Especially in the recent years, more and more men are not wearing kimonos. Even at events such as graduation or coming of age ceremonies, more men are wearing suits rather than a kimono.
And that is why there are way more designs and colours for women than for men because women love wearing kimonos and so there are lots of different ones made. Japanese women often choose a kimono over western fashion for many formal events like the coming of age ceremony and graduation and even weddings.