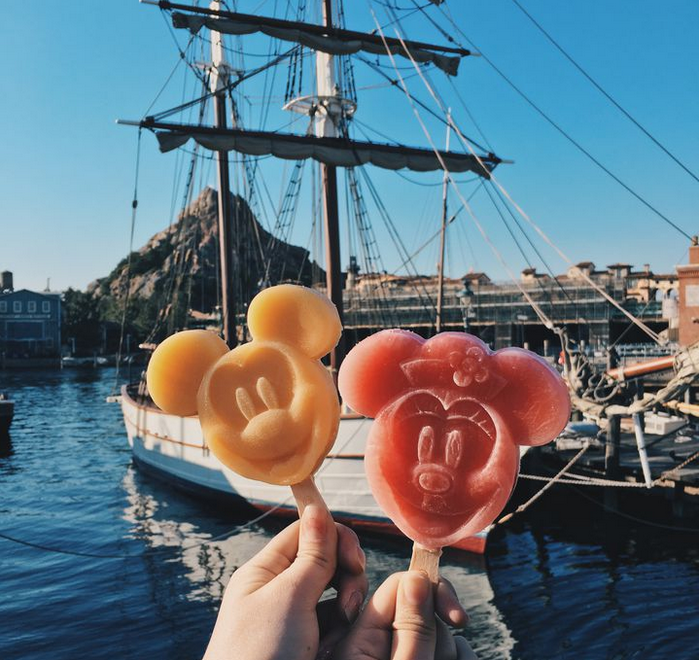 Disneyland and Disney Sea Guide (Part 2)
Tokyo Disney Sea and Disneyland Guide (Part 2)
Which theme park should I go to?
(picture source: http://blog.fmosaka.net/flap/web2007/2012/08/86_3.html)
So you may want to know which one is best suited for you. Because they are both pretty different and depending on whether you are an adults, teens, or adults with young kids the recommended theme park will be different.
Disneyland:
(picture source: https://instagrammernews.com/detail/1645744960401510622)
Disneyland is obviously the most classic theme park. If you love all the old classic Disney characters then this is the theme park for you. The rides and attractions at Disneyland are more targeted for a younger audience so some adults, young adults and teens have found Disneyland to be a bit boring. So for parents with young ones, there are a lot more rides for the kids so this would probably be the best choice for you unless your child has a favourite character that is a part of the DisneySea theme park.
Disney Sea:
(picture source: https://retrip.jp/articles/14334/)
Disney Sea is pretty different from Disneyland and is more targeted towards an older audience. But you'll still see younger kids there because there are still rides that are for little kids but just not as many as Disneyland. The rides are pretty intense like having huge drops, being very fast, and being kind of spooky. This is why it's not really recommended for people who have young kids because it will most like not be enjoyable for them.
Game Plan:
(picture source: https://wondertrip.jp/disney/91256.html)
If you are going then make sure to plan ahead. Have a game plan on how to tackle everything because with the money and time that you are spending you want to make the most out of your day. Unfortunately, at the Tokyo Disneyland and DisneySea you cannot buy express passes to skip the lines. So basically how it works is that you need to go to whichever ride you want to ride and grab a Fast Pass ticket. You can grab this fast pass ticket at the machine that is located at the entrance of the ride. This fast pass ticket gives you designated time period in which you can come back and line up in the fast pass line.  While you are waiting for this time period you can go to a different ride or attraction and line up for that in the regular line. You will not be able to get two fast passes at a time because there will be an error because you have to scan your entrance ticket in order to get the fast pass so they will know if you are trying to get two at once. The problem with the fast pass ticket is that even if you do get this ticket you still end up lining up for an hour or even more on days when it is really busy. And the other thing is that you can only get a fast pass once every two hours. But there are actually so many things to do while you are waiting for the time period to enter the fast pass line. So that's why it would be best to have a few different ideas on what you can do. Like you can enjoy lunch while you are waiting or you can look around in the shops or you can even watch a short show while you are waiting. The lines for the shows tend to be a lot shorter and since they can fit a lot of people in at once you are likely to get in pretty quickly. Even just walking around the entertainment park there is so much to see and there are lots of places where you can grab drinks and snacks along the way to your destination. But because the food at theme parks are always way overpriced you can always just bring your own snacks and drinks as well.
How to get to Disneyland and DisneySea:
(picture source: https://wondertrip.jp/disney/91256.html)
The best way to get to the theme parks would be by train. Since it is can be pretty far away depending on where you are coming from it would be best to take the train. The most common way would be from Shinjuku station so I will guide you on which trains to take from Shinjuku.
Depending on the time of day you are going the train schedule may change so be sure to double check before going but the most likely route to take would be to take the Saikyo Line which will change into the Keiyo line and then arrive at Maihama Station. Maihama station is the station that you want to get to.
If you don't want to take the train and would prefer to take the bus then you can take a bus from Shinjuku station. There is a bus that will go directly to the entrance of both of the theme parks. As the theme parks are pretty popular there is a bus that usually leaves every 20 minutes. But as you will need to buy a ticket for the bus you will want to go ahead of time to buy the ticket and you may also want to check the bus schedule before going as well.
If you are going to Japan for the sole purpose of going to Disneyland or DisneySea then you will probably want to stay near the theme parks. So if you are looking for a station that is near by and more of an affordable option then I would say that Tokyo station is probably the best area. Plus if you are arriving from either Narita or Haneda station then Tokyo station will also be easy access from the airport as well. And as I mentioned above, Shinjuku is also a good place to stay too if you are doing some other sightseeing while in Tokyo. But by both bus and train the ride to the theme parks will roughly be about an hour or maybe less by bus.
If you are interested in renting a pocket wifi device or a prepaid SIM card then make sure to check out the following website: https://www.genkimobile.com/