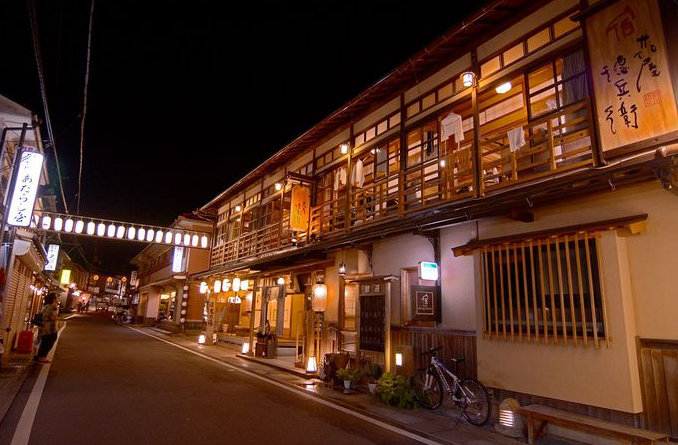 Dorogawa Onsen
If you are visiting Nara, in the southern mountains there is a traditional onsen town called Dorogawa. It is an area with an extremely spiritual atmosphere that draws pilgrims from around the world. Both the water from the hot springs and the mountain spring water come from Mount Omine which has made the Dorogawa town a place of relaxation and an escape from the summer heat and a place to also warm the body during the cold winter days.
(source: https://www.travel.co.jp/guide/article/28371/#photo7)
If you stay at a ryokan they almost always have a multiple course meal with some of the best local specialties so you can enjoy all the special foods of Dorogawa and on top of that you can relax in the beautiful hot springs. What more can you ask for?? One of the grandest ryokans in the area is the Koryokuen Nishisei and they have a very delicious wild boar hotpot that they serve for dinner
(https://en.japantravel.com/nara/practicing-shugendo-on-mt-omine/23401)
You can see Mount Omine from everywhere and it is a stunning mountain. Because it is a sacred mountain there is a trail for Shugendo practitioners who make their pilgrimage to Ohminesanji Temple. There is another temple nearby called the Ryusen-ji Temple which has beautiful gardens and according to the temple they are known for legends of local dragons.
(source: https://www.visitnara.jp/destinations/destination/mitarai-valley/)
If you are in the area it is definitely worth visiting the Mitarai Valley because it is an absolutely beautiful valley. During the autumn season the leaves turn into a beautiful red, orange and yellow colour but during every season it has beautiful scenic hiking courses.
During the summer time it is nice and warm so you can enjoy swimming and fishing at the Mitarai Valley. Many families come here to enjoy a barbecue, picnic and cooling off in the water.
(source: https://www.visitnara.jp/venues/A00886/)
Another thing you can do during the summer time is go to the limestone caves. The Goyomatsu Limestone Cave is one of the most popular ones in this area and there is a tiny monorail that goes through the forest to reach this cave.
There are also lots of campgrounds in the area so you can go camping with your family or friends. And the great thing about these campgrounds is that a lot of them offer tents, outdoor gears and BBQ rental services so it is a very hassle free way to enjoy camping!