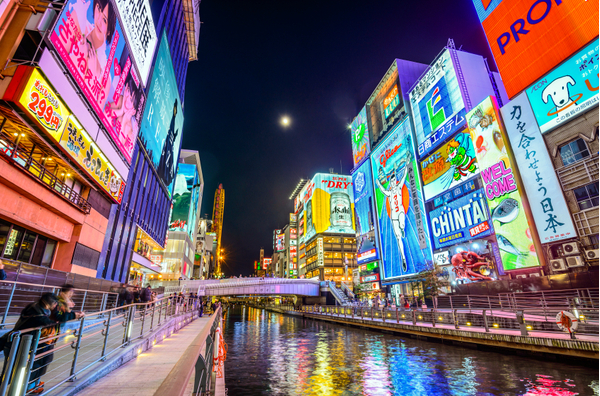 Dotonbori in Osaka 
One of the most famous areas in Osaka for tourists to visit is Dotonbori which is the lively entertainment district of Osaka. It is famous for all the neon lights, extravagant signs and the number of restaurants, bars and cafes that you can find here.
(picture source: http://komekami.sakura.ne.jp/archives/567/p8236278)
The name Dotonbori came from the Dotonbori street that runs parallel to the Dotonbori Canal's southern bank. In Osaka, it is known for being one of the most vibrant places and if you are in the Kansai area it is a must see location. It is great during the day but you'll definitely want to see what it's like at night.
A man named Yasui Doton was ambitious about investing in a local development project and had invested all of his personal savings in this project in 1612. He was a very ambitious merchant and he wanted to diver and expand the Umezu River into a new waterway. His idea was to link the local canal network with the Kizugawa River. Unfortunately, because of the war his plans were not able to be carried out and in the Siege of Osaka in 1615 Yasui Doton was also killed. However, later in the year that he died, Doton's cousins were successful in completing his project and therefore the new canal was named Doton Canal aka Dotonbori.
With the creation of the new canal, lots of new trade was brought in and it soon became a popular entertainment district when it started to flourish in 1626. Soon there were theatres and playhouses being built in the canal's southern bank. And in the canal's northern bank there were restaurants and teahouses being built to supply food, drinks and entertainment to all the people who were coming to the theatres and playhouses.
Unfortunately, the theatre is not as popular as it once was. All of the theatres except for the Shochikuza theatres were destroyed in the bombing raids of World War II. But there are a bunch of small comedy clubs that stand in the area and there are still kabuki plays, modern dramas, musical and operas that are hosted at the Shochizuka theatre. Although Dotonbori was once famous for the theatres and playhouses, it is mostly now known for having lots of restaurants, street food stalls and bars. So when people come to this area they are usually there to enjoy the delicious food and have fun at bars.
If course there a bunch of very popular places to eat in Dotonbori but there are three very well known restaurants. One is called Hariju which serves Japanese beef shabu shabu and sukiyaki. It is some of the most delicious beef shabu shabu and sukiyaki and they have been popular every since it first opened in 1948.
(picture source: http://komekami.sakura.ne.jp/archives/567/p8236271)
The second most popular restaurant that serves pufferfish, also known as Fugu in Japanese, and this is their specialty. The restaurant is called Zubora-ya.
The third most popular restaurant in Dotonbori is a takoyaki shop called Kukuru. If you are in Osaka Takoyaki is a must as this is one of their most popular dishes.
The fourth most popular restaurant is a deep fried meat, fish and vegetable skewer restaurant. These skewers are called kushikatsu and these are another very popular dish to eat in Osaka. The restaurant that is most popular for having the most delicious kushikatsu is Kushikatsu Daruma and they have been in business since 1929.
(picture source: http://komekami.sakura.ne.jp/archives/567/p8236278)
Another extremely popular place to eat at is the Kani Douraku. They are not only famous for their delicious crab but they also have their famous big crab sign on the front which has become a symbol in the Dotonbori area.