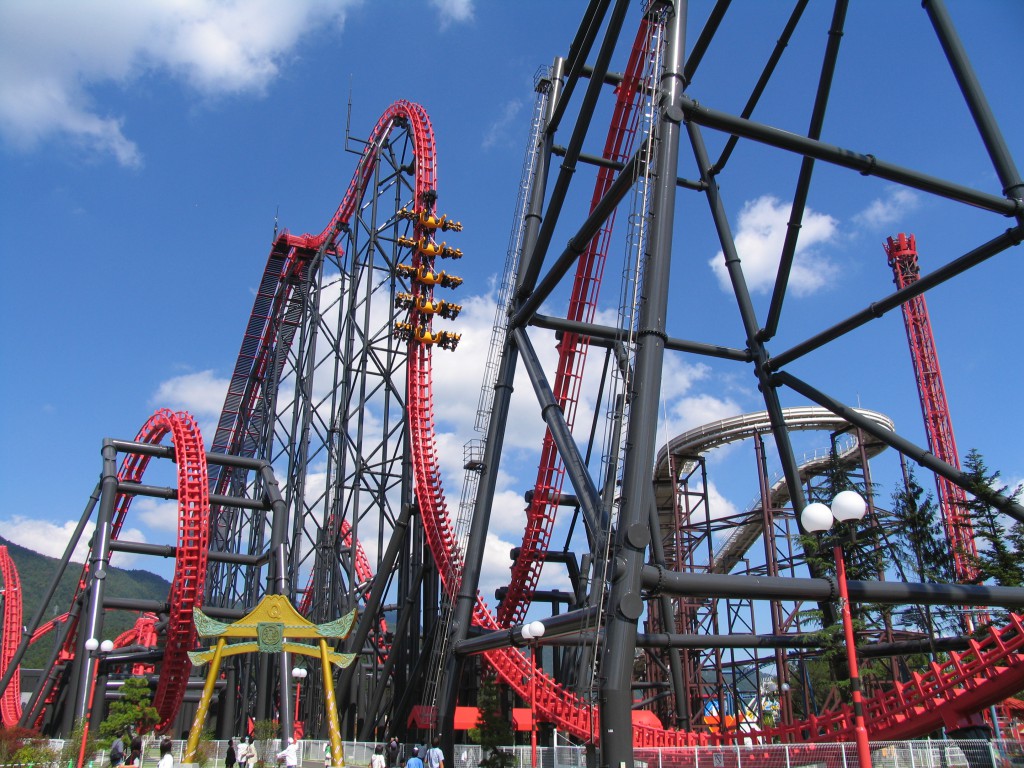 Fuji Q Highland 
Fuji Q Highland is one of the most popular amusement parks in Japan. The reason for it's popularity is because of it's thrilling rides, it's gigantic haunted house, and also because it's location. It is located close to the Fuji Five Lake and is at the foot of Mount Fuji. So on a clear day you can get a view of Mount Fuji. A lot of people also like to spend a day the the Fuji Q Highland and then they'll go to the Five great lakes as there are lots of scenic spots and other activities to enjoy.
(picture source: https://page.line.me/fujiqhl)
This popular amusement park first opened on March 2nd 1968. There are a total of 7 roller coasters at the Fuji Q Highland and there are now two haunted houses. One of the haunted house which has become very famous it the Haunted Hospital which is known for being the largest haunted attraction in the world. There is a newly built haunted attraction at Fuji Q Highland which is known as the Hopeless Fortress. There aren't just all adult rides at this amusement park as there is a Thomas Land that is specifically for children. There are a bunch of rides for children and a Thomas the Tank Engine theme and attractions themed to Gundam and Evangelion.
(picture source: https://www.highlandresort.co.jp/news/restaurant/617.html)
There are currently 4 major roller coasters at Fuji Q Highland. One of the Fujiyama which is the centrepiece attraction of the amusement park. This was once the world's tallest and fastest roller coaster in the world when it first opened in 1996. In 2001, a new rollercoaster called the Dodonpa opened and it is one of the speediest coasters and holds world record for the fastest acceleration. There is another interesting roller coaster that have seats that rotate within the car and this roller coaster is called the Eejanaika which opened in 2006. The fourth major roller coaster is the Takabisha which opened in 2011 and is known for being the steepest roller coaster as it drops at an angle of 121 degrees.
There are also a bunch of other entertainment attractions which are mainly based on popular anime series. These anime attractions include mazes and haunted attractions. There are also other rides that many of us are familiar to like the tea cup ride, pirate ship, drop tower, log flume and more.
(picture source: https://www.fujiq.jp/attraction/skate.html)
And during the winter time there is a ice skating rink which you can enjoy as well. They have skates that you can rent as well. There are also a bunch of restaurants and rest areas that you can take a break at. And if you are tired of rides and want to do something else there is an area where you can do carnival games that are spread around the park.
If you want to stay somewhere near Fuji Q Highland then there is actually a Highland Resort Hotel and Spa located near the main entrance of the amusement park. If you stay here you can have easy access to the amusement park as well as attractions in the surrounding area and you can get a free entry into the Fujiyama Museum and Fujiyama onsen.
The Fujiyama Museum is a popular museum that displays a bunch of different paintings along with paintings of Mount Fuji. If you have a unlimited ride ticket for Fuji Q Highland then you can enter the Fujiyama museum for free. If you only wish to enter the museum and not the amusement park then you can enter through the Highland Resort Hotel and Spa.