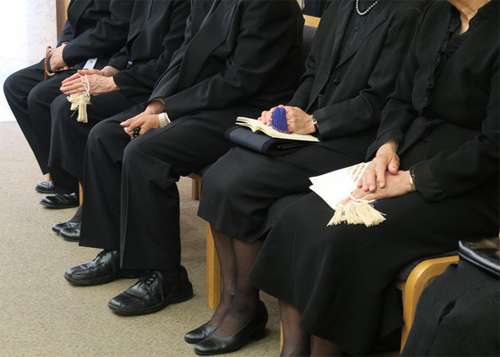 Funerals in Japan


In Japan there are a variety of different faiths that society accommodates with. When a person passes away, the majority of society will hold a funeral service at a Buddhist Temple. It is said that a little over 90% of the population hold a Buddhist funeral and only a little over 3% of the population hold a Shinto funeral and a little over 2% holds a non-religious funeral.
(picture source: http://www.toshima-f.co.jp/funeral/?p=2915)
In Japan, although Buddhism is an important religion there are a lot of people who do not strictly follow Buddhism. So a lot of people usually will take part in both Shinto and Buddhist events and this is a perfect example of people taking part in a religious event even if they may not believe in Buddhism. There are other events in which people will participate in a Buddhist event but mainly it is at the end of one's life or for special anniversaries in which people will turn to temples to ask a monk to conduct rituals and chant prayers for a loved one passing away. A funeral service will usually be held either at a temple, the deceased's home or at a funeral hall.
(picture source: http://www.hikari-group.jp/takatsuki/%E3%81%9F%E3%81%8B%E3%81%A4%E3%81%8D%E3%83%9B%E3%83%BC%E3%83%AB%E3%81%AE%E5%92%8C%E5%AE%A4%E3%81%A7%E3%81%8A%E8%91%AC%E5%BC%8F%E3%82%92%E3%81%95%E3%81%9B%E3%81%A6%E3%81%84%E3%81%9F%E3%81%A0%E3%81%8D/)
The funeral rites will differ depending on the region or by denomination but usually the body of the deceased will be washed and then laid out in a wooden coffin in front of the guests facing north. The priest will recite sutras by the body of the deceased or by the hotokesama. The friends and family members of the deceased will gather for the wake which they will share their stories and pay their respects. The day after the wake the funeral will be held.
After the service has finished, the body of the deceased will be cremated. When the body is cremated, the family will use special chopsticks to place pieces of the bone into a kotsutsubo which is an urn in Japanese. In many Western countries you have the option of being cremated or not and this is the same in Japan as well but in Japan about 99% of the population is cremated.
(picture source: https://hitohana.tokyo/note/1561)
The mourners will usually offer money called Koden in Japanese. The money offered to the family of the deceased will depend on the relationship to the deceased, however, it is usually around 3,000 yen to 30,000 yen. The money must be places in a special envelope called a kodenbukuro which is usually black and white or black and silver. You can usually get this at any stationary store, book store, or even convenience store as some people will need to attend a funeral at the last minute. When you place the money in the envelope it must be folded. This is the opposite from weddings in which you must prepare a brand new unused bill when placing it in an envelope.
(picture source: https://hitohana.tokyo/note/1561)
It is an essential custom to burn incense at a Buddhist funeral. The mourners will take a pinch of the powdered incense and they will do so by pinching it using their thumb, index finer and middle finger of their right hand. They will then hold it up to their forehead with their palm facing inward. They will then sprinkle the powdered incense in a burner. The number of times this is done will depend on the Buddhist sect so it may only be done once or it may be repeated three times.
If you are interested in renting a pocket wifi or a prepaid SIM card during your trip to Japan then make sure to check out the Genki Mobile Website: https://genkimobile.com/