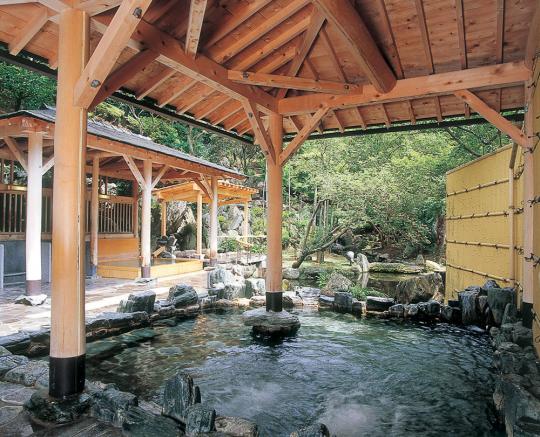 Fushioukaku Hot Spring Resort
Fushioukaku Hot Spring Resort
On the north side of Osaka in the green hills of Ikeda there is a hot spring resort hotel called Fushioukaku Hot Spring Resort. Even though it is in a rural area you can actually easily get there from Umeda station. From Umeda station it is about 30 minutes away so it is really not too far away so it is a perfect way to escape for the weekend. This onsen resort is everything you could wish for. It is just like a traditional style Japanese ryokan with great hospitality and great service.
(picture source: http://tabihatsu.jp/special/onsen/program/82525.html)
In total there are 70 guest rooms and a bunch of different styles that you can choose from. There are rooms that are a traditional Japanese style which comes with a tatami matt room and futons or you can choose a room that is a mix of Western style and Japanese style. The mix room has Western style beds and you can choose from a twin bed or a double bed. There are rooms on the 6th floor and 7th floor of the resort that have a private outdoor bath on the balcony called a rotemburo. And on the 6th floor there are massage chairs that the guests can use.
(picture source: https://www.rakudaclub.com/hotels/gallery.php?id=80171)
All of the rooms in the hotel have a tv, a tea set, a fridge and yukata robes that you can wear in your room and when walking around the resort. There is also shaving gear, toothbrush set, conditioner, shampoo, body soap and towels as well. At the reception you can also ask to borrow a hair dryer.
(picture source: https://www.rakudaclub.com/hotels/gallery.php?id=80171)
At the Fushioukaku Hot Spring Resort both breakfast and dinner is served at the hotel restaurant but if you would like to have either breakfast or dinner set up in your room you can do so for an additional 1,000 yen. Breakfast is a buffet style that includes both Western food and Japanese food so you can choose from fruits, bread, onigiri, juice, cereal and more.
Dinner is a course meal that will include vegetables and other ingredients that are popular during that season that you are visiting. However, all year round the hotel will serve seafood like sashimi, tempura, wagyu beef and other meat depending on your preference.
The hotel has a large bathing facility which are separated by gender. There are both indoor and outdoor ones that you can enjoy. During the spring time you can go to the outdoor onsen and enjoy the cherry blossoms. And during the summer time you can enjoy all the greenery surrounding the onsen and during the autumn season the leaves turn into a beautiful red colour and then during the winter time it becomes a winter wonderland..
The staff at the hotel speak Japanese, Korea, and English and they are very kind and attentive to all of the guests. There is also free Wi-Fi throughout the whole hotel. The great thing about this hotel is that there are other facilities at the hotel including a games corner, karaoke box, souvenir shop, a barbecue garden and a tea lounge. You can even relax at their beauty salon where they have a variety of beauty treatments, aromatherapy massage, and hot rock bathing.