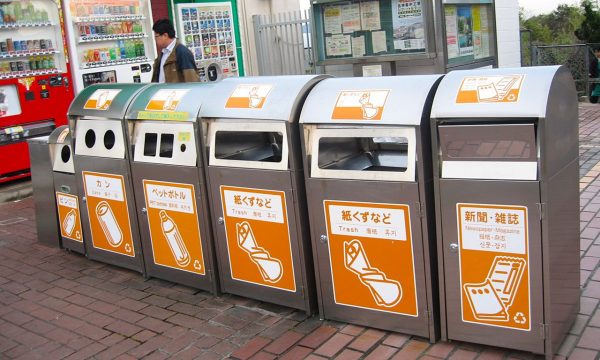 Garbage Disposal in Japan
Garbage Disposal in Japan
In most countries it is usually very simple to throw out your garbage. Garbage is garbage so as long it's sealed up in a plastic bag and taken out then you are all good to go. However, in Japan thing are a little different. It definitely isn't as simple as just putting it in a plastic bag and taking it out. You actually need to divide your garbage into combustibles, incombustibles, oversized garbage, bottles and cans. This can be an incredible pain in the ass to do. But if you don't your garbage may be "refused" or it can lead to neighbors complaining to your landlord. The worst case scenerio would be the cops getting involved and threatining to take action for not disposing your garbage correctly. So something that may seem so little can become a big thing as Japan takes their garbage disposal very seriously.
(picture source: https://www.chinasmack.com/chinese-football-fans-pick-up-trash-copying-japans-example)
In Japan, you'll even see that fast food places, coffee shops and convenience stores will all ask you to separatr your garbage. So a lot of foreigners who come to Japan often find this disposal system to be fascinating.
As I mentioned above their are four different categories that you need to divide your garbahe into and each has it's own disposal day. The first category is combustibles. Combustibles, also known as burnables, are collected twice a week. If you are not sure of which category something fits into it's best to check the garbage disposal site of the area you live in. The second categoryis incombustibles, incombustibles are usually colle ted once a week. Again if you are not sure if something fits into the incombustible category make sure to check it out online. The third category is oversized garbage. If you are throwing out any household appliances, furniture, big toys etc then it will be classified as an oversized garbage disposal. For this you will need to either call the oversized garbage number of your area or apply for it to be picked up online. Once you have registered it you will need to go to your local convenience store and get the specific amount of garbage disposal stickers for the object you are disposing of. The fourth category is the bottle and cans category. Bottles and cans are collected twice a month. Anything with a cap you will need to remove the cap and put it inti a seperate plastic bag. Bottles and cans both ned to be washed/clean and then put into seperate plastic bags.
(picture source: http://homeandawaywithlisa.com/blog/2013/1/31/taking-out-the-garbage-in-japan.html)
The date in which the garbage is collected, the area it is collected and the rules will differ depending on the are in which you live but there will usually be basic information givin in the garbage disposal area. Some apartments will have a disposal area inside the building, some will have it outside and some neigborhood area will share a garbage disposal area. The garbage is usually collected between 8am to 10am so it is best to have the garbage disposed the night before. Neighbors and landlords may complain if garbage is left more than a day before the collection day. Everything is listed in English on the website for the area that you live in so as long as you follow their guide then you should not have to worry about any complaints or threats to take action.
If you are interested in renting a pocket wifi or a prepaid SIM card then make sure to check out the Genki Mobile website at the following link: https://genkimobile.com/