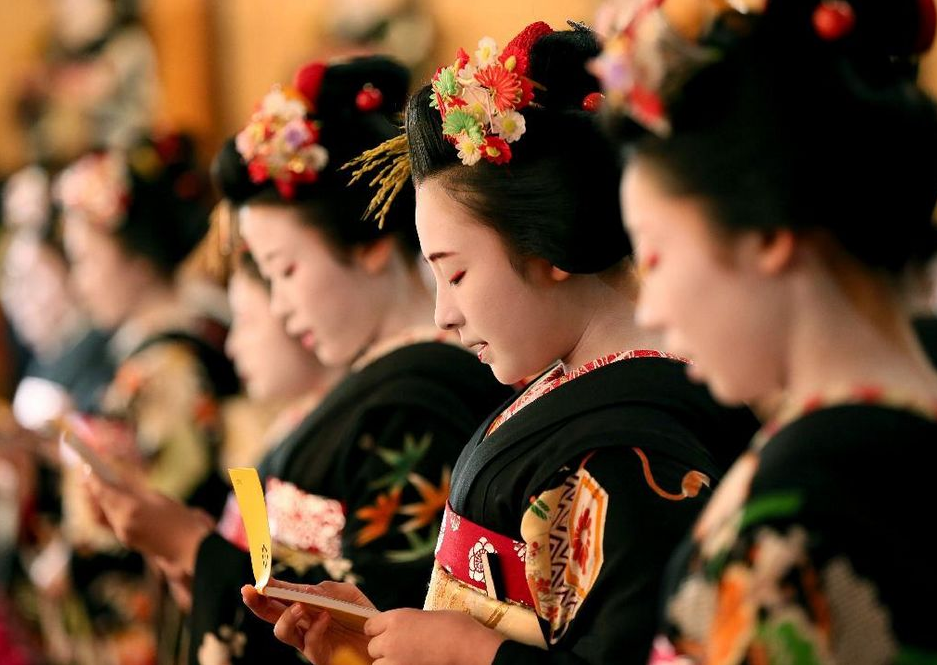 Geisha in Kyoto
If you are going to Kyoto then you may want to spot a Geisha. After all a Geisha is one of the things that symbolize Japan. Although a Samurai is surely another symbol of Japan you won't see any real Samurai. However, you still have the chance to meet a Geisha with their white-painted faces, traditional hairstyle and kimono. And seeing one will definitely be the highlight of your trip to Japan without a doubt.
Kyoto is known for being the former capital of Japan which has a history of over a thousand years. There are still hundred Maiko, which is an apprentice of a Geisha, and 200 Geiko, a named used to refer a matured Geisha, that still exist today. A Maiko is usually a girl who is below the age of 20 and usually starts her career as early as 15 years old. There is a special school in which both a Maiko and Geiko must attend to learn all the Japanese culture such as learning to do a tea ceremony or learning to do a flower arrangement and they also learn traditional Japanese music and dance.
A Maiko is a professional artist, however, it is said that their youth and immaturity is a part of their charm. Their look, for example, emphasizes their youth as they tuck their sleeves in at their shoulder which is something that children do. Once they turn 20, they are finally acknowledged as being skillful in the art and the service and therefore can become a Geiko. At this age, they are also seen as more mature as they are old enough to be able to talk and listen with their guests.
Although it may seem like a dream to meet a Geisha it is actually possible to do so in Kyoto. The best place that you are guaranteed to be able to see a Geisha is at a theatre in Gion. This is where they perform all sorts of different traditional Japanese performances. This theatre was originally made for the Tokyo Olympic Games to welcome foreign guests. You can experience this performance for 3,150 yen!
If you are on a budget and this is too expensive for you then the next best option would be to go to the Gion area and walk around. If you are lucky you may come across a Maiko and Geiko as this is the area where they live. However, there are tourists that are dressed as a Geisha as well so make sure not to mistaken a tourist for a real Geisha.
If you would actually like to "meet" a Geisha then you should definitely go to Gion Hatanaka. There is a special package that you can get where you can spend time with a Geisha while enjoying some authentic Kyoto cuisine. The Maiko and Geiko will come with their full face of make-up and beautiful Kimono and will come to the room to perform dances and pour sake for you while you talk to them. You can even take pictures with them! There are also party games that they do which you can participate in if you would like.. It is definitely a once in a lifetime opportunity to do this. So if you are interested make sure to look for more information on the Gion Hatanaka website.
If you would like to meet a Geisha in private or would like a more authentic experience then you can do this by going to a Ochaya-asobi which is visiting a real traditional teahouse. For a very long time. these teahouses didn't accept a guest unless they were referred by another client. This is because they were very tight on security and also because they wanted to maintain their level of service. Therefore, it made it really hard for foreign guests to visit. Recently they are not as strict as they used to and have opened up their doors to other guests. So if you are staying at a very nice ryokan or five star hotel in Kyoto the concierge will assist you in making a reservation.
If you are interested in renting a pocket wifi or prepaid SIM card during your trip to Japan then make sure to check out the Genki Mobile website: https://www.genkimobile.com/