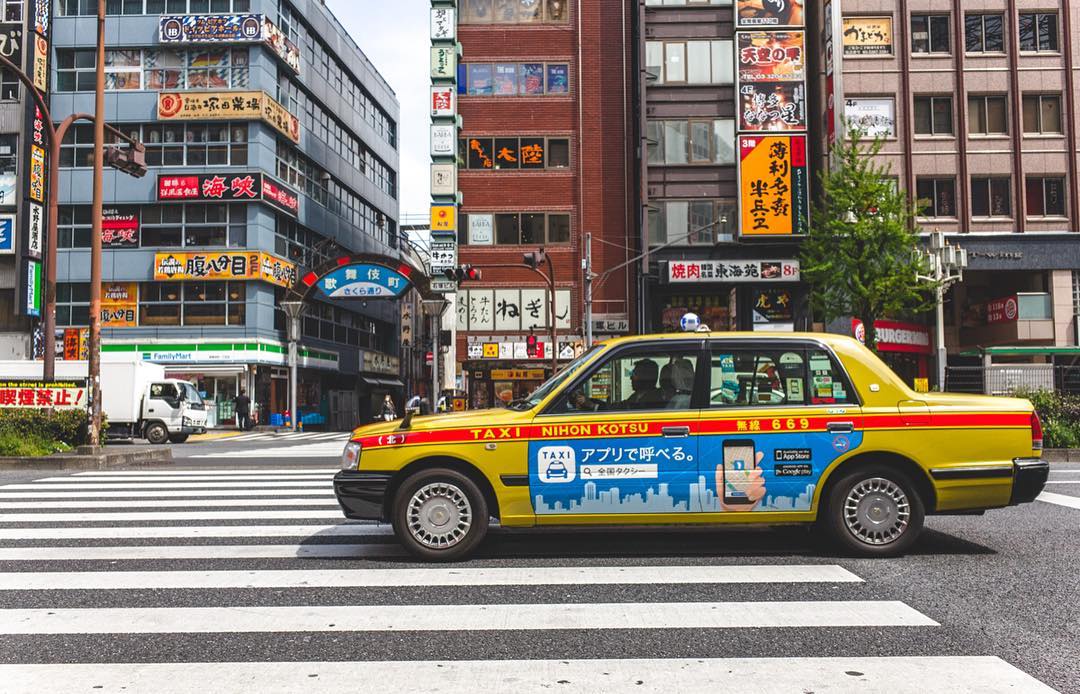 How to get a taxi in Japan
How to get a taxi in Japan
If you are traveling throughout Japan and are looking to take a taxi there are several different ways in which you can catch a taxi. But do know that taking a taxi in Japan is pretty expensive so you might not want to be taking a taxi unless it's necessary. The train system in Japan is very efficient although it may be very overwhelming and confusing at first. Also, I see that people often wonder if they can take a taxi from the Haneda airport or Narita airport but in my opinion I definitely wouldn't recommend it. It will be very expensive especially if you are going from Narita Airport because Narita is pretty far away from the centre of the city. Haneda is still closer but all in all taxi's are expensive so if you want to save money then take the train. I promise you will get used to the train system in Japan and you will find that it is actually a very convenient way to get to your location.
But say you absolutely need to take a taxi because you missed the last train or you have too much luggage. Whatever the reason is there are a few different things that you can do to catch a taxi.
Flag a taxi
(picture source: https://www.tsunagujapan.com/read-this-and-dont-worry-tips-on-riding-taxis-in-japan/)
Just like in any most countries to catch a taxi all you have to do is flag a taxi. If a taxi is not open they obviously won't stop and you will know that someone is already on the taxi because the sign in the front will not be on. Taxi's that are open will have a red sign that will have the kanji for ku-sha which means empty car. Almost always the taxi driver will stop if they have their red sign on. I know that in some countries they won't even bother to stop but you shouldn't have much of a problem with taxi drivers ignoring you in Japan.
2. Reservation
If you can speak Japanese then you can easily call and make a reservation for a taxi. But if not do not worry you can use an app to reserve or order a taxi in English. The two different apps are 1. Japan Taxi and 2. Line Taxi.
3. Japan Taxi
With Japan taxi you can download the app on both ios and android phones. The Japan taxi app actually has a GPS function in which you tap your location and can get a taxi driver to come to your location. The app will search for the nearest available taxi and when it finds one you will see where the taxi is and it will keep you updated on how far away it is. There are a few different taxi companies that you can order using this app and you can choose what kind of car you want to order as well. It's extremely easy to use because of the GPS location and also because it's all in English.
4. Line Taxi
(picture source: https://www.techinasia.com/line-taxi-launch)
Line, for those of you who don't know, is a very popular messaging app that is used by almost everyone in Japan. It is very similar to whatsapp. Now, Line has something called Line Taxi which is a different feature that is embedded inside of the messenger. Line has partnered up with a very famous taxi company called Nihon Kotsu. As of right now, the service of the Line Taxi is available within the 23 wards, Mitaka and Musashino. However, the only way to pay for the Line Taxi is through Line Pay. And in order to get Line Pay you have to have a Japanese phone number as well as a Japanese credit card. If you have both then you can definitely use this app.
5. Uber
(picture source: https://www.cnbc.com/2015/10/16/is-japan-the-next-front-in-turf-war-with-uber-lyft.html)
Although not very commonly used and not very popular as you can only use it in a small area of Tokyo, you could also book an Uber if you'd like. Uber eats has become very popular in Japan but unfortunately the regular Uber has not become popular at all.
If you are looking for a rental pocket wifi device or a prepaid SIM card make sure to check out the following link: https://www.genkimobile.com/