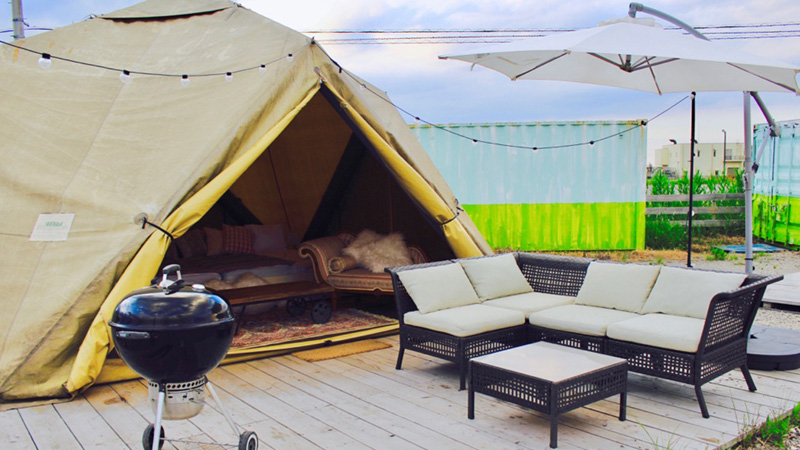 Glamping in Japan (part 2) 
Glamping in Japan (part 2) 
If you want to know what the newest most popular thing to do is in Japan then you should know that Glamping is the new thing. If you have never been much of a camping person then you can now try out glamping. Even if you are someone who likes camping you should try glamping because maybe you'll like it more than you thought you would.
In my previous blog I mentioned a few different glamping sights that are very popular in Japan. And if you're looking for more options then make sure to check out the rest of the glamping rights that I will be introducing below.
(source: http://wildbeach.jp)
Some of the places that I introduced in the first blog are cabins. If you are not a tent person then a cabin is better but then if you want something that is close to a tent experience but not the real thing then I would recommend going to a place called the Wild Beach Seaside Glamping Park. It has become known as the "smart camp" as it has a range of facilities including very stylish tents, a camping hotel, an airstream trailer and barbecue area that overlooks white sand.
So you have a few options here. If you want to go for the tent style it is a tent with a bed in it so you don't have to sleep on the ground. You can also choose the camping hotel which offers bunk beds. The trailers are trailer cars with beds and couches. You can make glamping reservations or you can go for the bbq area only or you can also just make reservations for the restaurant that they have on-site.
(source: http://www.hatsushima.jp/photogallery/)
Another place I would recommend going to is the Hatsushima Island Resort. They have trailers that you can rent and as it is located on a small island called Hatsushima which is in Atami in Shizuoka Prefecture. There are plenty of things to do on this island including diving, snorkeling, fishing and even relaxing in an onsen. The area is surrounded by greenery and each trailer comes with a a barbecue, hammocks and a picnic table.
(source: https://tokyoglamping.com/tokyo/04/)
There is a glamping place that was relatively newly launched called the Wild Magic Glam BBQ. It is also not too far away from Tokyo as you can take the train Shin-Toyosu Station. You can also soak in the view of the beautiful rainbow bridge.
There are different areas and if you would like to stay over night then you can get a tent at the Tipi Village area of the grounds. There is a cafe/bar area on the grounds and there is a shower area. You can also just go there for the day to enjoy a barbecue with friends and family. There is even an outdoor party area as well.