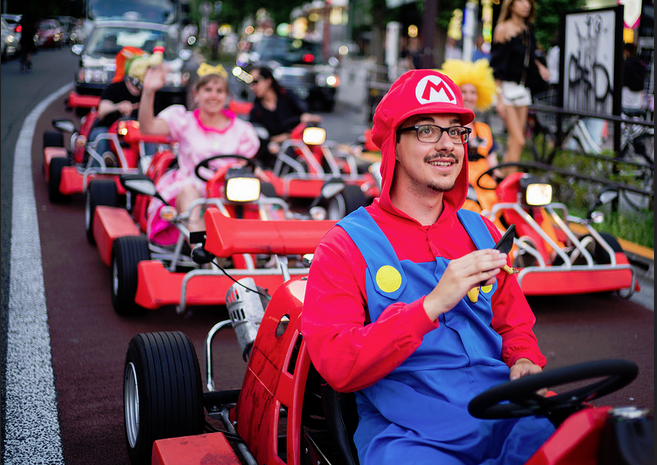 Go-Kart Tour Tokyo
A few years ago, pictures and videos of people go-karting on the streets of Tokyo wearing costumes from the Mario game blew up all over the internet. And since then it has become extremely popular amongst tourists. So I'm sure that if you are reading this you are probably interested to know more about how it all works.
There is a company called MariCAR where they offer a bunch of different courses around Tokyo that you can book. There are also many different store locations that you can choose from
(picture source: https://www.klook.com/activity/2082-street-go-karting-experience-akihabara-tokyo/)
So when you first arrive at the MariCAR they will check that you have the appropriate driving licenses. In order to drive in Japan you will need to have an International Driving Permit. So make sure that you have this organized before arriving at the MariCAR. From there you can pick whichever outfit you would like to wear. There are a bunch of different costumes that you can choose from including characters that are from Mario Kart, Disney, Super Heroes and more. They even have other little accessories that you can borrow such as LED sneakers. helmets, bluetooth speakers and fake moustaches.
(picture source: https://www.flickr.com/photos/stuckincustoms/35575510340)
You will then have a guide who will take you to where the go karts are and he will give you instructions on how to operate the go-kart and also explain the safety rules.
The MariCAR has a bunch of different stores in Tokyo including two in Shinagawa, two in Akihabara, 1 in Shibuya, 1 in Tokyo Bay, 1 in Asakusa and also a shop in Yokohama, Osaka and Okinawa. And each place has a different course offered.
(picture source: http://www.media4news.com/amazing-mario-karts-drive-around-tokyo-streets/)
For example, if you were to start at the Akihabara shop they have one course that is from around 1.5 to 2 hours and you will start at Akihabara then go to Tokyo station, Ginza, Ueno, Asakusa and then to the Tokyo Sky-tree.
The next course is a 2.5 to 3 hour ride and you will start at Akihabara then go to Tokyo tower then to the Rainbow Bridge then to Ginza and back to Akihabara.
The next course that they offer includes a 45 minute boat cruise. You will start at Akihabara then go to the Tokyo Tower, from Tokyo tower you will go to the area where you will get on the boat cruise which will take you to the Rainbow Bridge area and then from there you will go to Ginza and then back to Akihabara.
Depending on where you start the course may differ but it is great because you can drive around and see all the famous tourist areas. There will usually also be a time where you will stop for a bit to have break time. Also, as you are wearing costumers remember that a lot of people will probably ask for pictures or people will just take pictures of you so make sure to keep this in mind before deciding to do this.
It is definitely an activity I would recommend doing if you are coming to Japan because you really won't get the opportunity to experience this anywhere else! And what a great way to do some sightseeing while having some fun driving!
If you are looking to rent a pocket wifi or a prepaid SIM card during your trip to Japan then make sure to check out the Genki Mobile Website: https://genkimobile.com/