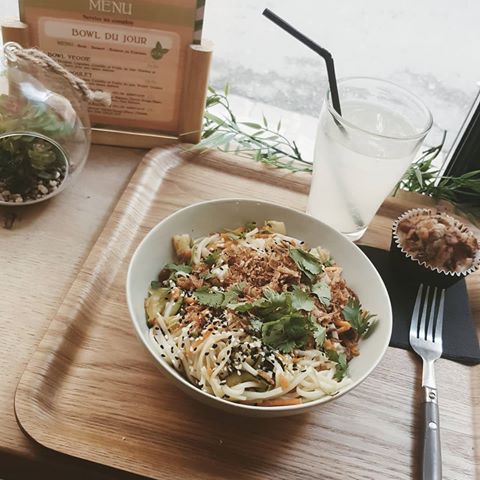 Healthy Instagram Cafes and Restaurants (Ebisu)
Healthy Instagram Cafes and Restaurants (Ebisu)
There are many different trendy locations in Tokyo and one of them is Ebisu. There's not much in Ebisu except for trendy cafes and restaurants. So if you are looking for an instagram worthy place with good food I would suggest heading over to the Ebisu area.
Mother Earth Cafe
(source: https://vokka.jp/12647)
(source: https://www.ozmall.co.jp/restaurant/5572/)
The next most fashionable cafe that you will find in Ebisu is the Mother Earth Cafe. Even though Tokyo is a city filled with skyscrapers, here you will be able to taste everything mother earth has to offer. The interior has a trendy atmosphere which uses a lot of white and green colours that will make you feel relaxed. This is a great place for mom's with small children or if you and your girlfriends are looking for a trendy looking cafe to have lunch at. Here you can enjoy authentic Italian dishes and everything is extremely healthy as they use organic vegetables. They even have a girls party course which comes with sparkling wine so you can have a good time with your girls.
GREENBOWL Ebisu
(source: https://www.pictame.one/tag/GREENBOWL)
GREENBOWL Ebisu is located right by the Ebisu Garden Place which is located right in front of the Ebisu station. Ebisu Garden Place is pretty much the landmark of Ebisu. At GREENBOWL Ebisu there are large windows which brings in the natural daylight so it is a perfect place to enjoy a healthy lunch with a friend or to do some reading or work alone. And if you're date is up for a healthy lunch you can even consider going for  date here.
(source: http://www.greenbowl.co.jp/)
The most popular salad bowl at this cafe is the GREENBOWL which is also the name of the cafe. This salad bowl includes fresh vegetables, brown rice, and protein that is delivered directly from the production area. Everything healthy is packed into one bowl so it is a bowl full of nutritious items.
Les Grands Arbres
(source: https://cafesnap.me/c/1605/p/food)
The next place I would like to introduce is Les Grands Arbres which is also located in Ebisu. This cafe was actually used in a famous Japanese drama called Dear Sister which starred Matsushita Nao and Satomi Ishihara which aired in 2014.
(source: https://aumo.jp/articles/16971)
There are also professional florists who work on the first floor so the entire cafe is full of beautiful flowers. You are surrounded by greenery and blooming flowers that you'll feel as if you are having a picnic outside. Their menu is very health conscious so if you've been on a junk food binge and need to get back on track this is a great place to start of your healthy eating!
Balloom
Yet another great place located right in Ebisu if a trendy looking cafe called Balloom. It is a very cute looking antique shop that is popular amongst all the Japanese instragram loving girls in Japan. Their furniture and dishes are a very New York style and you are bound to get a great shop anywhere in this shop.
The most recommended thing to get on their menu are their smoothies and their healthy okara x tofu donuts. The smoothies are colorful and photogenic and with the donut you can get a cute shot for the gram. Even though you are eating sweets you can feel guilt free because it is healthy.