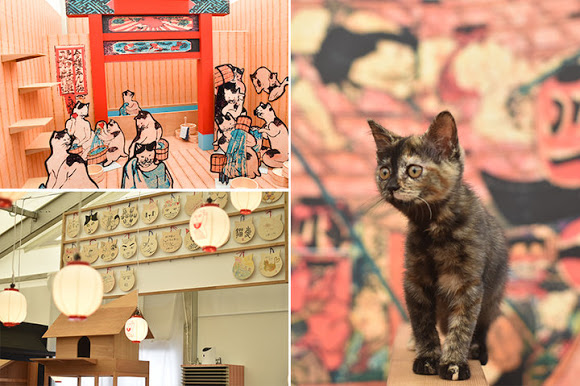 Historic Style Cat Cafe 
Japan went through a huge cat boom and all of a sudden a whole bunch of cat cafes were popping up here and there. For those of you who are not familiar with a cat cafe it is basically a cafe filled with cats where people can come have some tea or coffee and enjoy playing with all the different cats. There are actually a bunch of different animal cafes located all over Japan and especially the Tokyo area. You can find dog cafes, owl cafes, hedgehog cafes and rabbit cafes.
(source: https://trilltrill.jp/articles/1006198)
Many of these pet cafes often look very normal. Some of the cat cafes look very modern and are well designed with lots of play areas for the cats. There is now one that is a bit different from a lot of the other cat cafes. And many cafes in Japan often have an interior that looks like something you would find in California.
But from June 15th to August 31st, 2018 there will be something new called the Edo Cat Cafe that will be opening. This cafe takes its visual cues from ukiyo-e woodblock prints from the tail end of the Tokugawa shogunate. The interior of the cafe has many different areas the represent aspects of what daily life was like during the Edo period in Japan. For example it has Neko Chaya which means cat teahouse, neko nagaya which means cat rowhouse, neko yukaku which means cat pleasure quarter, neko furu which is a cat public bath and the nekko jinja which is a cat shrine.
Each of what I mentioned above is located in different sections of the cafe and you will be able to find cats to mingle with in each of these sections. So you get to not only get a taste of what the Edo period was like but you also get to enjoy playing with cats.
Another great things about these cat cafes are that you can get a taste of what it is like to have a pet and if you enjoy it you can perhaps make a pet a permanent part of your life. Many of the cats at these cat cafes are also rescue cats and so if there are any that you would like to adopt it is worth asking the owner of the cat cafe.
(source: https://trilltrill.jp/articles/1006198)
Even if you aren't ready to own a cat you always have the option of going to a cat cafe. And when you visit the Edo cat cafe you don't have to go empty handed as there are a bunch of merchandises that they sell at their exclusive gift shop.
They have a number of different t-shirts with cat designs on it. And they have really cute ceramic dishes with character style cat designs. There are also a few tenugui decorative wrapping cloths.
And there are adorable cat cushions. One has a manuki neko design and the other is a design of a cat sleeping on top of a delicious looking dorayaki.
If you want something smaller and cheap to take back home with you then there are also stickers that you can get at the gift shop at the Edo Cat Cafe.
(source: https://trilltrill.jp/articles/1006198)
This Edo Cat Cafe is location right next to the Ryogoku Station so it is easy to visit the sumo arena, the Edo Tokyo Museum or Sumida Hokusai Museum on the same day that you visit the Edo Cat Cafe.