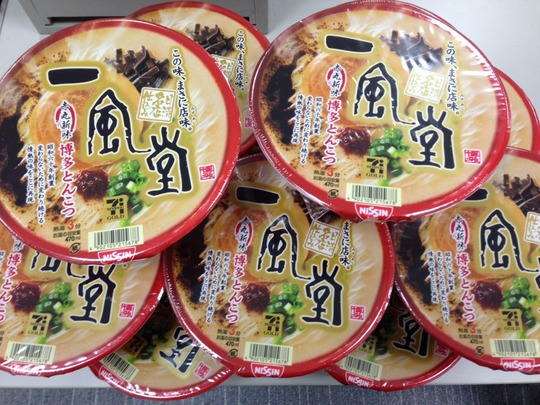 Top Instant Ramen in Japan
Top Instant Ramen in Japan
Sushi is definitely a staple Japanese food that is loved by people all over the world but the other food that is loved by people around the world is ramen noodles. And Japan has some of the best instant ramen noodles and a lot of different kinds as well. So if you are heading back home and want to bring a bunch of different instant ramen noodles back with you then this is the best guide for you. I have put a list together with the some of the most loved instant ramen noodles in Japan.
(picture source: http://blog.livedoor.jp/nsg3/archives/51911410.html)
One of the most popular instant ramen noodles is the Ippudo ramen. Ippudo is a popular ramen restaurant in the Kyushu area that has some of the best authentic ramen noodles. And since 1985, they have developed instant ramen noodles that are just as delicious as the ramen noodles that they make at their restaurants. The ippudo instant noodles also comes with a slice of pork with their delicious stock.
(picture source: https://online.carrefour.com.tw/1450204900101)
The next most popular instant ramen noodles are the Ichiran ramen noodles. This is another chain restaurant that has blew up in the last few years. You will see locals and lots of tourists lining up to get a taste of the ichiran ramen. Because of it's popularity they recently made an instant noodle version of it so that tourists could bring it home with them.
(picture source: https://matome.naver.jp/odai/2138622286185364101/2138632860456304703)
Maruchan Seimen is a popular instant ramen noodle brand. The difference with the maruchan seimen and the other instant ramen noodles is that usually ramen noodles are fried before they are dried and packaged but the maruchan seiman is just dried before it is packaged. But this is what gives the maruchan seimen ramen noodles a delicious taste that is different from other instant noodles.
(picture source: https://www.amazon.co.jp/サッポロ一番-サンヨー食品-サッポロ一番みそラーメン-5食入/dp/B000YOSPMC)
The miso instant ramen noodles by Sapporo Ichiban Ramen is another instant noodle that is loved by all Japanese people. There are a lot of other miso ramen instant noodles but this one is the best in my opinion. The Sapporo Ichiban miso ramen is also a bit different from other miso ramen as they top the ramen noodles with butter and corn kernels. This is because Hokkaido is known for producing some of the most delicious butter and corn.
(picture source: http://www5a.biglobe.ne.jp/~s-masa/myoujyo/ippeityan-yomisenoyakisoba.html)
If you love yakisoba then you will love the Ippei-chan yakisoba. The taste of the sauce and the lightweight noodles goes together really well. And the ippei-chan yakisoba, unlike other instant yakisoba, comes with a pack of Japanese mayonnaise and this is also what gives such a delicious taste to the noodles. Yakisoba and mayonnaise actually goes together really well.
(picture source: https://sirabee.com/2017/06/26/20161180449/)
The other most popular instant ramen noodle is the Chili Tomato by a company called Nisshin. This instant ramen noodle has been out for many many years and many people still rave about this ramen. Nisshin has a lot of other instant ramen noodles but the Chili Tomato is the one that stand out the most. The spice and the tomato base soup blends together perfectly.