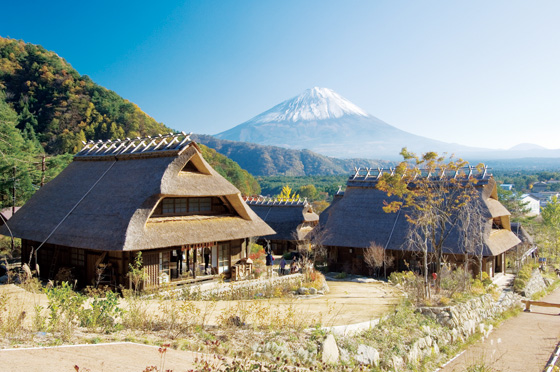 Iyashi no Sato
On the Western shore of Lake Saiko there is a a place called Iyashi no Sato that stands where a farming village used to be. For those of you who do have not heard of Lake Saiko it is a lake neighbouring Lake Kawaguchiko but it is much small and less developed compared to the Kawaguchiko lake. The view of Mount Fuji is blocked from Lake Saiko so it isn't a popular place to view Mount Fuji but as the surrounded area has a few camp sites it is a popular place for those who like camping, boating, fishing and other outdoor activities.
(picture source: https://www.mt-fuji.gr.jp/spot-tsukuru/iyashi/)
The farming village that used to stand where the Iyashi no Sato now stands was destroyed during a typhoon when it caused a landslide in 1966. The area was reconstructed forty years after the farming village was destroyed and it was opened as an open air museum. It became a traditional craft village where people can go and learn about the culture and can experience different local handicrafts.
(picture source: https://www.jalan.net/kankou/spt_guide000000182924/activity/l00000BCB6/)
The Iyashi no Sato has grown and now has more than twenty houses that have been converted into shops, museums, galleries, and restaurants. Each of the shops here specializes in a traditional craft. For example, some shops will specialize in pottery, some in incense and others in weaving. There are also handicraft shops that provide workshops for visitors to make these traditional products. Some of the things that you can make are washi paper, soba noodles and charcoal.
For those of you who do not know what soba noodles are they are noodles that are popular all across Japan. They are made from buckwheat flour and are as thick as spaghetti noodles. They are usually prepared either hot or cold and dipped in a soya based sauce called tsuyu.
A few of the houses have been made into museums. For example, there is one house called the Watanabe House that exhibits the daily life of farmers who used to live in the area. Another house is a museum about Erosion and Sediment Control and it is all about the causes of the landslide that occurred at the farming village that was destroyed and they also explain different techniques in how to prevent such disasters.
(picture source: http://kohtyan.blog.so-net.ne.jp/2015-04-15)
The other shops have galleries displaying the local artworks, a produce shop, and there is even a house where people who visit can try on a kimono or samurai armour for a small fee and get your pictures taken. There are also some restaurants with delicious foods and other rest houses where you can take a break.
From the Kawaguchiko Station you can take the Omni Bus Green Line to the Iyashi no Sato which takes 40 minutes. The Iyashi no Sato is open from 9am to 5pm from March to November. And from December to February it is open from 9am to 4:30 pm. From December through February the Iyashi no Sato is closed on Wednesday. Also, it only costs about 350 yen to enter the Iyashi no Sato.