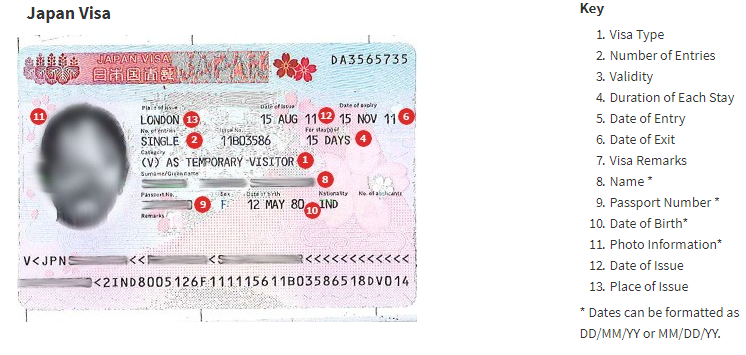 Japan Visa Guide
If you are planning a trip to Japan then you will need to know how to get a Japan visa to make sure that you don't run into any problems. Because the worst thing that you could experience is booking your tickets to Japan and then finding out there is some kind of visa problem.
The type of visa that you will need will depend of course on what you will be doing in Japan, your nationality and a few other factors. So here are the details below.
Temporary Visitor Visa
-If you are applying for a temporary visitor visa then this will allow you to stay for up to 90 days in Japan. This could be to either visit a friend or family, conduct business, tourism, academic research (short-term), attend a lecture and so on. However, there are many countries that Japan has an agreement with that exempt visas. A few of these countries include United States of America, UK, Canada, Australia, Korea, Singapore, France, Spain, New Zealand. For the full list of exempt national take a look at the following link. If your country is on this list then lucky for you because that means that you will not have to apply for a temporary visitor visa and instead you just have to bring a valid passport and you will be automatically granted your temporary visitor visa allowing you to stay in Japan for up to 90 days.
Transit Visa
-If you are spending less than 15 days in Japan on your way to a different country then you can apply for the transit visa. In order to apply for a transit visa you will need a visa application, a recent passport picture, flight details, accommodation details, and also a bank statement stating that you have at least 100 dollars for every day that you plan to stay in Japan for. You will also need a visa for the country you plan on entering after you go to Japan.
Japan Visa on Arrival
In Japan you cannot get a visa on arrival so you will either be exempt from having to apply for a visa or you are not exempt.
Long-term Visas
If you plan on staying in Japan for longer than 90 days then you will have to apply for one of the long-term visas. Again, the type of long term visa will depend on what you plan on staying in Japan for. It is usually for business, school or to be with a family member as a spouse or dependent. There are 12 different categories for work visas in Japan so depending on the type of work you do the type of work visa will differ. So whether you are teaching, researching, arts, journalism, business management the visa offered will be different. If you have a work visa you can live in Japan for up to 5 years. You can also apply for a long-term student visa which will allow you to live in Japan for to 4 years and 3 months. However, while you are a student in Japan with a student visa you will not be able to work in Japan.
If you are looking to rent a pocket wifi or prepaid SIM card during your trip to Japan then make sure to check out the Genki Mobile website: https://genkimobile.com/