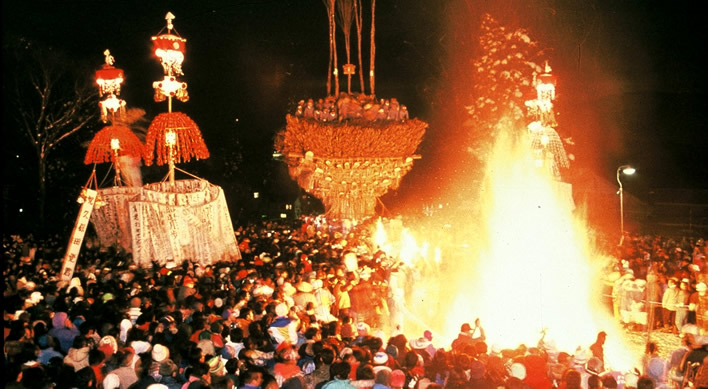 Japanese Fire Festival
Nozawa Onsen is a famous ski resort and onsen resort in Nagano but it is also famous for another very popular event. Every year on January 15th there is a major fire festival that takes place at Nozawa Onsen called the Dosojin Matsuri. There are other fire festivals that take place across Japan but the one at the Nozawa Onsen is said to be one of the three greatest fire festivals in Japan. There are old roads between the mountain towns that are dotted with gods which have become known as dosojin. These are believed to be the deities that protect the borders and roads of these mountain towns and the statues of these dosojin are usually enshrined at the village borders.
(picture source: http://sawa.yado-coco.com/02kiroku/01.html)
Every year the villagers bring down trees from the mountain which they cut down and then make into a wooden shrine or wooden structure which is called a shaden. On January 13th the villagers will bring down the tree and start making the shaden. After it has been constructed the Kosuge shrine priest will come to the shaden and perform a ceremony endowing it with a dosojin. On January 15th something called a fire-setting battle takes place. When this takes place the offensive team sets the shaden on fire with their blazing torches. It is an extremely exciting and spectacular festival to see.
(picture source: http://gazoo.com/my/sites/0001452147/yokotyou/Lists/Posts/Post.aspx?ID=3296)
It is a pretty long festival which can take around 4 hours from start to beginning so many people come just to see the battle between the guards and the torch bearing villagers. But if you were to stay for the whole thing it could take as long as four hours. And as there is a lot of sake drinking involved you will definitely be very buzzed by the time you go home. The Nozawa Onsen Fire Festival is nationally designated as an important intangible folk cultural property. Originally it started as an invocation for good harvest, health and good fortune in the year to come.
(picture source: http://blog.livedoor.jp/matunoyma_sato/archives/51482345.html)
As this season is also very popular for skiing the accommodation in the area fill up quickly so if you want to go see the Dosojin Festival then make sure that you book way in advance. And why not enjoy the good skiing while you are there as well. If you don't ski then maybe this is a great opportunity for you to learn how to ski. The snow at Nozowa Onsen Ski Resort is known for being some of the most spectacular snow and because of this it attracts people from all over the world.
When you are at the Nozawa Fire Festival it will definitely be a fun and even crazy event which will be nothing like you've seen or experienced before. Definitely enjoy the free sake that is offered at the festival but make sure to still be respectful and to not push, shove or start any fights as after all this is considered to be a cultural festival that has deep meaning for the local community and families. And make sure to not bring anything home as a 'souvenir' because whatever it is it may have a deep meaning and will be seen as disrespectful to take home. You may offend locals so make sure to not do that. Other than that make sure to take lots of videos and pictures to show all your friends and family back home!
If you are interested in renting a pocket wifi or prepaid SIM card during your trip to Japan then make sure to check out the Genki Mobile website: https://www.genkimobile.com/