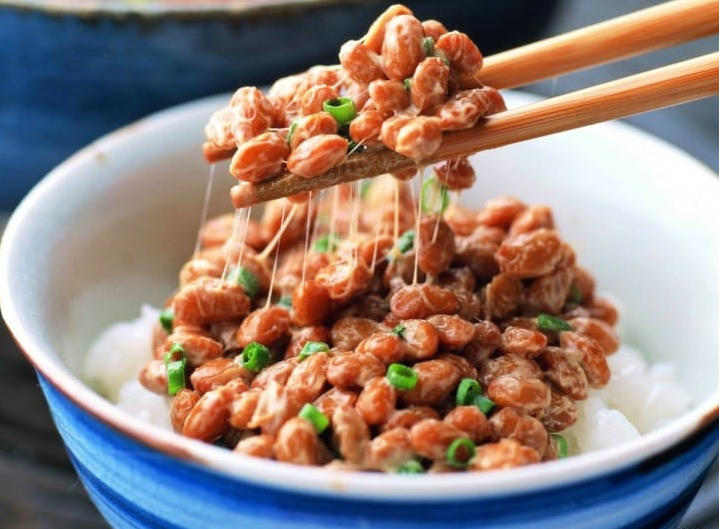 Japanese Foods that will make your skin smooth
Japanese Foods that will make your skin smooth
It is believed that Japanese people have good skin and look younger than their actual age because of the food that they eat. Traditional Japanese foods include some of the best things to make your gut health the best it can be so that their skin can look amazing. Although, nowadays with the increase of American fast food Japanese people's diets have declined.
But if you eat the following Japanese foods it is said to be really good for your skin!
Natto
(picture source: https://matcha-jp.com/en/3158)
Natto which is fermented soybeans has a lot of fiber in it which is good for cleansing the body. Japanese people eat a lot of fermented foods but natto is known for being one of the best for your skin. Other than having a lot of fibre it also has a very high amount of vitamin B and other nutrients that increase your metabolism. Japanese people often eat natto with white rice and it is often eating in the morning along with miso soup. If you go to Japanese style hotels that serve breakfast there is almost always natto that is served.
2. Sesame Seeds
(picture source: http://www.chipotlepotato.com/sunomono-japanese-cucumber-salad-smoked-baby-clams/)
(picture source: http://www.d2d.sg/product/black-sesame-ball/)
Sesame seeds are a favourite of Japanese people. There are many meals that include sesame seeds and there are also a lot of snacks that include sesame seeds. Sesame seeds are very high in vitamin E which is known for giving your skin a smooth texture. Sesame seeds also are an antioxidant which is known for slowing down the agin effects of the body. There are white and black sesame seeds and they both have different properties that are good for the human body. White sesame seeds is known for having skin whitening properties and black sesame seeds are known for strengthening your hair.
3. Seaweed
(picture source: http://www.japanesecooking101.com/cucumber-and-wakame-seaweed-sunomono-recipe/)
(picture source: https://www.finedininglovers.com/recipes/appetizer/miso-soup-seaweed/)
Japanese people have a long tradition of eating wakame, seaweed, which provides a lot of fiber and nutrients to reduce swelling, constipation and allergies. Japanese people eat seaweed to fight allergies and to also make the skin look fresh. Seaweed is included in miso soup, salads and many other meals daily.
4. Okra
(picture source: https://www.worshipblues.com/2014/10/recipe-crunchy-zingy-ginger-okra.html)
(picture source: http://www.dietetyk-slask.pl/blog/ochrona-przed-miazdzyca-i-osteoporoza-to-dzieki-witaminie-k2)
Okra is another very popular food found in many summer dishes. The summer time in Japan is very harsh with the heat being insanely hard on the body. So okra is included in a lot of meals during the summer because it is known for relieving some of the unpleasantness of this. Okra, like natto, has a very similar texture and therefore is also often eaten together. Ora also aids in digestion and has vitamin C which helps to make your skin look better and younger.