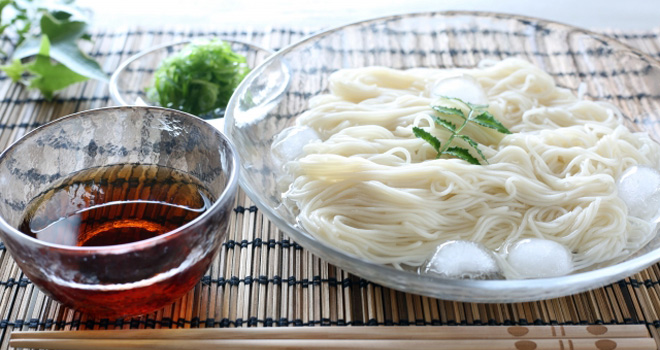 Japanese Summer Cuisine 
Japan has many popular foods that you eat mainly just during the summer time. Some of the foods that I mention below are eating year round but mainly known to be foods eaten during the summer season.
(source: https://japanese-culture-info.com/somen/)
Somen is probably the most popular food to eat during the summer time. These are cold noodles dipped in a cold soup. This is often also eaten in Japanese households as it is very delicious and very easy to prepare. Some people include toppings like cucumber, eggs, tomatoes and ham but others eat it very simple with just the tsuyu (dipping sauce) and with wasabi for a little punch.
(source: https://www.fukuoka-now.com/en/kakigori-guide-the-best-spots-for-shaved-ice-in-fukuoka/)
Kakigori which is known as shaved ice is also a very delicious sweet that is eaten by people in Japan. There are usually lots of different flavours to choose from and you can also add a sweet milk sauce on top which makes it even more delicious. This is much like an ice cone that many westerners have eaten. The difference I would say is that Japan usually has more flavours like green tea, calpis, etc with the choice of adding the sweet milk sauce. I would also say that Japanese shaved ice is usually a lot softer as well.
(source: http://japanese-kitchen.net/ayu-fish/)
Another popular food that is eaten is ayu which is a freshwater fish cooked on a stick. Usually these are cooked fresh and then there is just a bit of salt added for taste. This is often eaten at a bbq or at festivals.
(source: https://www.healthline.com/nutrition/watermelon-health-benefits)
Watermelon is also extremely popular during the summer time to cool down. Japan is well known for playing the watermelon game where  group will get together and one person will be blind folded and they will try to crack the watermelon open.
(source: http://www.dreamsofdashi.com/hiyashi-chuka/)
Hiyashi Chuka is another cold noodle dish that is very popular during the summer time. For this they use ramen noodles which are cooled and then topped with cucumber, ham, tomatoes and egg and then a cold sauce is poured on top. If you want to find the recipe for this I'm sure you can easily find it on the internet. This, just like soba noodles, is a popular dish to eat in a Japanese household as this too is very easy to make.
(source: https://www.justonecookbook.com/unagi-don-unadon/)
Unagi Don is grilled Japanese eel that is placed on a bowl of rice. It is usually cooked with a sweet sauce and placed on a bowl of warm rice. This is kind of an expensive dish as Unagi is usually pretty expensive. And if you go to a place that prepares it really well it can usually be very pricey. But if you have never tried it I would definitely recommend it.
(source: http://www.osakajoe.com/2016/07/japanese-summer-treat-ramune.html)
Ramune is a popular soda drink. This has been popular for many many years. It usually has a marble ball in it and you have to pop it open in order to be able to drink it. You can usually find this drink at your local supermarket or at a Japanese festival.