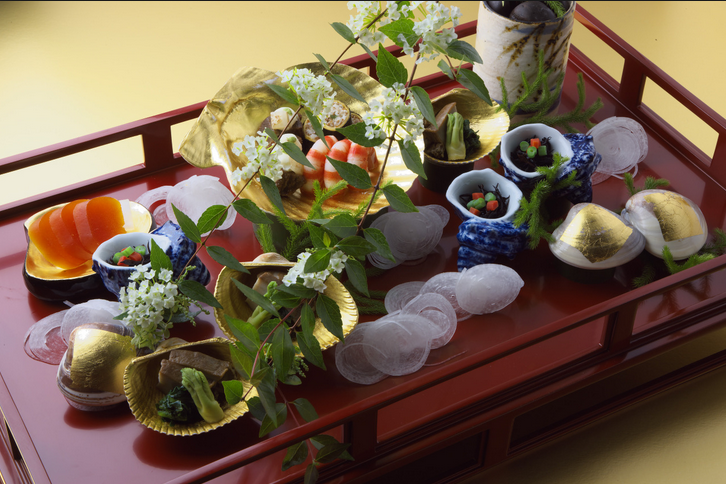 Japanese Washoku in Kyoto
Japanese Washoku in Kyoto
If you are planning to go to Kyoto then you'll know that Kyoto is a very traditional place. And what better place to experience traditional Japanese food than in Kyoto? There are a bunch of true Washoku (Japanese style) restaurants in Kyoto and they are the best of the best. If you ever have the chance to go to some of these places I would definitely recommend that you check it out.
(source: https://r.gnavi.co.jp/gfz46t3r0000/)
First on the list is Arashiyama Kitcho. This is a very elegant restaurant and is known for being a very high class Japanese restaurant. When you dine here you'll definitely feel this exclusive atmosphere and every dish is decorated exquisitely. Every single ingredient is hand selected by the chef and this includes the condiments and the seasoning. And the other great thing about Arashiyama Kitcho is that it overlooks the Arashiyama area so you can relax and enjoy the view while eating.
(source: https://lade.jp/diary/tabelog/japanese/52867/)
Located at the foot of the Higashiyama mountain is a famous Kyoto cuisine restaurant called Kikunoi. There are different dining rooms in which you can enjoy authentic Kyoto style foods. They have their own distinct atmosphere and there is different tableware to match each of the meals that they serve. There is one room where you can see wild cherry trees and right next to the restaurant in the Maruyama Park there are beautiful cherry blossoms that bloom during the Spring time.
(source: http://www.trip.kyoto.jp/spot/db/chihana/)
Chihana is another great restaurant where you can enjoy true Washoku style food. This restaurant has been visited by many famous Japanese writers. The counter seat is the most popular in this restaurant as people enjoy watching the chef cook while having a conversation with the chef. The bowls and plates that are used are stunning and some of their bowls and plates are antiques. They were all personally selected by the owner of this restaurant.
(source: https://tabelog.com/en/kyoto/A2601/A260301/26001012/dtlphotolst/1/)
Hyotei is one of the top class Kyoto cuisine restaurants and is well known for it. It was originally a teashop that served tea to the people who were visiting the Nanzen-ji Temple. Cha Kaiseki is the name of the cuisine that they specifically serve at tea ceremony parties. However, they usually put a twist to their traditional Cha Kaiseki cuisine which makes the restaurant that much more interesting to dine at.
(source: https://cookbiz.jp/job/job14492.html?pub=fin)
Hamasaku is a restaurant in Kyoto that is praised by Yasunari Kawabata who is a Nobel Prize novelist. They first opened their restaurant over 90 years ago and that was when the very first owner started the Kappo style, which was a first in Kyoto. Kappo is a restaurant that has an open kitchen and the chef prepares each dish in front of the diners. They are always changing up the menu adding new seasonal dishes but they always offer a very classic Kyoto cuisine dish.
(source: https://www.tokyodome-hotels.co.jp/restaurants/list/tankuma/)
In 1928, a restaurant opened along the Takase River called the Tankuma Kitaten. In this area, back during the Edo period, many restaurants served dishes using seasonal river fish. They serve a bunch of different authentic dishes cooked with traditional techniques that have been passed down from chef to chef for years. Many different artists like tea ceremony masters and famous writers have come to dine at this restaurant.