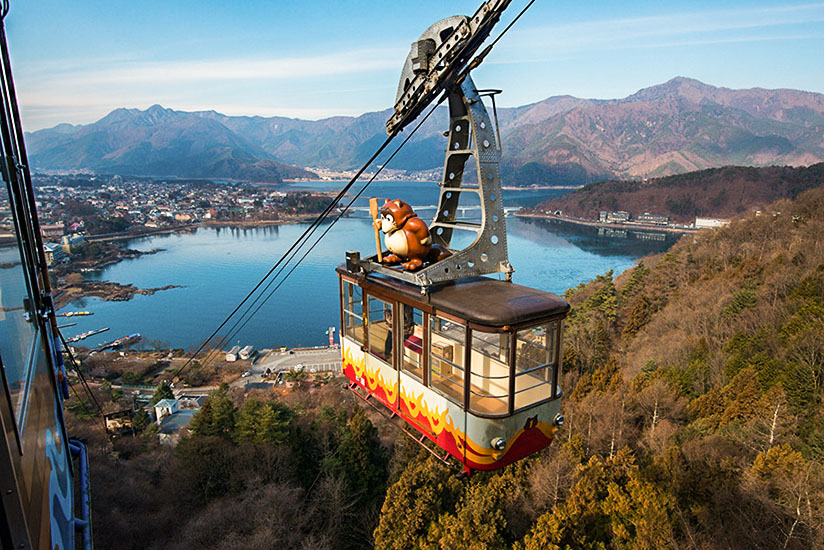 Kachi Kachi Ropeway
There are a lot of different things to do near the Fuji Five Lakes. Lake Kawaguchiko is extremely popular for a bunch of different reasons. There's a great view from Kawaguchiko Lake of Mount Fuji, there's the Shibazakura festival, there are amusement parks and so much more.
(picture source: https://www.klook.com/activity/7719-mt-fuji-pass-tokyo/)
The other great thing that you can do while you are near the Lake Kawaguchiko is to take the Kachi Kachi Ropeway. If you are looking for a scenic ride then this is the best ropeway to go on for a spectacular view. This Kachi Kachi Ropeway ascends 400 meters from the east shore of the Kawaguchiko Lake and it goes all the way to an observation deck near the peak of Mount Tenjo. You can get an amazing panoramic view of the lake and of Mount Fuji from the observation deck as it is located more than 1000 meters above sea level. It's a great place to just take in the view, take pictures and even have a picnic.
(picture source: http://www.eunicetan.co/2018/03/day-trip-from-tokyo-mount-fuji-from-lake-kawaguchiko/)
For the ropeway you can take both a round trip or a one-way trip. A lot of people do take a round trip on the ropeway but some also choose to hike as well as there is a hiking trail from the observation deck down the mountain slope. It takes approximately 30 minutes to descend the mountain which is really not bad at all. So if you are looking to take the ride up and then hike down you can choose to do that as well. If you want to take the roundtrip then the tickets are 800 yen. And if you just want a one way ticket then it is 450 yen. During warmer days, the hike is a popular choice for people.
(picture source: lscott200 <a href="http://www.flickr.com/photos/37556060@N05/10604393924″>2013_Autumn_Tokyo_Japan-83</a> via <a href="http://photopin.com">photopin</a> <a href="https://creativecommons.org/licenses/by-nc-nd/2.0/">(license)</a>)
There is actually another trail from the observation deck that is 300 meters uphill and it will lead you to a small shrine at the summit of Mount Tenjo. The trail that leads to the shrine does not stop here as it will continue on to Mount Mitsutoge. This is a popular hike for people as you can get a great view of Mount Fuji from Mount Mitsutoge.
(picture source: http://haiwaiyou.com/guide/1466)
There is a famous folk story called the Kachi Kachi Yama that has Mount Tenjo as the location for Dazai Osamu's folk story. The famous folk story names the ropeway and is about a rabbit who gets revenge on a raccoon who is a thief. The rabbit sets the racoon on fire and drowns him in the river. Although not a pleasant story this is the reason for the cute cartoon characters of the animals decorated on the ropeway cards and the observation deck.
If you are interested in going you can take the Omni Bud Red Line from the Kawaguchiko station to the ropeway station and it only takes about 15 minutes. You'll need to get off at the Yuransen Ropeway Iriguchi bus stop. You can also walk to the ropeway from Kawaguchiko if you are up to it. It will take around 15 to 20 minutes to walk. And from March to November the ropeway to open from 9 am to 5:10 pm. From December to February the ropeway is open from 9:30 to 4:40 pm. There is a ropeway car that departs every 5 to ten minutes so it is pretty frequent.