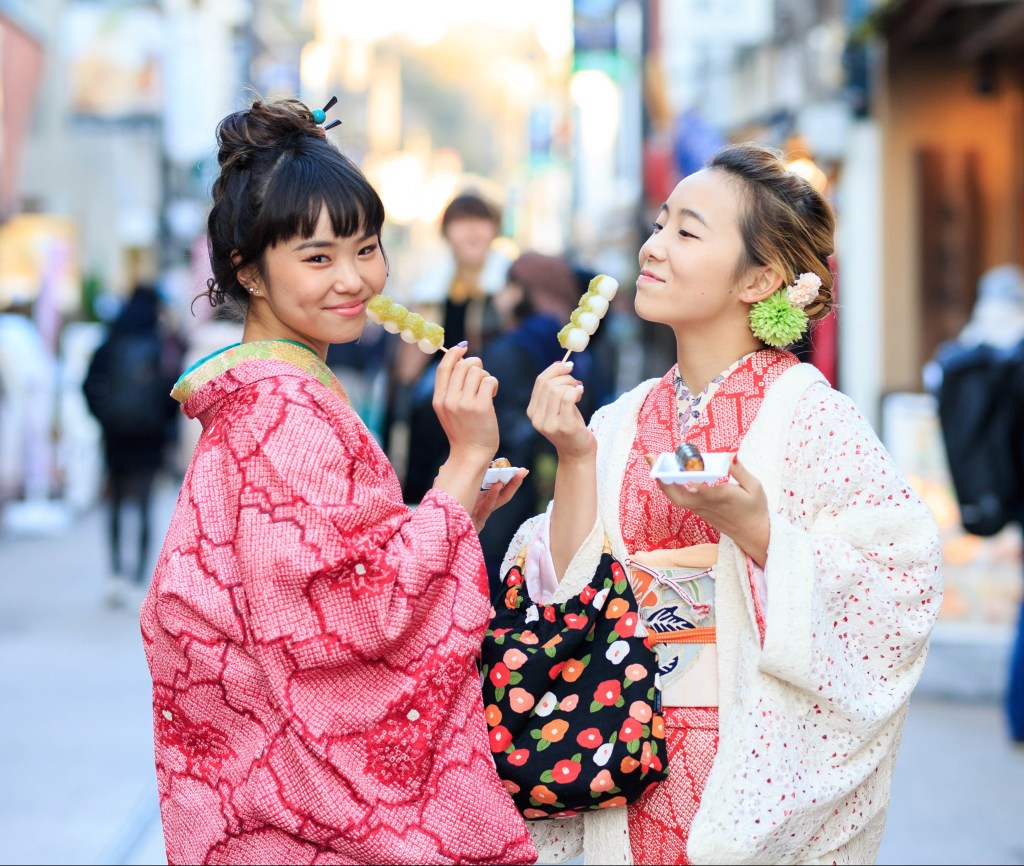 Kimono Rental Tokyo
I'm sure that when you think of Japan there are a few things that come to mind. For example, you may think of sushi, temples, shrines and then of course i'm sure that you think of Kimono and yukata. I'm sure that many of you have thought that a kimono is really beautiful and you've probably wanted to try one on. Well if you are going to Japan then you should definitely experience wearing a Kimono. And luckily with the increase of tourists there are a lot of Kimono rental shops now. So here are some of the ones that I would recommend based on the location, price and a few other things.
(picture source: https://asoview-trip.com/article/7495/)
A popular place to take pictures with a kimono on is Sensoji in Asakusa. So I would recommend going to Koto Kimono rental. There are lots of really affordable plans available here. If you go for an all inclusive plan then this package includes a Kimono, undergarment, obi, bag, sandals tabi, underwear, a hair ornament and they even set your hair. And they do all of this for 3,500 yen. There are a few other plans available for women and they have plans for men as well. During the winter you will wear a Kimono and then during the summer you wear a yukata as it is a lighter fabric. This place is located close to the Asakusa station and Sensoji so you don't have to walk to far to get to Sensoji. Then you can spend the whole day taking all the pictures that you want. It's really a great experience and you can take lots of pictures to keep as a memory.
(picture source: http://www.hanakimono.tokyo/onlineshop/)
Another place that I would recommend is Aki kimono rental. Here you can rent a kimono and also get your pictures taken in a studio with a bunch of props. Or you can also rent a Kimono and experience a tea ceremony or you can rent a Kimono and enjoy a sushi lunch made by a professional sushi chef. And if you want to get pictures taken by a professional then you can also choose to rent a kimono and have an on location photoshoot where they will take you to a few different spots to take pictures. They even do wedding photoshoots here so if you want to have a Japanese style wedding shoot then you can definitely choose to do that as well. It may be a good experience and it is something different and fun to do with your spouse.
(picture source: https://kimonokanon.com/)
You can also rent a Kimono at a place called Omotenashi Nihonbashi. This place is popular because they not only help you put on the Kimono they actually teach you how to do so. After you wear your kimono you can go out and take as many pictures as you want. You just have to be back by 6pm to return the Kimono. Because of the experience of learning to wear a kimono this place is extremely popular. However, they only do kimono rentals on Saturdays so it would be best to make a reservation in advance. Although they do accept reservations until 5pm the day before because of it's popularity it is usually pretty filled up. Omotenashi Nihonbashi sactually has a bunch of other events that they hold as well. They do a bunch of different tours and activities. For example, they do tea ceremony workshops, origami workshops, workshops to make personalized hanko name stamps and more. So if you have the time to do other activities then you should definitely check out the other services they offer.
The last place that I would recommend going to is Kamakura. Although this is not in Tokyo, if you have the time to make a day trip away from Tokyo then I would definitely recommend going to Kamakura. This is a great place to take pictures especially if you are wearing a kimono. I would recommend renting a kimono at Vasara as there is one located right near the Kamakura station. And from here you can easily jump on a bus that will take you to all the temples and shrines near by. Everything about Kamakura is so beautiful that there is no way that you won't be able to take good pictures here. Also, Vasara is a chain store and there are a whole bunch across Japan. There is one in Asakusa, two in Kyoto, one in Kurashiki, one in Kamakura, one in Akihabara, and one in Ikebukuro.