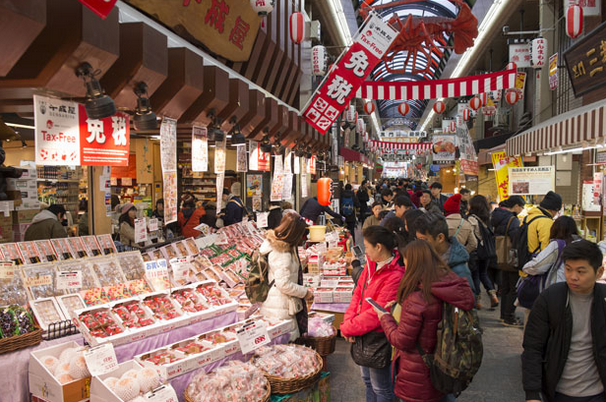 Kuromon Ichiba Market
In Osaka's Chuo War, there is a market that stretches for about 580 meters and it is called the Kuromon Ichiba Market. It is a lively market which has become nicknamed Osaka's Kitchen because there are professional chefs and local homeowners that sell their food there. This market is also famous for selling some of the freshest seafood and in the recent years it has become a very popular place for tourists to visit.
With the growing amount of tourists visiting this Kuromon Ichiba Market, it has become a very crowded market. In 2015, one survey found that over 23,000 people visited this market on average per day. However, it is believed that the numbers have definitely grown since 2015.
The reason why it is so popular is because there are tons of different food stalls where they prepare and serve the food right there for you. It is a great place to walk around and try a bunch of different foods.
From the early 19th century, the Kuromon Ichiba had become a place where fish traders gathered but it wasn't until 1902 that a market was established here. In the area there is a temple called Enmyoji so the market was originally named after the temple so it was called the Enmyoji Temple. The main symbol of this market place was the big black gate and therefore the name soon changed from Enmyoji to the Kuromon Ichiba which means Black Gate Market in English. In 1912, the Enmyoji temple and Black gate were destroyed by a fire.
Today, you can find over 150 stores located at the Kuromon Ichiba Market and about a quarter of these stores sell fresh seafood. The rest of the stores mainly sell fresh vegetables and fruits as well as meat, dried fish, pickled foods and more. And a few of the other smalls are either supermarkets or they sell clothing.
There are also about 30 eateries in the market aside from the 150 stores. These eateries mainly sell very cheap foods like noodles or curry. In the last few years there have also been izakaya style eateries and cafes that have popped up as well.
There is an information centre located towards the southern end of the market. Here you can get some information and there are a few seats as well. There is also a foreign currency exchange machine and bathrooms as well. You can even store your baggage here as well for about 500 yen. And if you need to use wifi they have free wifi that you can use as well.