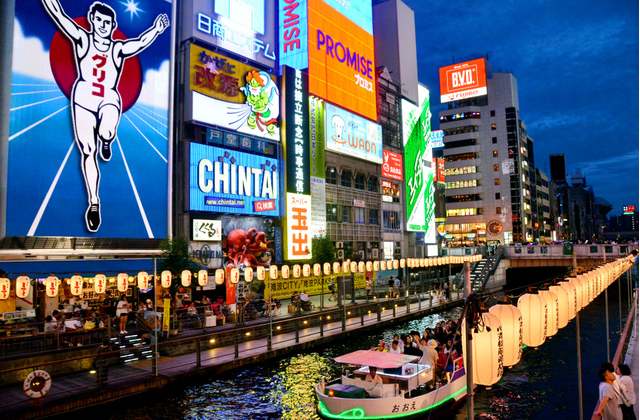 Minami Namba 
If you are going to Osaka then you'll probably want to know where to go whether you want to explore the shopping and nightlife area or you want to learn about the culture and history. Near Namba station, Minami is one of the two major city centres of Osaka. It is one of the most famous entertainment areas that offers a bunch of dining and shopping. There is also super easy access to this area as there are three different train companies that offer lines and buses to this area. The other major city centre is Kita which is located near Umeda station and Osaka station.
(picture source: jpellgen (@1179_jp) <a href="http://www.flickr.com/photos/27917561@N00/444643854″>Dotonbori-gawa (2016)</a> via <a href="http://photopin.com">photopin</a> <a href="https://creativecommons.org/licenses/by-nc-nd/2.0/">(license)</a>)
In Minami, one of the most popular areas is Dotonbori. If you don't recognize the name then maybe you know about the famous Glico neon sign. Dotonbori is one of the most popular tourist destinations as it is popular for shopping and dining. There are restaurants lined up next to each other all in this area so you have a lot of options. This can be good and bad as it can be overwhelming with all the different options. At night, Dotonbori is lit up with all the neon lights and mechanized signs. The most famous signs being the Glico running man and the Doraku Crab sign. There are a whole bunch of other signs that are just as big as the crab sign.
(picture source: http://komekami.sakura.ne.jp/archives/2491)
If you are looking for more places to shop for clothes and go to arcades then I would recommend going to the Shinsaibashi. It is about 600 meters long with a bunch of different chain retail stores and trendy boutiques with expensive department stores. There are also some top designer labels that you can find here so you have a lot to choose from.
(picture source: https://matome.naver.jp/odai/2141024788699406601/2141025960315379303)
If you have been to Harajuku in Tokyo, Osaka has it's very own version of Harajuku in an area called Amemura. Just like Harajuku this is where the teenage fashion and culture can be seen. It is very lively with popular cafes, clothing stores and thrift shops.
(picture source: http://itot.jp/27111/43)
Den Den Town in Osaka is an electronic district that is much like Akihabara in Tokyo. But compared to Tokyo it is said that you may be able to bargain a bit of a better deal. And just like Akihabara, Den Den Town is becoming known as a paradise for otaku with a bunch of different anime and manga stores as well as maid and cosplay cafes. You'll find that there are a bunch of areas that are very similar to Tokyo in Osaka.
(picture source: https://saitoshika-west.com/blog-entry-508.html)
If you are looking for a place to get some more shopping done then you should head over to Namba Parks. If you look at the design of the building you'll find that it resembles a natural canyon. It was built this way to give it a more nature look amongst the urban landscape. In the namba parks there are 120 different shops and there is a cinema, amphitheater and a rooftop garden as well. And on the 6th floor of the building there are lots of restaurants where you can enjoy a meal.
If you are looking for places to go to learn about the culture and history then there are a few different places that you can go to. One would be the National Bunraku Theatre. Bunraku is very similar to Kabuki except it is performed using puppets. This theatre is considered to be very prestigious. And not only do they have shows they also offer a few free seminars throughout the year.
Another place that I definitely recommend going to is the Hozenji Yokocho Alley. It is located right near the Hozenji Temple and has over 60 traditional restaurants and izakayas. It has a very old atmosphere to it and is like a reminiscent of Pontocho in Kyoto. At the Hozenji Temple you can pour water over the temple's statue for good luck just like the local merchants and visitors of this temple.