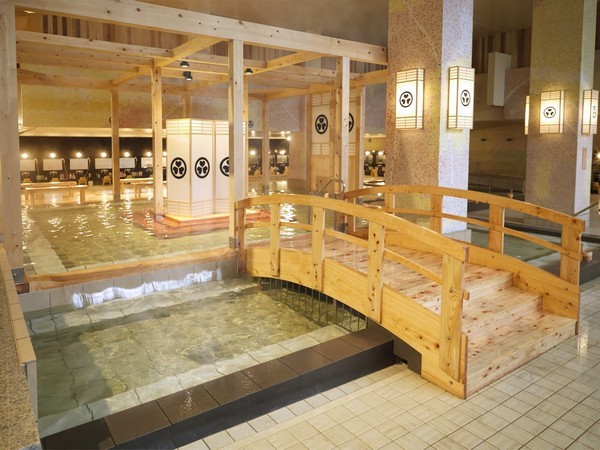 Minoh Kanko Hotel (Part 2)
 Minoh Kanko Hotel (Part 2)

To the North of Osaka City there is a city called Minoh where there is a fabulous Hotel with a hot spring facility attached to it. The Minoh Kanko Hotel can be reached by train from Umeda station in a little over 30 minutes so it is a great place to escape to for the weekend. Besides the hotel there are other tourist sightseeing spots nearby like the Minoo Waterfall at the famous Meiji no mori Mino Quasi national park and there is also a 1200 year old temple called the Katusoji Temple.
(source: https://www.hotelscombined.com/Hotel/Mino_Kanko_Hotel.htm)
There are a bunch of rooms at this hotel and you can choose from a Western style room that has twin beds, triple beds, and four beds. Or you can choose to sleep in a Japanese style room with tatami floors and futons. All of the rooms come with a tv, fridge, air condition/heating, electric kettle, tea making set, yukata, wifi, and an air purifier. Each room also comes with shampoo, conditioner, body soap, shaver, hair dryer, toothbrush set and towels.
Usually most hotels only serve breakfast and dinner but at this hotel you enjoy breakfast, lunch and dinner at their restaurant. It is a buffet style with both Western and Japanese style foods. The menu usually includes steak, roast beef, tempura, sashimi, toast, onigiri, cooked fish and more.
(source: http://japantraveleronline.com/hotel-detail/6016005/)
The Spa Garden is located right next to the hotel and is free for all hotel guests to use. The Spa Garden has a bunch of different baths including indoor ones and outdoor ones that are separated by gender and they also both have saunas as well.
(source: https://www.tripadvisor.ca/Hotel_Review-g1023526-d1109524-Reviews-Mino_Kanko_Hotel-Mino_Osaka_Prefecture_Kinki.html)
The facility also has a hot stone spa called ganban-yoku which bathers can lie on top of. It is said to be good for cleansing the body and it improves the body's circulation and is said to be good for the skin as well. The Minoh Onsen Spa Garden also has a food court and there is an outdoor swimming pool available during the summer season. There is even a game area, and a stage where comedy and musical performances can be enjoyed. There are also free karaoke rooms available.
The Minoh Onsen Spa Garden is open from 10 am to 11:45pm and is open to those that are not staying at the hotel as well so if you want to make just a day trip and use the onsen spa facility then you can do so. And since it is extremely close to Umeda Station it is easy to make a day trip there.
On the weekdays it costs 1,580 yen to enter if you enter between 10 am and 6pm. If you enter after 6pm then it will be 980 yen. On the weekends and holidays it is 1,980 yen from 10am to 6pm and after 6pm it costs 1,280 yen. Children who are between the ages of 6 and 12 the entry fee is 980 yen. For those under the age of 6 it will be 580 yen. Those who are infants or under the age of 1 there will be no charge.
The one last great thing about the hotel is that there is a a rooftop indoor and outdoor bath and from here you can see the most amazing sunrise and sunset. So if you are staying at the hotel I would definitely recommend going up to the rooftop. Please remember that if you are visiting this hotel they do not allow people with tattoos to enter the public baths.