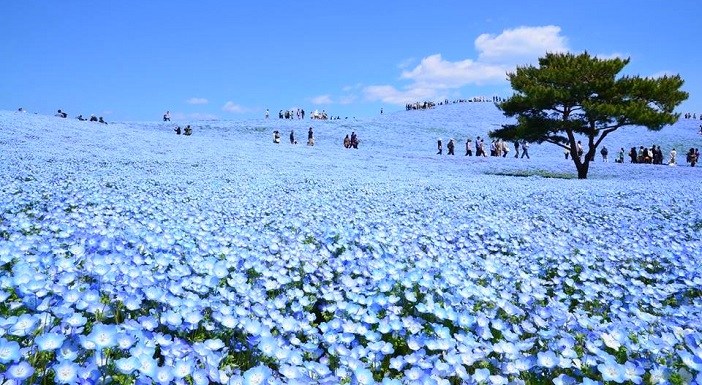 Most beautiful places in Japan
Most beautiful places in Japan
1. Wisteria Tunnel Ashikaga Park
(picture source: http://cdn.socawlege.com/wp-content/uploads/2014/02/wisteria-tunnel-japan-woe1.jpg)
Ashikaga Park is a park located in the city of Ashikaga of Tochigi prefecture. It can easily be accessed from tokyo as it is only about 2 hours away from Tokyo. Ashikaga park is most well known for their beautiful Wisteria Flowers. In Japanese Wisteria is actually called fuji. This Wisteria flower is native to the United States, China, Japan and is actually a very big part of the Japanese culture. The Wisteria Flower is the crest of many families in Japan and the kanji for wisteria makes up many common family names in Japan. The most famous display of Wisteria flowers in the Ashikaga park is the Wisteria Tunnel. Mid April until Mid May is the peak of the Wisteria flowers and so there are many many visitors that come to enjoy the beautiful flowers. During the Winter time, this area is transformed into a winter illumination called Flower Fantasy. They illuminate the wisteria flowers along with the other flowers so visitors are able to enjoy another side of the beautiful Wisteria flowers. During the peak season tickets can be priced up to 1,700 yen and when it is not peak season it can be priced as low as 300 yen. However, the prices change every year so be sure to check out their website before going. There are a few different ways to get to the Ashikaga Flower Park but one way would be to take the Shonan Shinjuku line from Shinjuku and then get off at Koyama and them transfer onto the Ryomo line to Tomita station. From there it is about a 12 minutes walk to the park.
2. Shibazakura Festival
(picture source: http://clumsychic.com/2014/09/16/paint-world-pink/)
Shibazakura festival is a flower festival that takes place from mid April to early June. It located closest to the Lake Motosuko which for those who may not know is one of the great five Fuji lakes. Many people visit this festival every year to see the sight of the beautiful pink, white and purple colored shibazakura flowers with a beautiful backdrop of Mount Fuji in the back. As I mentioned above this festival typically takes place around Mid April to early June and is open from 8 am to 5pm. The admission is 600 yen.
3. Hitachi Seaside Park
(picture source: http://tabijikan.com/article/17809/)
Hitachi Seaside Park is a famous park located in Ibaraki, Japan. The park has over an area of 190 hectares covered with different flowers and so depending on the season you visit you can enjoy different flowers. This park has become most well known for their baby blue eyes field of flowers grown but there are many other types of flowers that grow as well. For example, in late march to late April, the Suisen Fantasy festival starts which is when all of their narcissuses and daffodils are in full bloom. This is what their Spring starts with. Next, is the Tulip World which is held from mid April to late April. During this time, the park is filled with many different colored Tulips. Late April to mid May is their most popular season as this when people can witness the field blooming with baby blue Nemophila flowers.
(picture source: http://en.hitachikaihin.jp/)
In late September to mid October, the summer Cyprus turns from a green color to a deep red color making the field look like a field of blood. This is another ver famous sight for the Hitachi Seaside Park.
4. Shirakawa Village
(picture source: http://zekkeijapan.com/area/index/11/?language=en)
(picture source: http://s1.1zoom.net/big3/112/402651-svetik.jpg)
Shirakawa Village is a small village located in the Gifu Prefecture and is estimated to have a populated of a little over 1,700 people. Because of the amount of tourists that come to this visit to see it's gassho zukuri houses, it has been designated as a World Heritage sight. If you do not know what a gassho-zukuri house is it is a house that have wooden beans that have been put together to form a thatched roof that looks as if two hands were put together. It is famous for it's very steep roof and the house is built in the north or south in order to be more resistant to the wind. It is said that the shape and the make of these houses stayed the same as there were delays in road improvement construction. However, now that there are many tourists visiting and homes are slowly being turned into gift shops or parking lots are being made it is said that there may be a consideration in the Shirakawa Village being taken off of the World Heritage record. There are two other villages in the Toyama prefecture called Ainokura and Suganuma that still have this gassho zukuri house.
5. Takeda Castle
(picture source: https://mainichi.jp/english/articles/20161017/p2a/00m/0na/002000c)
(picture source: http://www.spoon-tamago.com/2013/06/27/takeda-castle-ruins-appears-to-float-in-the-sky/)
In Asago prefecture of Hyogo prefecture, there is a ruined castle known as the Takeda Castle. As seen in the picture above, you'll see that it looks like a castle that is floating in the sky and therefore it is often called as that. In 1411, the Takeda Castle was first built and soon after it was conquered by Toyotomi Hideyoshi during his efforts of trying to reunite Japan. In the 1600s, they fought hard against the Tokugawa clan who was trying to take over. Not long after the castle was completely abandoned. During the 1970s and 1980s, the castle that had been slowly disintegrating was restored and was soon opened for tourists to visit. It is said that the best time to see the castle as a floating castle is around 6 to 6:30am which is when all of the clouds become a sea of clouds around the castle.
6. Kurashiki
(picture source: https://www.visitwestjapan.com/kurashiki-bikan-area-4/)
(picture source: https://matcha-jp.com/en/649)
If you think of a place in Japan that still has it's ancient traditions and culture you would probably first think of Kyoto as Kyoto is most well known. Kurashiki, just like Kyoto, has still very much maintained all of it's traditions and culture but is definitely not as well-known as Kyoto to foreigners. The Bikan Chiku area is known as a very historical area and is known to be an important Traditional Structures Conservation Area. In this area, you'll often see boatmen rowing the boat up and down the river. Visitors can enjoy a ride on the boat while taking in the view from the river. During the Edo period, Kurashiki was an important rice distribution centre. Hence the name Kurashiki can somewhat be translated as town of storehouses which refers to the storehouses in which they kept the rice. Now many of these storehouses are used as shops, museums and cafes. The most visited places in this area are the Ohara Museum, the Ivy Square, Canal Area and the Ohashi house. The area where the Ivy Square is was actually the very first cotton mill in Japan. And the brick buildings of the Ivy Square were built as a part of the mill. Kurashiki really carries on so much of the old traditional ways of how things were done in Kurashiki and it is really beautiful to see the architect of the buildings. Because of this, Kurashiki is slowly becoming more known to foreigners and so the amount of tourists have slowly increased.
If you are looking to rent a pocket wifi device or a prepaid SIM card in Japan take a look at the following website: https://www.genkimobile.com/