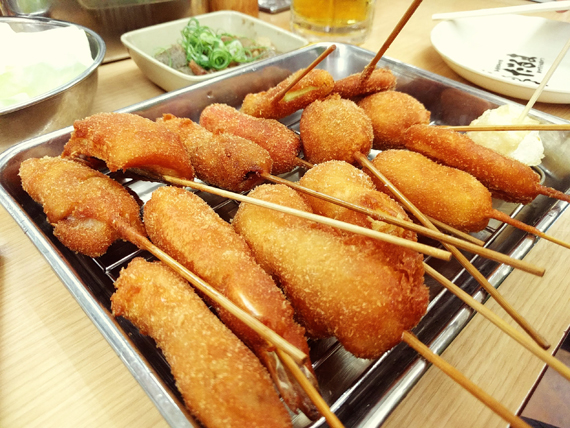 Must Go Restaurants in Osaka (Part 2) 
Must Go Restaurants in Osaka (Part 2) 
If you like curry and like udon noodles then you should try the curry udon at Miyoshiya. It is probably not that common for you to see curry udon noodles in any other country so if you get the chance to go to Miyoshiya. you should give it a try. But I will have to warn you that the curry udon at Miyoshiya is spicy. If you have tried Japanese curry rice you'll know that it has a sweet and mild taste. So the Miyoshiya udon has a very unique spicy taste to it. Many spicy enthusiasts going to this restaurant
(source: https://tabelog.com/en/osaka/A2701/A270103/27009368/)
And if you are looking for a good sushi lunch to enjoy then I would recommend you to go to Otaru Eiroku which is a restaurant that has been serving sushi for over 20 years. The interior is just as nice with bright lighting and most of the place of wood wich gives it that warm and cozy feel for people who are visiting. And it is pretty cheap if you go for their lunch menu. They serve 15 pieces of sushi on a platter for 1,050 yen. One of their other most popular dish is the uni don which is urchin on rice. They use urchin that is sent directly from Osaka everyday so it is some of the freshest urchin which is why this restaurant is so popular.
(source: https://tabelog.com/en/osaka/A2701/A270101/27003291/)
If you are a fan of fresh oysters then there is a restaurant called Gumbo and Oysterbar which is known for having fresh yet safe oysters. Many times people can get food poisoning from eating raw oysters but Gumbo and Oysters is known to be pretty safe. You can enjoy oysters in a bunch of different ways. You can enjoy them raw or you can enjoy a hot pot oyster, tempura oysters, donburi oysters, and grilled oysters. Have all of your oyster craving fulfilled here.
(source: http://www.satotekkou.co.jp/node/6137)
A popular dish in Japan is fugu (blowfish). But as it is a unique and rare dish it is on the expensive side. There is a restaurant called Ajihei Imazato that serves Fugunabe which is a blowfisht hotpot. Fugu is not a commonly eaten dish at homes and is mostly handled by professionals as it requires specific ways of cooking to avoid the dangerous parts of the fish.
(source: https://allabout.co.jp/gm/gc/399402/)
Next on the list of recommended restaurants is Hokkyokusei which is located right in the America-mura area which is also known to be the Harajuku of Osaka. This restaurant is said to be the first of its kind in Japan to serve traditional style omelette in 1925. The layers of egg are extremely fluffy and there is a layer of ketchup underneath. They are famous for cooking their eggs so it is just the right texture. There are eight different types of omelette rice on the menu that you can choose from which have a different flavour.
(source: https://www.pinterest.co.uk/pin/470766967287453633/?lp=true)
Jiyuken's curry rice bowl has become so popular that it has been established as an Osaka dmeibutsu which means that it has become a famous regional product. They make their curry all from natural ingredients and so none of their dishes uses any preservatives. At the namba branch the workers get up at the break of dawn to start making the curry to ensure that their curry tastes nice and fresh. Each branch controls their own taste so it is slightly different at each branch which is very unusual from other chain restaurants. The thing that makes the curry at Jiyuken unique is that they mix all of their flavours with the rice. Then they add a raw egg on top which you mix together in the rice once it is served.
(source: http://sweetcumi.blogspot.com/2017/08/kushikatsu-daruma-tsutenkaku-osaka-japan.html)
Another extremely popular place that is very worth going is Kushikatsu Daruma. This place has been mentioned in one of my previous blog but because it is so good it is worth mentioning again. Kushikatsu is a popular Osaka dish which is fried food on skewers. They have meat, fish and vegetable skewers which are fried and served. There is a sauce that is provided whcih you use to dip the skewer in. They have a whole assortment of meat and vegetables that you can choose from and they are all very cheap. It is extremely popular so there is usually a long line to get inside.