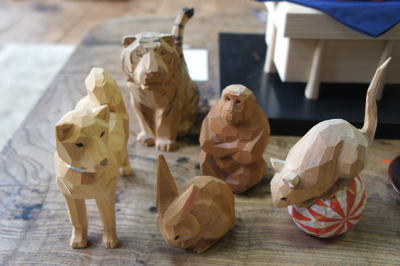 Nara Traditional Crafts
Nara was the first place in Japan to receive new ideas from overseas countries as it was in the centre of trade between Japan and the Silk Road. Some of the best craftsmen came to Nara from China's Tang Dynasty and Korea's Baekje Kingdom. And with the spread of Buddhism there were many different innovations that spurred from there like the cloth that the priests' used as garments to the brushes used for calligraphy and also the paper and ink that were used for copying the sutras.
(source: http://www.japan-paper-journey.net/portfolio/%E5%A5%88%E8%89%AF%E7%9C%8C%E5%90%89%E9%87%8E%E6%89%8B%E6%BC%89%E5%92%8C%E7%B4%99/)
The Yoshino area is famous for their smooth handmade paper that have been loved by calligraphers all across Japan and even worldwide. Many calligraphers state that the texture and strength of the paper made in Yoshino is superb. The most well known place that makes washi paper in Yoshino is the Fukunishi Washi Honpo. For six generations, the Fukunishi family have continued making the best washi paper to supply all of the Imperial Household Agency. They have even supplied the Smothsonian and the British Library with their washi paper.
(source: http://www.japan-paper-journey.net/portfolio/%E5%A5%88%E8%89%AF%E7%9C%8C%E5%90%89%E9%87%8E%E6%89%8B%E6%BC%89%E5%92%8C%E7%B4%99/)
When Kukai helped bring Buddhism to Nara from China, it is said that the technique for making calligraphy brushes were also brought into Nara. There is a mixture of ten different animal hairs in the calligraphy brush and because of this it makes the brush flexible which is essential when writing Japanese characters.
One of the most well known calligraphy shops in Nara is Isshindo. If you want to actually see the process of the calligraphy brushes being made then you should visit Nara Brush Tanaka. This shop is run by the Tanaka family and from generation to generation they have passed down the skill of traditional brush making.
Since the Muromachi period, calligraphers have celebrated the traditional ink sticks of Nara. Vast bureaucracy of the nation's first capital used ink so it was a huge importance. 90% of Japan's ink is still produced in Nara until this day. One of the oldest brands that produce ink in Nara is Kobaien. They have been using the same technique since 1577.
Another famous craft in Nara is Ittobori. In English it translates to one knife carving. This is a skill that few craftsmen have and they are able to make wooden dolls and figures with just edges and facets. These figures were used for festivals at the Kasugataisha shrine and it dates back to the Kamakura period.
(source: http://fujimaki-select.com/ext/artisan/021.html)
Animals and Noh figures are the most traditional ittobori but some of the recent ones that are made at Nippon Ichi have a bit of a modern twist to it. Nippon Ichi may make their ittobori a bit different from the traditional ittobori but they are just as unique and beautiful.
If you want to learn more about the other beautiful traditional crafts that Nara has to offer then make sure to go check out the part 2 of Nara Traditional Crafts.