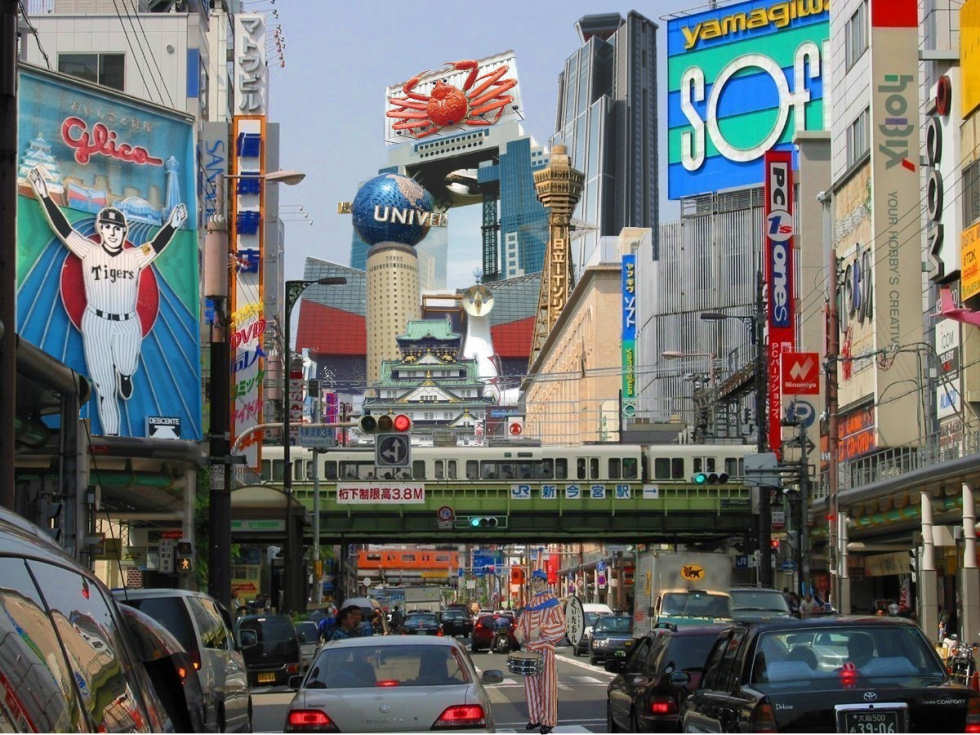 Denden Town in Nipponbashi 
Denden Town in Nipponbashi 
The southern Minami district of Osaka is known as Nipponbashi and has been known for having some of the most affordable electronics and appliance stores in Osaka. And in recent years Nipponbashi has become known as a centre of geek (otaku) culture.
Nipponbashi has been nicknamed Denki Machi which means Electric Town or is also commonly referred to as Denden Town. If you have been to Akihabara in Tokyo then this is an equivalent of the famous Akihabara electronic district.
(picture source: https://search.yahoo.co.jp/image/search?ei=UTF-8&fr=lmd_poi&p=%E6%97%A5%E6%9C%AC%E6%A9%8B%E3%81%A7%E3%82%93%E3%81%A7%E3%82%93%E3%82%BF%E3%82%A6%E3%83%B3)
The east side of Nipponbashi, which is the main area, is bordered by Sakaisuji Boulevard an the west side has a street nick named Otaku road (Ota road for short) that runs parallel to Sakaisuji. Between these two streets you will find that there are a lot of tiny shops with all sorts of electronic devices and specialty electrical goods and there are a ton of shopping arcades as well.
Between the Nipponbashi 3 chome intersection and the Ebisucho intersection there is a big name electronics and home appliance store. And then the area west to this are a bunch of smaller independent electronics stores. At the big name electronic stores you usually cannot really negotiate for a discount but it is more common for smaller stores to give a discount and prices can usually be negotiated. The only difference is that the smaller stores usually do not offer tax-free discounts for overseas visitors whereas the bigger name stores will offer a tax-free discount for overseas visitors.
(picture source: https://blogs.yahoo.co.jp/lisianthus5258/GALLERY/show_image.html?id=56378730&no=0)
Nipponbashi also has a lot of second hand goods, clothing and book stores which many of these opened during the early 20th century. It wasn't until the Second World War ended that Nopponbashi began being dominated by electrical stores.
However, because of the Yodobashi Camera store in Umeda and the BIC Camera store in Namba many of the customers have lured away from the local electronic stores in the Denden town area and therefore many of these local electronic stores have had to shut down. And to replace these shops many otaku shops, cafes and anime/manga shops have opened up to cater to the Otaku culture.
Otaku road has many stores selling manga comics, anime music and videos, cosplay costumes, collectible anime/manga figures, retro toys and games. These shops are very similar to what you would find in Akihabara.
(picture source: http://cybercraft.ti-da.net/e3834889.html)
And because this area has become a centre for Otaku culture, of course there are a lot of maid cafes as well. So on pretty much every corner of every intersection you will see a girl in a made dress costume trying to attract customers to their maid cafe. At a maid cafe, a girl server dressed in a maid costume will serve drinks and chat with customers and even play games with the customers. Although, this originally was intended for male otaku these maid cafes have become extremely popular amongst foreign tourists of all genders and ages. But these maid cafes are also a lot more expensive than a regular cafe because it is not just the drink and food you are paying for.
If you are interested in renting a pocket wifi device or a prepaid SIM card during your trip to Japan then make sure to check out the Genki Mobile Website : https://www.genkimobile.com/