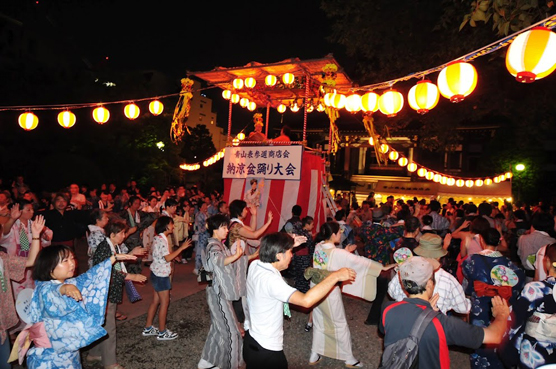 Omotesando Obon Festival for Kids
Omotesando Obon Festival for Kids
If you are visiting Tokyo with kids then one of the best summer festivals to take your kids to is the Aoyama Zenkoji Temple Bon Odori festival which usually takes place at the end of July. There are lots of different summer festivals that take place in the months June, July and August so you can definitely take your child to any of these other festivals that take place to have them experience what festivals are like in Japan.
(source: http://www.omote-sando.info/series/511)
But the best part about the Zenkoji Temple Bon Odori festival is that this Bon Odori festival is specifically for kids. Of course there are adults who come to enjoy this festival as well but it is mainly for families with young kids.
There are lots of different traditional games for kids to play where they can win prizes. There are not a lot of games but it is still a great experience for kids who have never been to a Japanese festival.
There are also food stalls and a blue sheet laid out in a specific area where people can sit down and enjoy food and drinks. And since it is a temple you can also go and pray and experience what a Japanese temple is like.
(source: https://happy-life-news.com/super-bowl/)
Some of the games that they have are ballon and ball sukui. This is a very well known and loved traditional Japanese game for kids. For the ball sukui you are given a scooper that is made out of paper and then you try to scoop the ball into a bowl that you are given. The balls that you are able to scoop are yours to keep.
The hard thing about scooping up the ball is that it is all in water so a lot of the time with the weight of the ball and the water the paper scooper tends to rip easily. The balloon scooping works in a similar way where the balloons all have an elastic band and you are given a string of paper with a hook attached to it which you are to use to scoop up the balloon.
(source: https://blog.goo.ne.jp/taketo-shinagawa/e/5af5ee4d1b71ecb2456f85646aa04237)
The other game that you can play here is the Senbonbiki which is a lot like a lottery. For this there are a bunch of string with a toy or snacks attached to the end of it. And you are to pull one of the strings to see which prize you have won. With this you are guaranteed to win something so it is a great game to play.