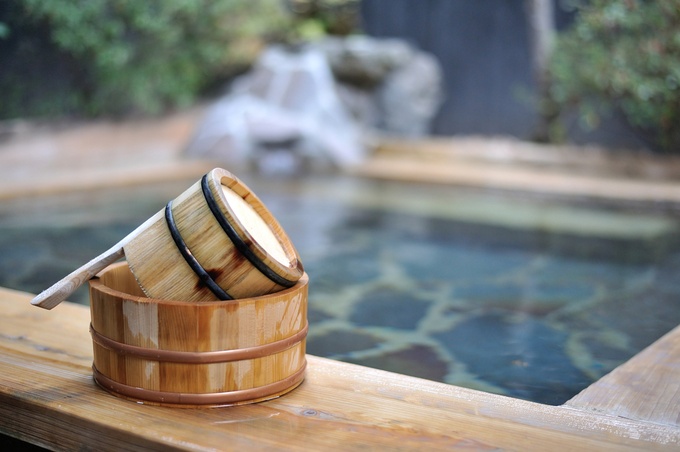 Onsen guide: Ultimate guide to use onsen in Japan
Onsen guide: Ultimate guide to use onsen in Japan
If you are going to Japan for the first time, then you are probably wanting to experience what the onsen is like. Some of you may not want to experience going to an onsen as you may not feel comfortable getting naked in front of other people. But in my opinion, it is an experience that is worth experiencing.
Bathing in a Japanese onsen is a really great local pastime. There is no better way to relax and destress than by soaking in a warm bath. However, there are lots of different rules that apply when going to an onsen. And if you are not familiar with the rules then you could end up offending the Japanese people at the onsen. So if you are planning to go to an onsen in Japan then it is best to know the rules before going.
(picture source: http://www.yakushi-hatago.co.jp/hotspring/takimi.html)
Let's first start with some basic explanation of an onsen. An onsen is a public bath where both men and women are separated. Some hotels do offer private onsens for couples, friends and families so that they can be together without being separated.
There are also a lot of sento in Japan. For those of you are confused about what the difference between an onsen and a sento there is just a little difference. The difference is that the sento uses water that is heated and an onsen uses water that is naturally heated. Other than this, all of the same rules apply for both the sento and onsen.
One important thing that you need to know before going to an onsen or sento is that most onsen and sento forbid tattoos. So if you do have a tattoo then make sure that then onsen or sento that you plan on going to allows tattoos. If you have a small tattoo that can be covered by a bandaid then I would recommend putting a water resistant bandaid on before going to the onsen or sento.
(picture source: https://www.travelfashiongirl.com/toiletries/)
When you go to an onsen or sento there are a few things that you will need to bring. If you are going to an onsen resort then there may be certain things that are provided like shampoo, conditioner and body soap. But you will need to bring other toiletries yourself. So if you need makeup remover or a hair tie then you should make sure to bring this. You will need a hair tie so that you can keep your hair out of the water. Towels will either be provided or you will need to rent/buy one.
When you go to the onsen or sento you will be expected to remove your shoes and put them in a shoe locker. Then you will need to pay for the onsen. If you are staying in a hotel or ryokan then the onsen will not need to be paid for. You will then go into the gender appropriate area.
There will then be lockers where you can keep your clothing and belongings. So take off all of your clothes. Make sure that you do not use your phone in the locker room or bathing area because you could possibly put in Jail for this. Bring your hair tie and toiletries with you to the onsen.
(picture source: http://camp-hanashino.com/facilities/spa)
Once you enter the onsen room you will see a row of showers with little plastic or wooden seats. Head over to this section and make sure that you clean your whole body. So you will need to remove all make up, you will need to wash your hair and if you are not going to wash your hair then make sure you tie up your hair. Once you have washed your whole body in soap then make sure you rinse of your shower area and stool. Then you can head over to the onsen area.
(picture source: https://matome.naver.jp/odai/2147875152941086101/2147875556147804903)
Because the onsen water is very hot it is best to grab the bucket that is near the onsen. Then you will want to pour some of this water on your self before entering the bath so that the heat of the water does not surprise your body. It is best to pour the water on you feet and legs first. Then you can enter the bath slowly. Make sure to not make a big splash when entering.
(picture source: https://www.central.co.jp/thespa/seijo/spa)
Onsen and sento will usually have a sauna room. Sometimes it is an extra charge so if you have not paid for the sauna you will not be able to use it. When you use the sauna make sure that you do not go in for too long. When you leave and you want to go back into the bath make sure to rinse off your sweat before going back in.
A lot of people also ask whether they need to shower again before leaving. There is no clear answer for this. Some believe that you should and others think that it is not necessary to do so as some onsens have special properties that benefit the body and skin so you do not need to wash it off. So you can do whatever suits you best.
When you leave the bath area make sure to dry off your body as much as you can. There is a seating area with mirrors and hair dryers. Some places charge you for using the hair dryer so you may need to bring your own. Once you are done drying off you can change back into your clothes. Once people are done taking a bath they often head to the lounge area where there are usually seat and a vending machine area. They will usually get beer, sake, water or a sports drink to refresh and feel good after taking a nice relaxing bath.
Now you are definitely ready to go to an onsen or sento bath! So enjoy!!
If you are interested in renting a pocket wifi or prepaid SIM card during your trip to Japan then make sure to check out the Genki Mobile website: https://www.genkimobile.com/