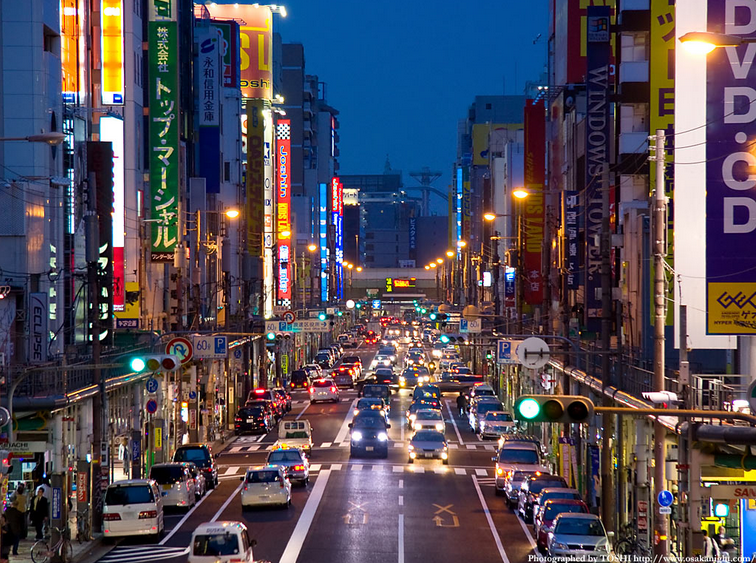 Otaku Areas Outside of Tokyo (Part 2)
Otaku Areas Outside of Tokyo (Part 2)
If you are reading this blog then i'm sure you have read the first part of this blog. And if you haven't read the first part of this blog then make sure to check that out because i've listed a few places that you can go to outside of Tokyo if you are an otaku. Tokyo has some great places you can go to like Nakano, Akihabara and Ikebukuro. These places are filled with anime, manga, figures, toys and maid cafes that you can go to. Even if you aren't a fan of these things it's worth checking out for the experience because I guarantee you it will be a culture shock.
And for those of you who love places like Nakano, Akihabara, and Ikebukuro and you can't get enough then you can visit places similar to these places across Japan. In the previous blog I wrote about Sapporo, Sendai and Kyoto. Here are a few other places you should know about.
(picture source: http://www.osakanight.com/night_view/nipponbashi.htm)
In Western Japan you will find one of the biggest holy site for otaku is Osaka's Nipponbashi. Here there are huge anime shops, shops with collectibles and lots of maid cafes and cosplay cafes. There are even butler cafes that are targeted for women otaku. These shops are mainly located along the road called Sakai suji it is also famously known as the Niponbashi Denden Town.
(picture source: http://androgamer.net/2018/02/12/post-8584/)
The Niponbashi Denden Town is located right by the Namba station which is in the southern part of central Osaka. This is the place to go to see what Otaku central is like or if you are an otaku yourself. There is a Nipponbashi Street Festa that takes place in March and the streets become filled with cosplayers.
(picture source: http://androgamer.net/2017/08/06/post-6147/)
Kobe, which is most well known for being the international port town, also caters to the otaku culture. In Sannomiya there is a place called the San Center Plaza that have a number of cosplay shops, anime shops, toys, and video game shops. Kobe also has a Animate and another place called Yellow Submarine that is worth checking out. The best areas in Kobe to visit are the shops located underneath the railway tracks of Sannomiya Station.
(picture source: http://hiroshima.otakumap.com/hiroshima-otaku-news/20130926181036/)
Otemachi is a popular otaku place to go in Hiroshima, which is an extremely popular place to visit. A huge commercial complex that has Animate, Lashinbang, C-Labo, Melonbooks and more opened up in 2013. The shops that I listed are all national chain otaku stores. Around the corner from the Atomic Bomb Dome you will be able to find this complex.
(picture source: http://test.japan-tour.jp/ko/%EC%87%BC%ED%95%91/fukuoka/6916)
The biggest metropolis in Kyushu, Fukuoka City is home to a variety of otaku shops. These shops are located around Tenjin Station. There is a maid cafe that is Tenjin style located right near the station that is very popular. There are other otaku shops like Melonbooks and Mandarake that are dotted around the area as well.
If you are interested in renting a pocket wifi device or a prepaid SIM card during your trip to Japan then make sure to check out the Genki Mobile Website : https://www.genkimobile.com/