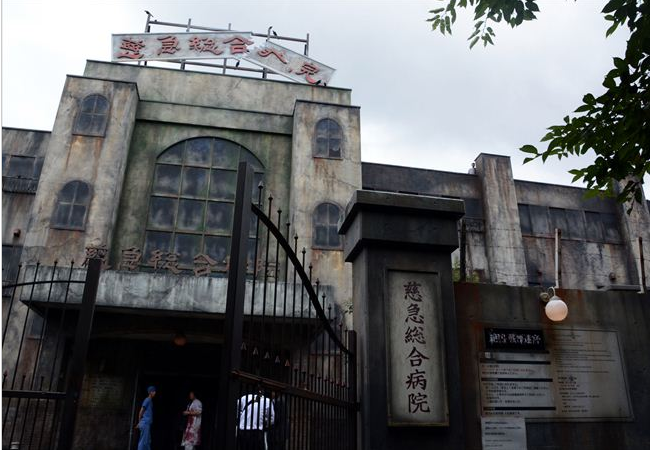 Popular haunted houses in Japan
Popular haunted houses in Japan
Japan has some of the scariest haunted house attractions. In my opinion, almost every Japanese scary movie I have ever watched has been ten times scarier than any Western scary movie I have ever seen. I will say the Japanese know how to make things scary. There's just something about Japanese hospitals and Japanese high schools that make it ten times scarier. If you are into haunted houses then you should check out some of the most popular haunted houses in Japan.
(picture source: http://www.asahi.com/and_M/information/photo/AS20150727001430.html)
The very first one that comes to my mind as being the scariest haunted house is the Saikyo senritsu Meikyu at Fuji Q Highland. The haunted house is estimated to take around 60 minutes to walk through as it is a 900 meter route around the whole hospital. And 60 minutes is very very long compared to most haunted houses. And this is 60 minutes if you are walking at a decent speed. However, if you are in a group and are taking half a step at a time it will definitely take a lot longer to get through the whole house.
It is said that this haunted hospital attraction was inspired by a story of a real hospital that was located near the foot of Mount Fuji. At the time, the hospital was pretty famous as there were a lot of great facilities and also a lot of famous doctors. However, it was found one day that one of the doctors was taking the organs of patients who had gone through surgery and put them into jars filled with chemicals. This doctor then sold these jars of organs and put the body of the patients into wooden crates. It is believed that for revenge, the spirits of the victims began haunting the hospital. So finally the entire hospital was abandoned.
(picture source: https://www.enjoytokyo.jp/amuse/spot/l_00049816/)
The second one that I would recommend going to is the Daiba Haunted School. This is definitely a smaller haunted house as it is located inside of a mall. At the Daiba Haunted School, you are asked to choose a story of one of the four cursed children inside of the school in order to save their spirit. Here are the stories of the four children you are to choose from: The first child's name is Tokio and he was a boy that was bullied at school and as a result he hung himself. The second child is a girl named Mi-chan and she was a decapitated child who is looking for her body. The third child is named Shin-chan and he was a child who had gone missing and then was found dead in one of the school lockers. The last child is named Meiko and she was a child who had been manipulated by a ghost to kill her friend and after doing so she fled.
When you enter the haunted school your mission is to get rid of the curse these children were cast under and let their spirits leave this earth in peace. The haunted house is very tiny and it is very dark as well. But it is also very scary and thrilling!
(picture source: http://www.occultic.net/memo/2010/01/post-69.html)
(picture source: http://www.officeburn.jp/?p=137)
There is another popular haunted house in Asakusa called he Sakura no onrei at the Asakusa Hanayashiki. If you are a person who can feel spirits then you may able to feel certain spirits here because the Hanayashiki Amusement Park is said to be one of the oldest amusement parks in Japan and therefore it is believed that there are a lot of spirits here. I truly am a believer that ghosts/spirits can actually be at a haunted house and given that this haunted house has been there for many many years I'm sure there are many ghosts/spirits there. The most chilling part of this haunted house was the shelves filled with Japanese dolls. There's just something about these dolls that gives that extra spookiness to the haunted house.
(picture source: http://horror.dreamdawn.com/?p=14800113)
The very last haunted house on the list is the Toei Kyoto Studio Park's haunted house. If you are someone who is not easily scared by creepy Japanese dolls, darkness and blood then this is probably a better haunted house for you to visit as there are real human ghost actors at this haunted house. They are trained professionally to make your experience in this house terrifying so you may not want to underestimate them. This haunted house is owned by a film company called Toei so you know that this is the real deal. They do have the top actors and the scariest story line that make the haunted house that much scarier.
If you are interested in renting a pocket wifi or prepaid SIM card during your trip to Japan then make sure to check out the Genki Mobile website: https://www.genkimobile.com/