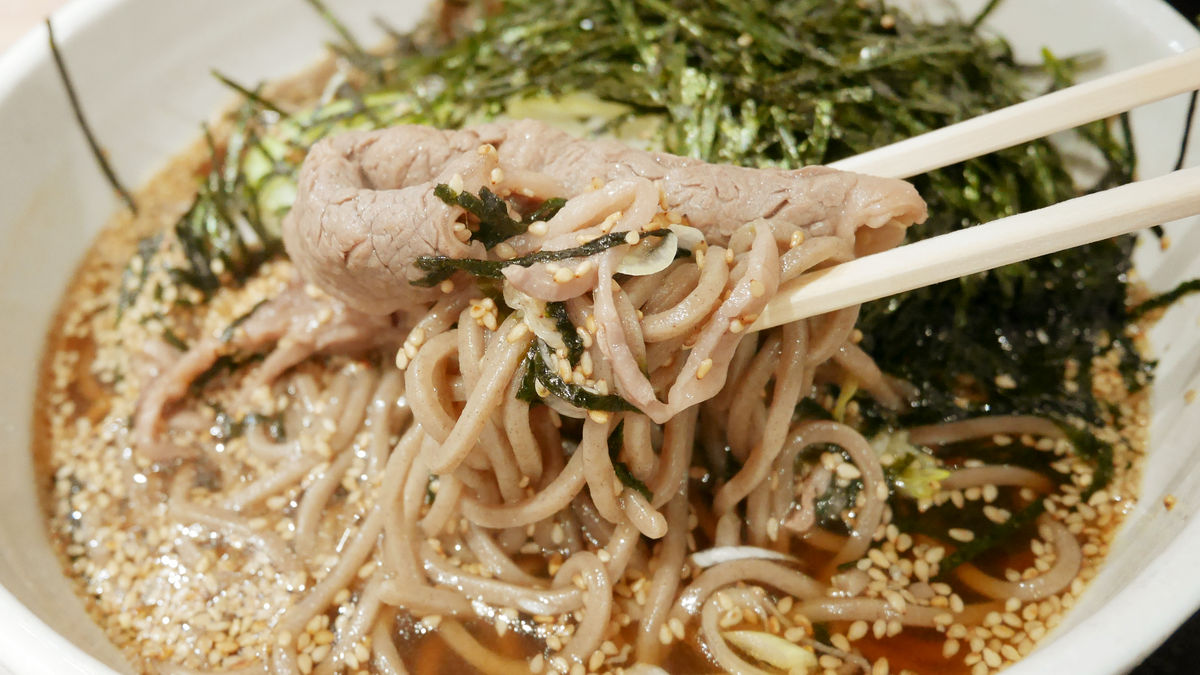 Soba Noodles in Tokyo
Soba noodles is a type of thin noodles made from buckwheat flour. It is an extremely popular dish that is served both at home and in restaurants all across Japan. The tradition of eating soba comes from the Edo period. Every neighbourhood at that time had a few soba establishments in which people would stop by for a casual meal. It would be served quickly and most of the establishments also served sake. Now, super markets sell dried soba noodles and men-tsuyu (noodle broth) which has made it easy for people to prepare soba noodles even at home. You will often also see many standing noodle restaurants, Tachiguisoba, all across Japan. In Japanese, Tachi means standing and gui means eating. Many you will will see on the streets and you will even find that there are standing soba noodle restaurants somewhere in the station or on the platform. These standing soba restaurants are much like fast food restaurants as it is meant for a place for people to grab a bite to eat when they are in a rush. In Japan, you can find many places to eat and shop in the Ekinaka area. Eki in Japanese means station and naka means inside. Ekinaka areas are often times found only in the main stations and are within the ticket gates. By having these ekinaka areas it allows travellers to enjoy a meal or buy souvenirs just before boarding their next train.
(pc: http://sakakishinichiro.com/wp/blog/%E7%AB%8B%E3%81%A1%E9%A3%9F%E3%81%84%E3%81%9D%E3%81%B0%E3%81%AE%E9%81%85%E3%81%84%E6%9C%9D/)
When you go to a Tachiguisoba place you will often have to pay before ordering. So first you will have to purchase a food ticket at the machine. You will then find a place to stand and hand your ticket over to the staff. Often times, these tachiguisoba places will have a choice of soba noodles or udon noodles so you may tell them which type you prefer. Once you receive your noodles, which is often served within minutes, you may add "shichimi" (spice mix) to add more flavour to your noodles. Water will be provided to you as a self serve basis. After you are finished eating, you can either put it on the counter or you will see an area in which you can return your dishes.
Here are some of the most popular standing noodle restaurants in the Tokyo area:
1. Tsubomiya
(pc: https://www.hotpepper.jp/strJ000855802/)
Tsubomi is a standing soba restaurant located in Yotsuya-Sanchome and also has delicious tempura.
2. Sobaorenodashi
(pc: https://gigazine.net/news/20150420-orenodashi-ginza5/)
Sobaorenodashi is located in Akasaka and is a standing soba/Izakaya restuarant.
3. Tachiguisoba akebono
(pc: https://tabelog.com/tokyo/A1309/A130903/13205021/)
This is another popular standing soba restuarant located in Yotsuya-Sanchome.
4. Tenkame
(pc: https://tabelog.com/tokyo/A1313/A131303/13196755/)
Tenkame can be found in Kinshicho and is known for being a popular standing soba restaurant in this area.
5. Sobakko
(pc: https://tabelog.com/tokyo/A1324/A132403/13026279/)
This restaurant has both soba and udon noodles and is located in the Shibamata area.
If you are looking to rent a pocket wifi device or a prepaid SIM card in Japan take a look at the following website: https://www.genkimobile.com/