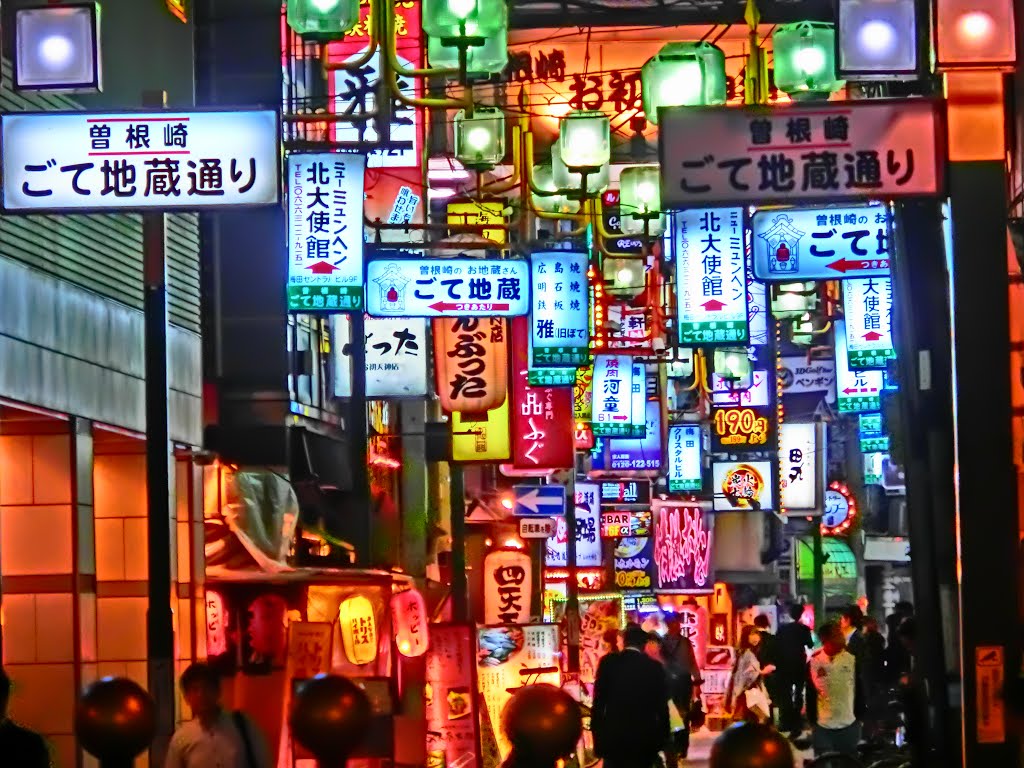 Sonezaki Ohatsutenjin-dori
Sonezaki Ohatsutenjin-dori
Ohatsutenjin-dori Shotengai is an area in Osaka that is filled with a bunch of arcades, bars, restaurants, cafes, izakayas and a bunch of other entertainments. More specifically it is an area of Umeda called Sonezaki.
(picture source: https://www.tripadvisor.com/LocationPhotoDirectLink-g298566-d6521945-i128873918-Sonezaki_Ohatsutenjin_dori_Shotengai-Osaka_Osaka_Prefecture_Kinki.html)
Now Sonezaki is filled with people having fun with friends, family and there are also lots of tourists as well. Believe in or not, this area actually used to be a wooded area that was extremely quiet and peaceful. Osaka has it's very own Romeo and Juliet tragic love story except the main characters are called Ohatsu and Tokubei and their tragic love story took place right in the wooded area of Sonezaki. Because of this love story there is actually a big shrine called the Ohatsu Tenjin right at the end of the arcade. The shrine was named after the heroine of the story and the shopping street is also named after Ohatsu.
(picture source: http://mapio.net/pic/p-26172450/)
This Ohatsutenjin-dori is a Shotengai which is pretty much what Japanese people call a shopping street that often also has arcades and is often located near a railway station. In the Umeda area, the Ohatsutenjin street is one of the most popular shotengai. Although there is some shopping that can be done here it is actually more popular for it's dining.
(picture source: http://mapio.net/pic/p-26172450/)
This area is great because it is in a convenient location so a lot of office workers who work in the Umeda area come to this Ohatsutenjin dori for lunch and dinner. And because there are a lot of other entertainments along this street like game centres, karaoke shops and pachinko parlours many people will go have some fun after work. And you'll see lots of people enjoying the area on the weekend as well as it is a great place to get together with friends.
And of course with Osaka being the gourmet city there is of course many delicious restaurants located along this street. But I will recommend some of the popular places amongst locals.
If you are looking for a place to have lunch then I would recommend grabbing lunch at the Tempura Kaisen Goduku. This is a very casual restaurant where you can enjoy eating tempura which is a very popular dish throughout Japan. It is pretty much fresh seafood and vegetables that are dipped in batter and then deep fried. There are a bunch of different sets that you can choose from but you can get simple tendon which is tempura on rice. Or you can get the tenzaru set which comes with rice and cold soba noodles and shrimp, squid, chikuwa fish cake tempura. It is a lot of food for the very cheap cost that you are paying.
Like I've mentioned in many of my other Osaka blogs, Kushikatsu is a must eat dish in Osaka. It is skewered kebabs of meat, fish and vegetables which are then deep fried and then served with dipping sauce or flavoured salt. There are three different kushikatsu restaurants along the Ohatsutenjin street but the most popular is Shirihisa. Not only is their kushikatsu delicious they also have an amazing atmosphere that is elegant and their interior decor has a very nice Showa era style. I would recommend going here for dinner.
Amazingly, this Kushikatsu restaurant has been open since 1946 but over the years it has been renovated multiple times. The staff who work here are all very kind people and they will advise which sauce to use for each item when they bring your order.
So just sit down and enjoy your food and drinks!