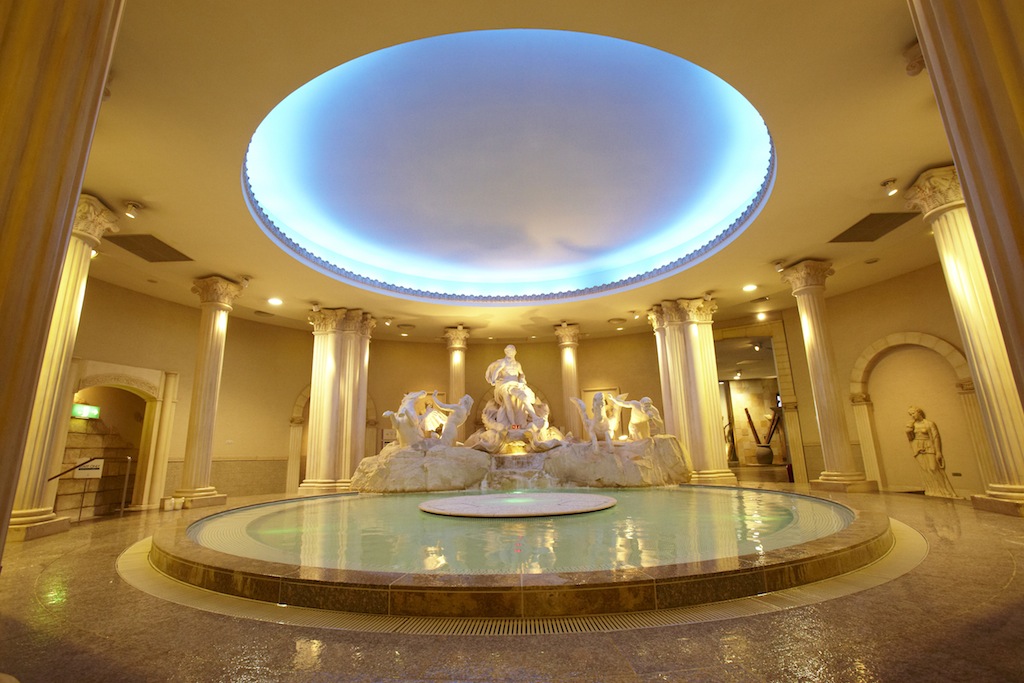 Spa World Osaka 
In the Shinsekai area of Osaka there is a gigantic hot spring theme park called Spa World. Here, you can find a bunch of internationally themed hot spring baths and saunas and there are swimming pool areas, restaurants, a kids play area, massage services, a hotel, a sports gym, a tanning salon and a souvenir shop. The hot springs are separated by gender and the swimming pool has a bunch of great water slides. It really is a huge theme park and there are lots of different things that you can do here that you can easily spend a whole day or two here.
(source: https://osaka.refle.info/shop/spaworld/)
On the 4th floor there is a European zone and on the 6th floor there is an Asian Zone and these two are natural hot spring bathing zones. These zones are assigned by gender but they switch over every month. For some months the European zone is used by women and then the Asian zone is used by men and then it switches.
(source: http://www.spaworld.co.jp/hotel/)
There are a bunch of beautiful themed baths in the European Zone and they include an Ancient Rome themed bath with a Jacuzzi, a Greek medicinal bath, and a Finnish bath house and sauna. In the Asian Zone there is a Japanese style hinoki cypress wood bath and there are even Persian and Balinese style baths. Both the Asian and European zone also have an open air bathing area and a bunch of saunas as well as mud spas.
When you go to the Spa World make sure that you do not wear underwear or swimwear or wrap yourself in a towel when entering the bath. When you move around from the baths you are allowed to use a small towel to cover yourself but make sure that the towel does not get in the bath. You can leave the hand towel on the side of the tub or place it on top of your head. The other important thing to remember is that you must wash yourself and be clean before entering the baths.
There are 8 internationally themed saunas on the third floor of the theme park. The saunas are located in a different areas from the onsen as they require a separate fee. So if you want to use the saunas it is 800 yen additionally on the weekdays and on the weekends it is an additional 1000 yen. Once you have entered the sauna area you can stay for as long as you like.
(source: http://www.yunavi.net/sento/spaworld)
On the 8th floor of the building you will find the swimming pool areas which has water slides, rides and a hot pool outside. In the swimming pool area you will have to wear a swimsuit but if you do not have one they also have swimsuit rentals as well that are a fee of 600 yen. The swimming area is included in the entry fee but if you want to go on the slides and rides there will be an additional fee.
There is a huge play area on the 3rd floor and to use this area it will cost an additional 500 yen. There are climbing areas, slides and a huge ball pool for kids to play in.
(source: http://www.yunavi.net/sento/spaworld)
The gym is located on the 6th floor of the building and has a bunch of weight training machines, cycling, and running machines. Of course if you don't have training shoes, socks and clothing you can rent them here. The gym can be used with no additional fee.
On the third floor, there are a variety of restaurants including ramen, kushikatsu, okonomiyaki and more. So if you want to grab lunch or dinner here you can certainly do so.