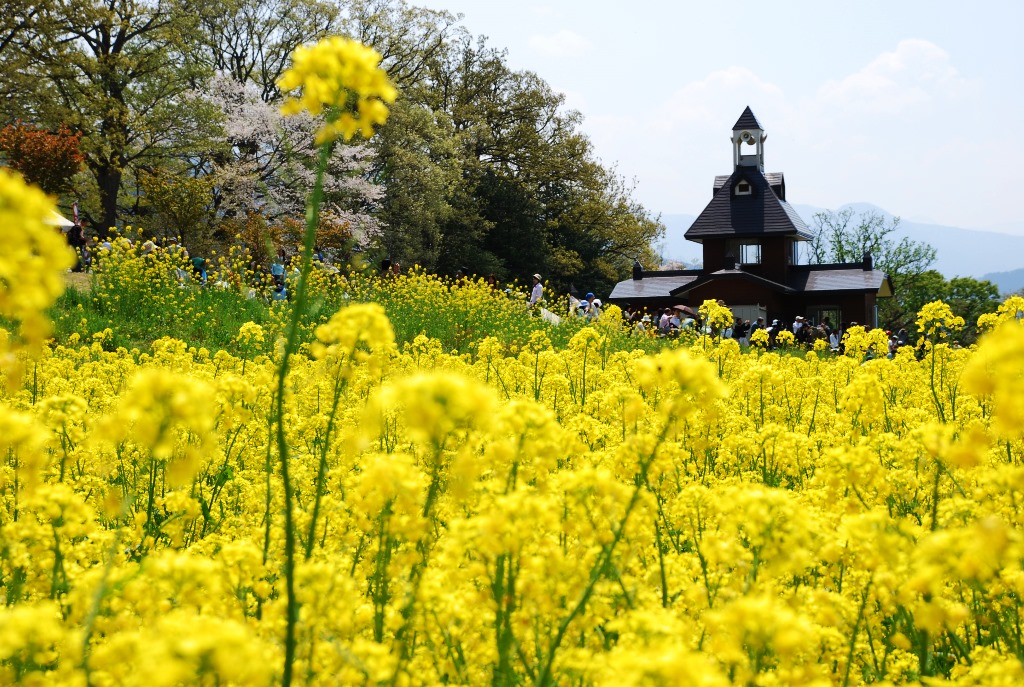 Spring in Japan (Part 3) 
There are lots of different ways to enjoy Japan during the Spring time. Of course cherry blossoms are the main attraction but there are lots of different spots that you can enjoy in Japan to enjoy not just the cherry blossoms but other flowers as well. There are so many places that I'd like to introduce so i've actually divided this blog into 4 parts so if you haven't read the other three blogs then make sure to check those out as well.
(source: https://www.flickr.com/photos/jennifer-kecl/34738492175)
In Tochigi Prefecture the Moka Railway is very famous as it's known for their collaboration of steam locomotive trains, canola flowers and sakura flowers. You can take amazing pictures of all three in one spot along the railway track. In the Moka City every year there is the famous Ichimanbon Sakura Festival that takes place.
In the Aichi Prefecture there is a great place to enjoy canola flowers at the Atsumihanto Nanohana Festival. This festival takes at the Irako Nanohana Garden and it is absolutely packed with beautiful bright yellow canola flowers. There are also lots of food stalls where you can grab a bight to eat while walking around.
(source: http://www.city.iiyama.nagano.jp/contents/For-Englishtourist-infomation)
There is another Canola Flower Festival that takes place at the Nanohana Park in Nagano. It is held annually during the spring time. The park is relatively quiet so you can hear the sound of the water flowing from the river located beside the park. This park also offers a great view of the mountains. During the spring time the canola flowers are in full bloom and so are the sakura cherry blossoms.
(source: http://www.japanecotrack.net/menu156/contents407)
Another extremely famous sakura spot is located in Iizuna, Nagano at the Tanka Kyo. In the 10 hectare park there are over 1,500 sakura trees that are planted. And from the Tanka Kyo you can get a panoramic view of the mountains in the area like the Hokusingaku Mountain ranges.
(source: http://jp.zekkeijapan.com/spot/index/590/)
One of the largest lake in Japan is the Lake Biwa and right beside this lake is the Daiichi Nagisa Park. The Daiichi Nagisa park is most well known for its huge canola flower garden with over 12,000 other flowers. There are lots of photographers that view this park as it is a great place to get some beautiful shots of flowers and mountains as a backdrop.
(source: https://www.okujapan.com/trips/asuka-village-85)
There are many National Heritage Sites in the Nara region and among all of these famous National Heritage Sites if the Asuka Village. There are lots of ancient monuments in the area of the Asuka Village. During the spring time you will see all of the sakura cherry blossom trees and the bright canola flowers. One of the most recommended things to do is to rent a bicycle to travel around the Nara region.
Hopefully you've found some places that you want to visit during your trip to Japan. If any of these places are close to any of the places that you area headed to then it is definitely worth making the stop. There is a part 4 of Spring in Japan so make sure to read that blog as well if you are interested.