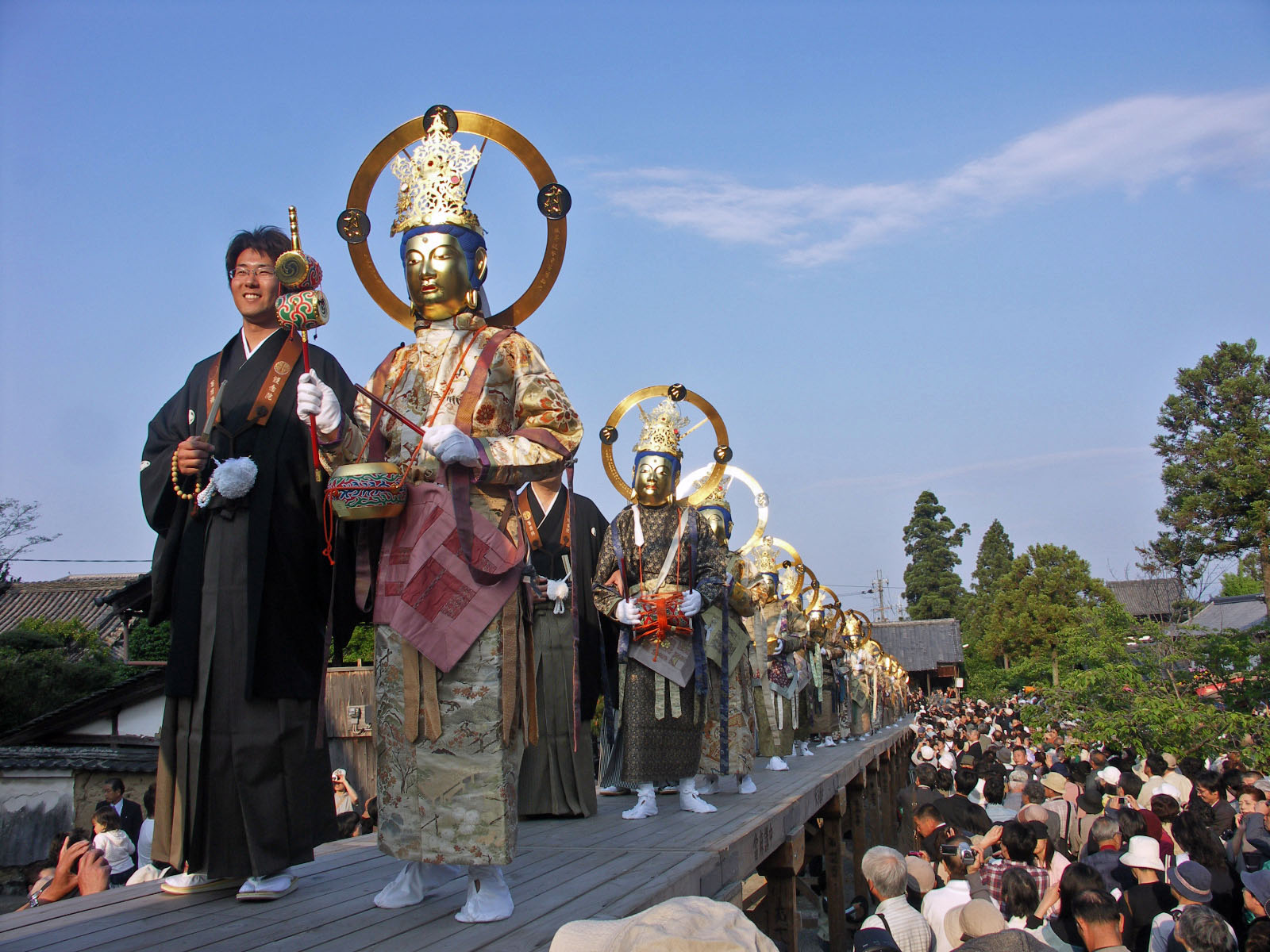 Taimadera 
Taimadera is a beautiful Temple that has a beautiful garden with a bunch of traditional houses and formal walled gardens leading up to it. There are amazing woven mandalas which is said to be woven by Bodhisattvas from lotus fibres and there are beautiful gardens to stroll through. You can even get a deeper insight into Buddhist beliefs with the cultural experience that they offer at the temple.
This is the only temple in Japan that still has its original two pagodas and it was built in 612 AD. There are a bunch of cultural activities that you can do at the Taimadera temples and that includes yoga classes, tea ceremonies and copying the figures from the famous mandala of the temple. One of their most famous activity is the Shabutsu which is the copying of the Buddhist images. For this you are put in a beautiful room that is decorated with gilded panels and you trace over the image of Buddhas using a brush and ink. It is pretty much a way of meditation and the image that you trace you can bring home with you afterwards.
(source: https://blog.goo.ne.jp/tetsuda_n/e/f00a5f1b9566ceb3ca73502d482bba22)
There are a bunch of great eateries near the Taimadera temple where you can enjoy lunch. There is a traditional soba restaurant called Yakuan that has some of the most delicious soba. They even have some desserts that are made with soba! And there is another restaurant that specializes in a dish called kamameshi where rice and other vegetables, meat and other ingredients are cooked together in a small pot.
(source: https://localplace.jp/t100318854/)
There is a famous dish in Japan called sukiyaki which is beef and other vegetables simmered in a sweet pot filled with a special sukiyaki sauce. If you would like to try this dish you should consider going to Sukiyaki Ogawatei. There are a bunch of other restaurants in the area that offer Nara dishes like Miwa somen and Kakinohazushi as well as other sweets and tea.
(source: https://twitter.com/renka_katsuragi/status/824169054722199552)
Then back towards the closest station to Taimadera station there is a Katsuragi City Sumo Museum so for a unique cultural experience have a look inside the museum. It is believed that this was the area where Sumo was born and so this museum documents the history of the sport. At this museum you get to learn more about sumo wrestling and you can even get the chance to try on sumo belts and even step into a sumo ring!